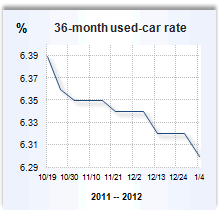 Interest Rate Roundup
Auto Loans
5.3% (60-month, new car)
6.3% (36-month, used car)
Auto loan rates on new cars were flat again this week. The average rates for 48-month and 60-month new-car loans idled at 5.27 percent and 5.3 percent, respectively.
However, used-car loan rates were down slightly. The average rate for a 36-month used-car loan fell 2 basis points to 6.3 percent. A basis point is one-hundredth of 1 percentage point.
Since sinking to a 30-year low in 2009, U.S. auto sales rebounded for a second straight year in 2011, according to a report by The New York Times. Final sales figures reached 12.8 million, up from just 11.6 million sold in 2010.