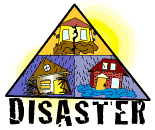 Fire victims in California, tornado victims in the Midwest or hurricane victims in the South can count on disaster assistance from the federal government.
Financial aid is available to help the ravaged communities cope with the shock of losing their homes, automobiles and place of employment.
Here's a step by step guide for applying for disaster assistance.
When you are a victim of a natural disaster, there are four phases to go through to get aid: application, inspection, Small Business Administration loan and other assistance, including grants. Sometimes these phases overlap.
Applications and forms
When a federal disaster is declared in your area, a member of your household will be directed to call a toll-free number to register your family. Just one member of a household should call — preferably, a person who signed the deed or lease.
The number connects you to the Federal Emergency Management Agency's national phone center in Denton, Texas. Among the questions you will be asked:
What's your name, the address of your damaged dwelling, and a phone number where you can be reached? If you don't have a phone — say, your house was destroyed and you're staying at a shelter set up in a high school gym — you'll be asked to provide the phone number of a friend or relative who can reach you. If you can't provide a phone number right away, you can always call later to give your contact number.

What's your mailing address? If your home was destroyed and mail can't be delivered there, you'll be asked to provide an address where you can get your mail. Otherwise, you'll be told to pick up your mail at a post office.

Are you a homeowner or renter?

How many people live in your household?

What's the household income?

Generally, how much damage did your home and your personal property sustain?

Were you insured?

You'll be given a disaster identification number. You'll use it in your dealings with various government agencies. DON'T lose the number.
In a week or so, you will receive a packet from FEMA containing:
A printout summarizing the information you supplied.

Information about help you might qualify for: e.g. low-interest loans, grants, emergency housing.

Contact information for various agencies.

A letter specifying which programs you have been referred to.
While you're waiting for the FEMA letter, file insurance claims and contact lenders — for your mortgage, car, student loans and even your credit cards — to let them know what's going on. If the disaster put you out of work, your creditors need to know.
Sometimes lenders will suspend payments until you get back on your feet. This is the case with federally guaranteed student loans, and your mortgage lender should help you out because the last thing the lender wants to do is foreclose on a disaster-damaged house.
Inspecting the property
The next step is to undergo inspections — in some cases, lots of them.
You'll probably deal with insurance adjusters for your home and car. If your home was damaged by flood or earthquake, and you had coverage for that calamity, you might deal with a separate insurance adjuster focusing on that.
After you register with FEMA, you'll get a call from an inspector to set up an appointment. The inspector is required to try at least three times to contact you, preferably on different days and at different times of the day. You or a representative (such as an attorney or spouse) must be present when the inspector looks over your property.
The FEMA inspector will survey the damage and hand you an application for aid, if one wasn't included in the packet you received in the mail. The application will say it's for a Small Business Administration loan. Even if you don't own a business and you wouldn't be able to repay a loan, fill out the application. It is used to determine whether you qualify for grants that you don't have to repay.
If you apply for aid from the Small Business Administration, an inspector called a loss verifier will assess your property.
If power, gas, water or sewer lines were cut in the disaster, you'll have to deal with utility inspectors before service is restored.
Looking for loans
The Small Business Administration will lend you money to pay for certain uninsured losses if you can afford to repay the loan. You don't have to spend your savings or apply for a loan at a bank as a condition of borrowing from the SBA.
The SBA offers personal property loans and real property loans. Interest rates vary, depending on how much it costs the federal government to borrow money and whether you are able to get credit elsewhere.
A renter or a homeowner may apply for a personal property loan. With it, the SBA will lend you up to $40,000 to repair or replace clothing, furniture, appliances, automobiles, perishable food, even dentures and eyeglasses. You can't use the money to replace extraordinarily expensive items such as that antique Louis XIV desk or your collection of rare baseball cards.
"We're not replacing their big-screen TV set or their wife's diamond bracelet," says Elizabeth Morris, who answers applicants' questions in a FEMA field office in Rocky Mount, N.C.
Homeowners may apply for a real property loan. With it, the SBA will lend you up to $200,000 to repair or restore your primary home. You can't borrow from the SBA to restore your vacation cottage. (If you own rental property, you can apply for an SBA business loan.)
In some cases, the SBA will refinance your mortgage at a lower rate.
When you apply for an SBA loan, you give the Internal Revenue Service permission to give the SBA information from your previous two years' tax returns. If you have been a tax cheat, you are likely to be ensnared when you apply for an SBA loan — one reason not to evade taxes.
"We've gotten credit for getting a lot of people into the tax system," SBA spokesman W. Donald Waite says with a smile.
Other assistance is available
You have to repay SBA loans. You don't have to repay grants. And FEMA coordinates a gamut of grants.
First, FEMA gives out emergency grants for disaster-related medical, dental and funeral-related expenses not covered by insurance. If a loved one dies in a disaster and you don't have the money to pay funeral expenses, this grant is what you need. You might be referred to one of these grant programs when you make that initial call to register with FEMA.
FEMA will give property owners up to $10,000 for emergency repairs to make a structure fit for habitation.
The agency, together with the state government, gives out what are called Individual and Family Grants. These are given to people who are turned down for SBA loans because of inability to repay. They can be used for the same purposes as SBA loans.
FEMA also offers grants to state and local governments for "hazard mitigation" — elevating houses above a flood plain, for example, or strengthening structures in earthquake zones.
Believe it or not, the IRS will ride to your rescue, too. You can file an amended return called a 1040X and deduct your disaster-related losses against last year's income. This can be a lifesaver because it means you can get a hefty tax-refund check in a few weeks instead of having to wait until next year to file a return. If you can afford to wait, you can deduct your disaster losses against your current year's income.
— Updated: Oct. 24, 2007