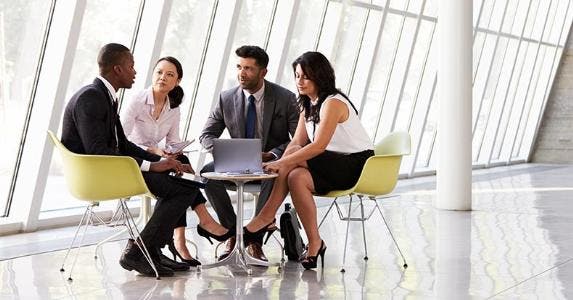 Funding Circle is an online marketplace that provides peer-to-peer (or P2P) investment and lending opportunities. Investors are able to lend money to businesses, and in exchange they receive interest and eventual repayment, which is handled by the website. Funding Circle holds the distinction of being the first website to offer P2P lending in the United Kingdom. However, it also caters to U.S.-based, German, Spanish and Dutch clientele. All loans are issued on a case-by-case basis, depending on the risk and term of the loan. The question is: Do P2P investments have a place in your portfolio?
The basics of P2P lending
P2P lending in this format involves 2 parties:
Private lender
Small-to-mid-sized business
The investor provides a lump sum of money, which is then distributed to the borrower(s). As a general rule, borrowers must undergo credit checks in order to gauge their default risk. In exchange, the lender receives interest on his or her investment once it's lent out.
Investing through Funding Circle
Funding Circle serves as the go-between that handles all of the legal aspects of the process. The company matches investors who are looking for long-term returns with companies who wish to avoid high-interest bank loans. The investor is not responsible for collecting repayments or handling defaults. Instead, Funding Circle deals directly with the borrower to recoup the money in a timely manner. However, it's important to note that no interest is paid until the funds are disbursed. This is quite different than a savings account, where there are smaller but continual interest payments.
Investment options
There are 2 common ways to invest through P2P lending:
Custom: The investor is able to hand-pick the borrower. Typically, the investor receives the loan proposals and assesses the risks on his or her own. For example, lending to a startup tech firm with a good credit rating, but needing a short-loan term might minimize the risk.
Risk mitigation: The investor does not have a direct say in who receives the money. Funding Circle offers an "autobid" feature, which allows the investor to divide the money between different businesses. Thus, if one of the borrowers defaults, the risk is mitigated. The investor also has the opportunity to choose his ideal interest rate.
If you're new to P2P lending as an investor, it may be wise to start with small amounts. Funding Circle recommends distributing the wealth over multiple businesses to reduce risk. Also, bear in mind that high interest rates can lead to high default rates, which is why it's best to find a happy balance when it comes to repayment terms.
RATE SEARCH: Get personalized loan rates today