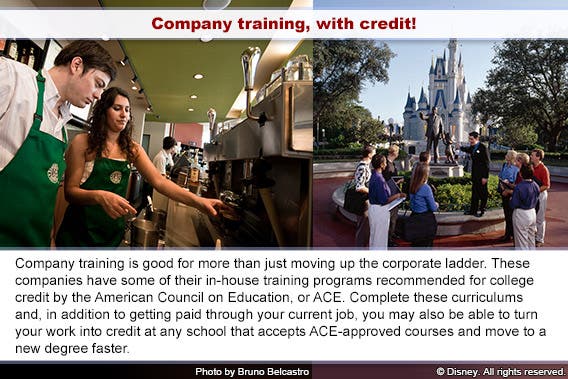 Company training is good for more than just moving up the corporate ladder. These companies have some of their training programs recommended for college credit by the American Council on Education, or ACE. Complete these curriculums and, in addition to getting paid through your current job, you may also be able to turn your work into credit at any school that accepts ACE-approved courses and move to a new degree faster.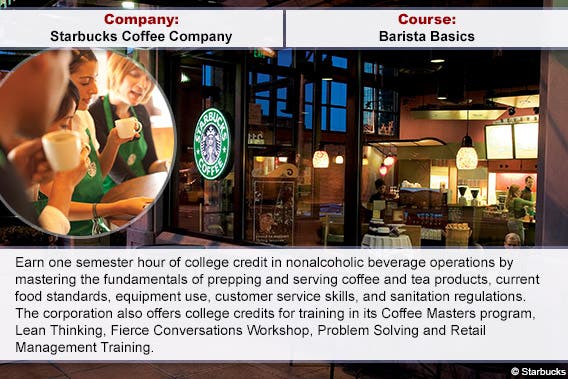 Company: Starbucks Coffee Company
Course: Barista Basics
Earn one semester hour of college credit in nonalcoholic beverage operations by mastering the fundamentals of prepping and serving coffee and tea products, current food standards, equipment use, customer service skills and sanitation regulations. The corporation also offers college credits for training in its Coffee Masters program, Lean Thinking, Fierce Conversations Workshop, Problem Solving and Retail Management Training.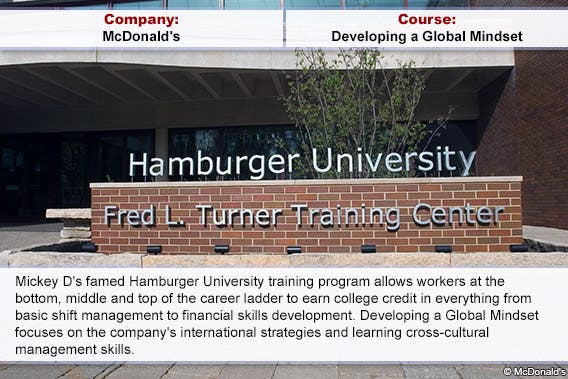 Company: McDonald's
Course: Developing a Global Mindset
Mickey D's famed Hamburger University training program allows workers at the bottom, middle and top of the career ladder to earn college credit in everything from basic shift management to financial skills development. Developing a Global Mindset focuses on the company's international strategies and learning cross-cultural management skills.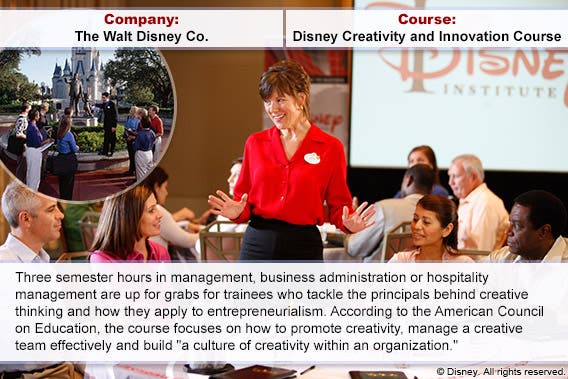 Company: The Walt Disney Co.
Course: Disney Creativity and Innovation Course
Three semester hours in management, business administration or hospitality management are up for grabs for trainees who tackle the principals behind creative thinking and how they apply to entrepreneurialism. According to the American Council on Education, the course focuses on how to promote creativity, manage a creative team effectively and build "a culture of creativity within an organization."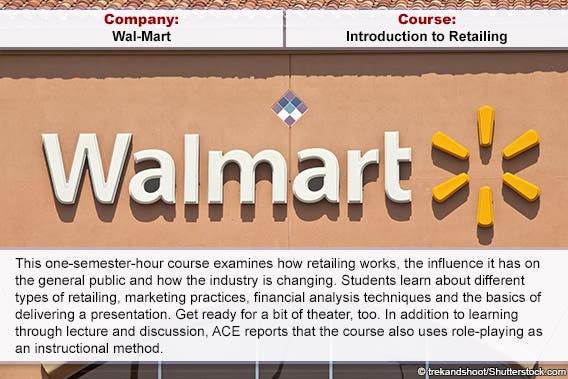 Company: Wal-Mart
Course: Introduction to Retailing
This one-semester-hour course examines how retailing works, the influence it has on the general public and how the industry is changing. Students learn about different types of retailing, marketing practices, financial analysis techniques and the basics of delivering a presentation. Get ready for a bit of theater, too. In addition to learning through lecture and discussion, ACE reports that the course also uses role playing as an instructional method.