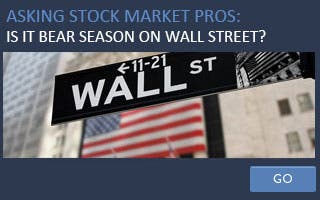 Young adults who have been clutching their piggy banks are likely to stop holding on to so much cash and start putting more of their money into the stock market and related investments.
That's a key finding of Bankrate's second Market Mavens survey of top investing professionals and Wall Street watchers. Three-quarters of the experts believe Americans in their 20s and 30s will get over their wariness toward Wall Street and begin to take on more financial risk. "Once the reality of longer life spans sets in, combined with the realization that Social Security will not provide for them, investing in equities will be seen as a necessity," says W. Bradford McMillan, chief investment officer with Commonwealth Financial Network.
But millennials might make the leap to stocks, mutual funds and the like just in time for a correction, or even a bear market. As a group, the mavens see the stock market rising about 10% over the course of the coming year, and they think the chances of a bear market (typically, a pullback of 20% or more) are greater than 1 in 3.
While the Federal Reserve is often credited with helping avert a depression after the 2007-2008 financial crisis, more than half of our 20 respondents believe the central bank is setting the stage for another white-knuckle experience by keeping interest rates at record-low levels for so long. "The prolonged period of ultra-loose monetary policy (not just by the Fed, but by the central banks of all the major currencies) is dangerous," says Francisco Torralba, an investment management economist with Morningstar.
As for the timing of the Fed's first rate hike since 2006, a majority of our survey group thinks Chair Janet Yellen and her colleagues on the Fed's policy panel will finally pull the trigger just a couple of months from now, in September.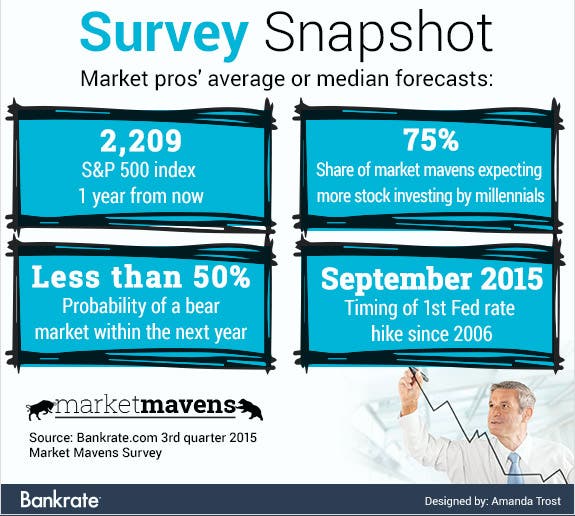 What we found
Millennials and money: While many young adults are doing relatively well with saving compared with those in other age groups, cash has been a favorite place for millennials to park their money. Some 75% of our experts believe that generation will increasingly turn to the stock market. "Millennials will buy houses and invest and become stodgy old folks with slightly more conservative tendencies like every generation before them," says Jeff Reeves, executive editor of InvestorPlace.com. "Give them time — after all, they will all probably live to be 120 years old, thanks to modern medicine. What's the rush?"
Stock market forecast: Where will the market be 12 months from now? The median prediction from the Market Mavens (meaning half are higher, half are lower) is for the Standard and Poor's 500 index to stand at 2,209, about 10% above where it was when we asked the experts to weigh in. That is similar to the outlook from three months ago. "Corporate profits will continue to be the major driver of stock prices over the next 12 months," says Chuck Carlson, CEO of Horizon Investment Services.
International or U.S. stocks? There's an increased level of optimism about the outlook for international markets: 75% of the mavens look for the best returns to come from abroad during the next 12 months. "International markets have both better valuations currently and the potential for improvement in growth rate," Reeves says. But Kim Forrest, vice president of Fort Pitt Capital Group, says the U.S. should outperform. "We believe the U.S. economy is improving steadily, unlike most of the rest of the world," she says.
Growth or value? Once again, the experts were fairly evenly split on the question of whether growth or value stocks will drive the market over the next year: 45% checked the "growth" column, 40% look for leadership from "value," and 5% thought the two would be about the same. "I see the two categories as roughly even at the moment, with a slight tilt towards value because they provide more yield, which should provide a little support in the face of rising interest rates," says Charles Lieberman, chief investment officer with Advisors Capital Management.
Say hello to the bear (market)? We wondered how many of the financial gurus look for the bull market to give way to a decline of 20% or more in stocks — in other words, a bear market. Our group, taken together, pegs that probability at 37%, which is down just slightly from the outlook offered in our previous survey. Looking more closely at the data, 1 in 4 of the mavens said the chances of a bear market are 50-50 or higher.
Fed rate hike: If you are looking to circle the calendar for the time of a rate hike from the Federal Reserve, 60% of the mavens say September is the month it will happen. A commanding 85% are convinced the Fed will move sometime between now and the end of the year. Only 15% think the central bank will wait until 2016 to raise rates.
Sowing the seeds of a future crisis? The Federal Reserve has been relying on record-low interest rates to bolster the job market and push inflation closer to the central bank's 2% target. But a majority (55%) of our survey respondents thinks the Fed is risking a future financial crisis by holding down rates for such a long stretch. "Absolutely yes! They are creating another housing crisis, risk asset bubble and bond liquidity hazard," says Marilyn Cohen, president of Envision Capital Management.
What it all means for you
How should consumers use the results of Bankrate's survey? Here's advice from Greg McBride, CFA, chief financial analyst at Bankrate.com:
Short-term interest rates will be moving higher very soon, likely before year-end, according to 85% of the mavens. The window to pay down variable-rate credit card debt, home equity lines of credit, and refinance out of adjustable-rate mortgages in an environment of low or static rates is quickly closing.
Investors — and millennials, in particular — should embrace the potential for higher returns in equities and create a well-diversified portfolio that includes access to international markets, as well as a balance between growth and value. You want to earn better returns while mitigating risk.
Given the consensus toward higher interest rates, beware of long-term bond mutual funds and exchange-traded funds that will experience price declines as interest rates rise. Favor shorter-term, floating-rate and inflation-indexed bonds.
Bankrate's third-quarter 2015 survey of stock market professionals was conducted online June 18-25. Survey requests were emailed to potential respondents nationwide, and responses were submitted voluntarily via a website. Responding were: Robert A. Brusca, chief economist, FAO Economics; Chuck Carlson, CEO, Horizon Investment Services; Marilyn Cohen, president, Envision Capital Management; Michael K. Farr, president and CEO, Farr, Miller & Washington; Kim Forrest, vice president and senior equity analyst, Fort Pitt Capital Group; Hugh Johnson, chairman and chief investment officer, Hugh Johnson Advisors; Charles Lieberman, managing partner and chief investment officer, Advisors Capital Management; Tom Lydon, editor, ETF Trends; W. Bradford McMillan, chief investment officer, Commonwealth Financial Network; Ken Moraif, senior adviser, Money Matters; Patrick J. O'Hare, chief market analyst, Briefing.com; Jim Osman, founder and CEO, The Edge Consulting Group; Oliver Pursche, CEO, Bruderman Brothers; Jeff Reeves, executive editor, InvestorPlace.com; Brian Rehling, co-head of global fixed income strategy, Wells Fargo Investment Institute; Sam Stovall, U.S. equity strategist, S&P Capital IQ; Don A. Taylor, Bankrate's Dr. Don, president and chief analyst, Emmett Advisers; Francisco Torralba, economist, Morningstar investment management division; Burt White, chief investment officer, LPL Financial; Mark Willoughby, senior vice president, Hilliard Lyons.