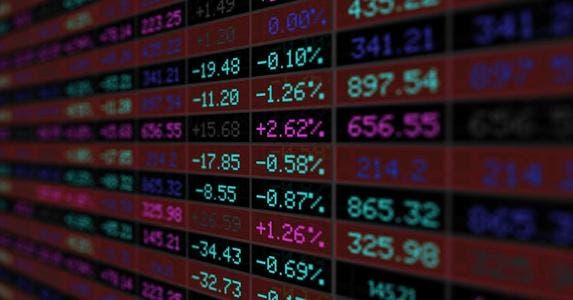 iStock.com/blackdovfx
Leading financial market professionals are generally upbeat on the stock market's prospects in the year ahead. But like many Americans, many of the Wall Street experts surveyed by Bankrate are concerned about the risks of terrorism and international events.
Despite expectations of higher interest rates, our 1st-quarter 2016 Market Mavens survey finds the odds of a bear market next year are relatively low, similar to what we found in previous surveys. The experts are generally bullish, with just 1 in 4 of the experts saying that the likelihood of a downturn is 50-50 or higher. "There is ample liquidity, and the banks are in solid shape," notes Michael Farr, president and CEO of Farr, Miller & Washington.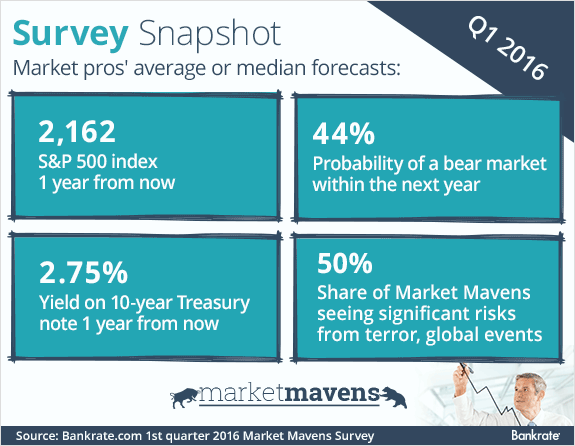 The details
Risks from terror and global events: The Market Mavens were split down the middle when asked whether geopolitical and terrorist threats pose unusually significant risks for financial markets in the year ahead: 50% of the respondents said yes, 50% said no. "Regrettably, terrorism is now just a part of life in the 21st century. As long as the threat of terrorism does not lead to the closure of global commerce doors, individual events are likely to have little or no impact on the market," says Jeffrey Hirsch, editor of Stock Trader's Almanac.
Positive on stocks: While individual responses were widely varied, when taken together the outlook for the stock market over the next 12 months is positive. About 80% of the respondents expect the market to edge higher in 2016. The median forecast is for the benchmark Standard & Poor's 500 index to reach 2,162, which would translate to a gain of 7.5% from the time the survey was taken. 11% of the mavens look for the market to decline, while 5% look for a flat market. "It's going to be all about earnings growth, or the lack of it, that will drive stock prices over the next year," says Don Taylor, Bankrate's "Dr. Don" and the president and chief analyst with Emmett Advisers. His target for the S&P 500 is 2,120.
Bear market chances: If the experts have it right, the bull market that began in March 2009 will remain intact and celebrate its 7th birthday this year. Compared with our past quarterly queries, there's not a particularly heightened or diminished sense that bears will be at the door this year. A bear market is typically defined as a decline of 20% or more in stock prices. The mavens' average odds of a bear market are 44% in this survey, down from 56% in our survey 3 months earlier.
Growth vs. value stocks: As the U.S. market's advance has matured, the mavens favor a value approach to investing. A resounding 68% of the market pros choose value over growth for the next 12 months. In that camp is Brian Belski, chief investment strategist with BMO Financial Group. "Fundamental investing will return after the Fed starts to raise rates," he says, referring to a focus on value.
Survey
Asking experts: Will Fed hikes hurt investors?
Here's what stock market experts said when we asked them: Will the Fed's attempts to "normalize" interest rates roil the markets?
U.S. vs. international stocks: While the preference here has gone back and forth in these surveys, this time it was more evenly balanced. 40% of the mavens said U.S. equities would win the performance race in the year ahead, while 35% looked for better returns beyond U.S. borders. The remainder looked for fairly even results. Among those looking for that sameness in U.S. and international performance is Mark Willoughby, senior vice president at Hilliard Lyons. "The strong dollar will be a headwind for U.S. multinationals, but the U.S. economy will still outperform other international economies," he says.
The 10-year Treasury yield: With the Federal Reserve expected to push short-term interest rates higher, we asked the experts where they see the yield on the 10-year Treasury about 12 months from now. On balance, our survey indicates that the yield should notch 2.75%, which would mark an increase of about 50 basis points, or half of 1%. "The Fed will raise rates only modestly, and the market still very much wants safe-haven assets like T-notes, so demand will keep yields quite low for some time," says Jeff Reeves, executive editor of InvestorPlace.com.
While the Federal Reserve dictates the level of its benchmark federal funds rate, investors drive the movement of the Treasury bond market. About three-fourths of our survey respondents expect the yield to range between 2% and 3%, with more than half of the Market Mavens seeing it moving up to 2.5%-2.99% over the next year.
What it all means for you

How should investors use the results of Bankrate's survey? Here's advice from Greg McBride, CFA, chief financial analyst at Bankrate.com:
Rates will move up, the stock market will rise modestly and a bear market is still unlikely in the next year. Investors should prepare for the inevitable volatility as interest rates climb, but the likelihood of a positive stock market performance underscores the importance of hanging in there to get rewarded in the end.
Diversify, as there is no firm opinion on whether U.S. or international markets are the better bet. Look for value, though, as the mavens say U.S. valuations look stretched.
The higher long-term interest rates are unlikely to dent the housing market. In the context of an improving economy and rising stock market, people will buy homes, and they'll buy them regardless of whether mortgage rates are 4% or 4.5%.
Bankrate's 1st-quarter 2016 survey of stock market professionals was conducted online Dec. 3-11. Survey requests were emailed to potential respondents nationwide, and responses were submitted voluntarily via a website. Responding were: Barry Armstrong, president, Armstrong Advisory Group; Brian Belski, chief investment strategist, BMO Financial Group; Scott Bishop, director of financial planning, STA Wealth Management; Cary Carbonaro, author, "The Money Queen's Guide for Women Who Want to Build Wealth and Banish Fear"; Chuck Carlson, CEO, Horizon Investment Services; Marilyn Cohen, president, Envision Capital Management; Michael Farr, president and CEO, Farr, Miller & Washington; Kim Forrest, vice president and senior equity analyst, Fort Pitt Capital Group; Jeffrey A. Hirsch, editor, Stock Trader's Almanac; David Lafferty, chief market strategist, Natixis Global Asset Management; Charles Lieberman, managing partner and chief investment officer, Advisors Capital Management; W. Bradford McMillan, chief investment officer, Commonwealth Financial Network; Ken Moraif, senior adviser, Money Matters; Patrick J. O'Hare, chief market analyst, Briefing.com; Oliver Pursche, CEO, Bruderman Asset Management; Jeff Reeves, executive editor, InvestorPlace.com; Brian Rehling, co-head of global fixed income strategy, Wells Fargo Investment Institute; Don Taylor, Bankrate's Dr. Don, president and chief analyst, Emmett Advisers; Srinivas Thiruvadanthai, director of research, Jerome Levy Forecasting Center; Mark Willoughby, senior vice president, Hilliard Lyons .