Which bank should I choose?
Get personalized bank recommendations in 3 easy steps.
West Coasters aren't the only ones who have to worry about earthquake threats; homeowners in states such as Oklahoma and Kansas are now at risk of damaging quakes — both natural and man-made.
That's a key takeaway from a new U.S. Geological Survey report that provides a 1-year forecast for natural and human-induced earthquake hazards.
Roughly 7 million Americans live and work in zones that are at risk of a human-induced quake, according to the Geological Survey. These areas include parts of the central and eastern United States.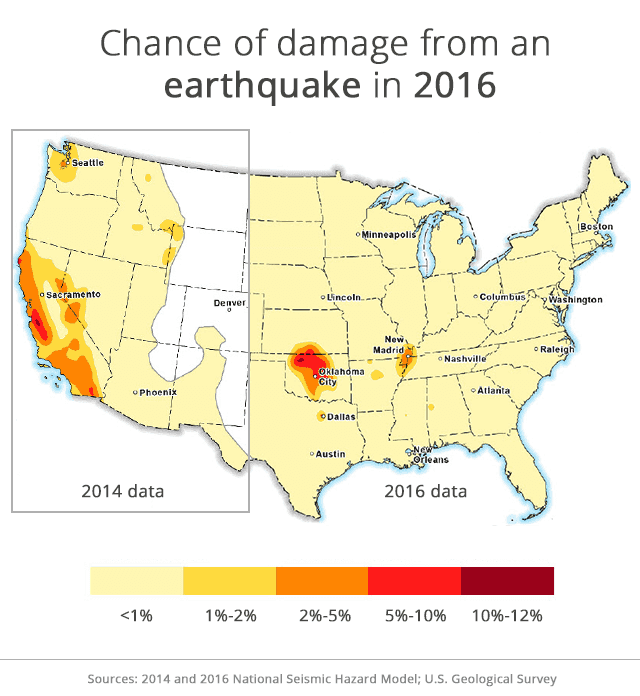 Parts of Oklahoma and Kansas are as likely to suffer earthquake damage this year as parts of California, according to the U.S. Geological Survey, which studied the probability of "induced" quakes that are believed to be caused by fracking.
RATE SEARCH: Shop today for a home equity line of credit — perfect to pay for home repairs.
Induced earthquakes are caused by "human activities" such as fracking, a practice used in oil and gas production in which wastewater is injected into deep wells.
"By including human-induced events, our assessment of earthquake hazards has significantly increased in parts of the U.S.," USGS National Seismic Hazard Mapping Project chief, Mark Petersen, says in a statement.
6 states have especially high hazards for quakes caused by human activity:
Colorado
New Mexico
Arkansas
The Geological Survey says Oklahoma and Texas have the largest populations that are exposed to induced quakes.
Just felt a nice sized earthquake here in lil ol' Tulsa, Oklahoma. Freaks me out every time #Oklahoma#earthquake

— kingdaddy (@kingdaddy) March 29, 2016
Make these earthquakes stop!! ?????? #earthquake#oklahoma

— Anastasia (@eatsleeppost) March 29, 2016
Just felt an earthquake! The whole house shook for a while! #Tulsa#oklahoma#earthquake

— Erin Patrick (@ErinPatrick) March 29, 2016
Your homeowners policy won't shield you
Homeowners insurance doesn't protect against earthquakes, no matter if they're human-induced or natural, says Loretta Worters, spokeswoman for the Insurance Information Institute.
"You're not covered for any earth movement in a typical homeowners policy," Worters says. "You would have to buy an endorsement."
The price of an earthquake insurance endorsement depends on several factors, including what type of home you have and where you live.
"If there's a propensity for more earthquakes in a given area, the coverage will (cost) more," she says, adding that any features a home has to mitigate earthquake damage might help to keep coverage costs lower.
Quakes and home values
One would think that living in an area with a higher risk for earthquakes would negatively affect home values, but that's not necessarily the case, says Daren Blomquist, vice president for RealtyTrac in Irvine, California.
According to a 2015 RealtyTrac analysis of natural hazard risks for housing markets across the country, in general, the areas that have a very high risk of earthquakes also have higher home values. This could be explained by the fact that most of the earthquake risk has historically been concentrated in California, where home prices are significantly higher than most other states.
"The earthquake risk is overcome by other factors that are pushing values up in those high-risk areas," Blomquist says.
However, properties in very high risk areas have yet to recover their values from before the Great Recession. Their values are 8% below what they were 10 years ago, the analysis found.
The data do not reflect the earthquake trends happening in the central and eastern United States.
Planning ahead
If you live in an area that is identified as being at a high risk for earthquake damage, contact your insurer to evaluate your options for earthquake coverage, Worters says.
Blomquist suggests consulting an inspector to determine what level of earthquake magnitude a property can withstand.
For help with earthquake prep, visit the Federal Emergency Management Agency's Ready.gov website.
RATE SEARCH: Shop today for a home equity line of credit.