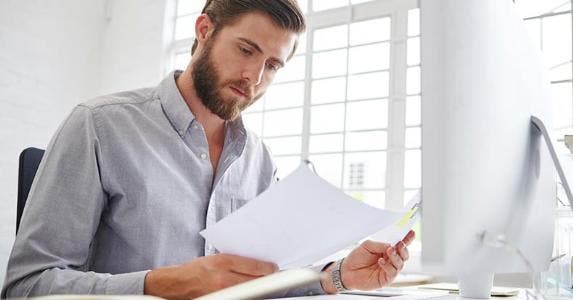 iStock.com/gradyreese
If you're gainfully employed and enjoy a benefits package from your employer you may be thinking you're set for life, with enough life insurance.
Before you congratulate yourself, think again.
Relying too heavily on your life insurance through work could put your family at risk, for 2 key reasons.
Reason No. 1: Not enough insurance now
The group life insurance offered by employers is usually skimpy, only enough to replace your income for a limited time and not enough to pay off a mortgage or provide for your children's education, if you have kids.
"Typically employers pay for a minimal life insurance policy, usually around $50,000 or so," explains John Gajkowski, a Certified Financial Planner professional and co-founder of Money Managers Financial Group in Chicago. "After that, you can usually buy supplemental insurance of 1 to 3 times your salary through your employer."
But only 4 in 10 workers with employer-based life insurance think they need more than their company's basic coverage, according to LIMRA, an organization that provides life insurance research and consulting.
Gajkowski recommends comparing the cost of an individual term life policy with your employer's supplemental life insurance, which may not always be cheaper. One caveat: If you have a health issue it may be better to go with the group plan because those typically have more lax underwriting standards.
Reason No. 2: No insurance at all later on
A big disadvantage of relying solely on your employer's life insurance plan is that you can lose it if you lose or leave your job, Gajkowski says.
"For security and continuity you are far better off buying your own life insurance," he says.
Note that you could face higher premiums or have difficulty qualifying if you wait to purchase the insurance when you're older and are moving on.
"Term life insurance gets more expensive the older you are and the closer you get to dying," says Gajkowski. "Buying it in your 20s or 30s is a lot cheaper than in your 40s or 50s."
Taking advantage of an employer-paid life insurance policy and supplementing it with additional group coverage can be smart, but Gajkowski recommends that you also have an individual life insurance policy that will follow you no matter how many times you change jobs.
Determining the right coverage level
At the end of the day, how much life insurance coverage should you have? Probably more than you think.
"Most people think $100,000 is a lot of money, but they don't understand what it really means," Gajkowski says, adding that if you're making $50,000 and have a wife and 2 kids, a $100,000 policy would provide for your family the way you do for just 2 years.
Gajkowski says you need to decide what you want to accomplish with your life insurance policy. For instance, if you'd like your family to keep your home and be debt-free, then you should buy a policy that covers your mortgage balance plus several years of income.
"The ideal scenario could turn out to be $1.5 million (in coverage), but if you can't afford to buy that much insurance you can buy $1 million and come closer to solving potential problems for your family," he says.