Few nonviolent images are more shocking than the floor-to-ceiling clutter that imprisons those with the psychological condition known as hoarding disorder.
What most concerns home insurance companies about hoarders are the health and safety hazards, such as:
Fire from portable heating and cooking devices used when kitchens are too cluttered.
Mold from disregarded and leaking roofs and pipes.
The biohazard from human and animal waste.
The potential for rodent and insect infestation.
Elevated slip-and-fall risks.
Can hoarders get home insurance? Do they pay more? And what happens to their coverage when a home emergency blows their cover?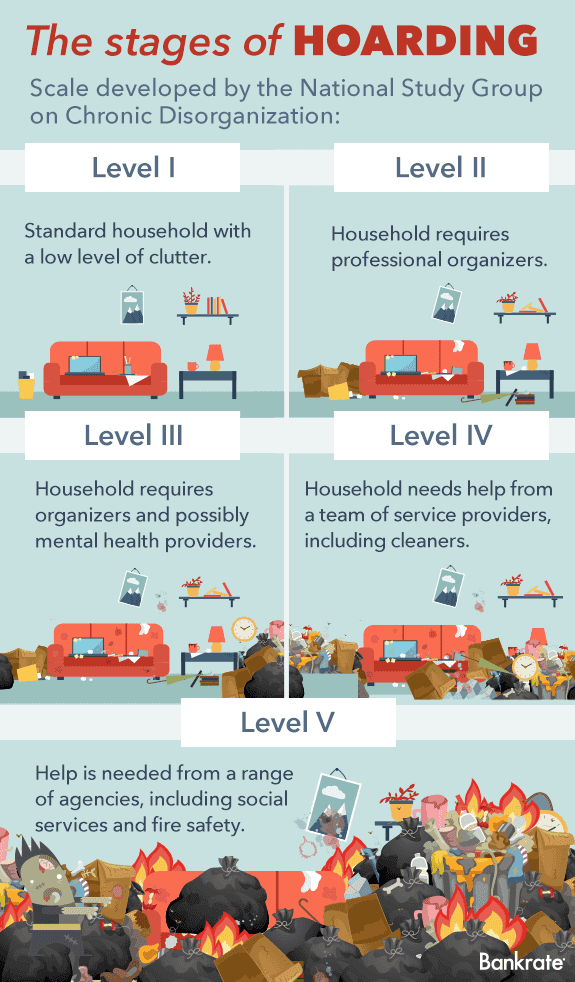 Hoarder quickly dropped by insurer
Ceci Garrett learned all 3 answers the hard way when her mother fell at home in the Washington, D.C., area back in 2009. Paramedics instantly recognized the home as hoarder territory by the full-blown squalor and lack of running water. It would eventually wind up featured on A&E's reality series "Hoarders."
Within days, the home insurer who'd covered Mom for 20 years canceled her policy.
"Ironically, it wasn't for the interior condition of the home," Garrett says, "It was for an old breaker box that was located in what they considered a non-protected area. But the house was already so bad that we didn't fight it."
The story had a happy ending: Mom moved into an assisted living facility near her daughter in Spokane, Washington, and Garrett founded Lightening The Load, a faith-based nonprofit support group for hoarders and their families.
Complicated claims
Hoarding expert Randy Frost, a professor of psychology at Smith College in Northampton, Massachusetts, and the co-author of "Stuff: Compulsive Hoarding and the Meaning of Things," says hoarders avoid calling for service help to fix anything in their home for fear of being discovered.
"Even after Superstorm Sandy hit, those with hoarding disorders wouldn't willingly let (workers) in to get rid of all the moldy stuff," Frost says.
Scott Congiusti, a New Jersey-based assistant vice president of claims with insurance brokerage HUB International, says the sheer volume of stuff in a hoarder's home slows the typical insurance claims process to a crawl because every affected item must be inventoried, regardless of value.
"It might take a full week to do what a normal crew would accomplish in 2 days," he says. "Just moving those items could actually exceed the repair cost. It takes a lot of patience."
Some insurers are more forgiving
While home insurers will contractually make good on a hoarder's covered claims, some will then cut the cord.
"They may non-renew them for safety reasons," Congiusti explains. "Can the house handle the load of all of this excess stuff? What if an outlet shorts out and you have all this flammable material?"
But Matt Paxton, the Richmond, Virginia-based extreme cleaner and host of Lifetime's "Hoarders: Family Secrets," says renewals are more the norm.
"People think they cancel them the minute they discover hoarding, but that's not the case," he says. "They would much rather work with their client."