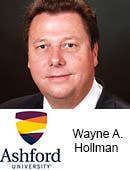 Life insurance typically appeals to certain types of people. If you have a spouse or young children, chances are good you at least have considered buying a policy.
For those who are single — or whose children have left the nest — life insurance often is an afterthought.
However, everyone can benefit from buying life insurance, says Wayne A. Hollman, academic department chair, quantitative methods for the Forbes School of Business at Ashford University in San Diego.
The key is to shop for the right type of policy. There are significant differences among life insurance options, and knowing your overall financial goals and objectives is crucial to choosing well, Hollman says.
He offers some shopping tips in the following interview.
Who needs life insurance? Is there a type of person or group of people who typically overlook this type of insurance, but really should consider buying it?
Life insurance is a financial product that has many different applications. Certainly, it is designed to provide a monetary cushion for heirs or loved ones in the event of terminal loss.
However, there is so much more. Some life insurance products are suitable for investment purposes, some for estate and succession planning and still others can contribute to tax-avoidance strategies.
One type of person who may not realize they need the protection that life insurance provides is young parents, who may not feel they have enough money to pay for life insurance. The truth is that there are some types of policies that are relatively inexpensive, and can help protect children from financial hardship should a parent suddenly and unexpectedly pass.
A common strategy is to purchase a policy to cover the mortgage balance on a home so children would not have to deal with downsizing while still grieving from the loss of a parent.
Life insurance makes sense for many people. But are there individuals who probably have no need for life insurance?
With so many different types of products and uses, I would be hard-pressed to find an individual who could not receive some benefit from possessing life insurance.
The really important point is that not all policies are appropriate for (every) individual and situation — there are significant differences.
That is why it is so important to work with a financial planner or expert who specializes in insurance products. According to your unique situation, they can recommend what could best serve specific needs now, and going forward on into the future.
People buy life insurance for many reasons. What are your favorite "overlooked" reasons for buying a policy? Are there reasons to buy a policy that most people just don't think about?
In terms of a sound financial planning strategy, it makes good sense to plan for what we want to happen to money and possessions we have accumulated during life.
Estate taxes can be very expensive, and can eat away at a good portion of the estate if not planned for correctly. Life insurance can be obtained to cover those costs and also (to) reduce estate taxation.
Sometimes permanent life insurance is sold because of its potential as an investment. In your opinion, does life insurance make for a good investment? Why or why not?
I would say that it is important to counsel with a qualified financial planner or life insurance expert who can analyze and view your holistic financial situation and make specific recommendations that are appropriate.
It is important that your overall financial goals and objectives are considered, and suitable recommendations are made based upon those criteria. Having said that, there are lots of products that fit in well with financial planning and investments.
Some types of policies have specific investment features built in, and the investment portion operates much the same way as mutual funds do.
Other policies can build up a cash value that you can borrow against in case of emergencies. Still other policies can be coordinated to help reduce estate taxes as part of overall succession planning.
The important point to remember is that all life insurance policies are not the same. They are not commoditized and do require a special knowledge and expertise to ensure individuals have the right policies for their unique situations.