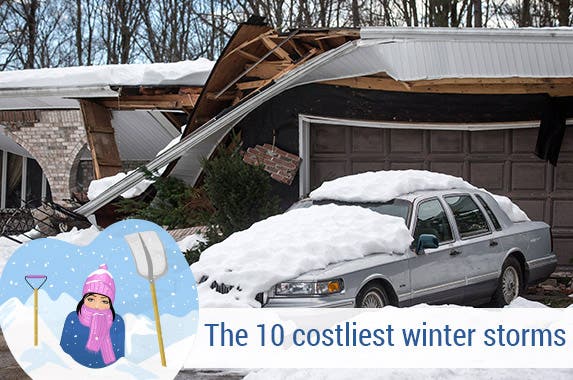 Winter storms with top insurance losses
People along the East Coast are bracing for a potentially massive snowstorm, the season's 1st big reminder of what winter can do. The Insurance Information Institute, a New York-based industry group, says winter weather is the No. 3 source of catastrophic insurance claims, after hurricanes and tornadoes. Extreme snow and cold can bring collapsed roofs, burst pipes and car crashes.
Will the nor'easter go into the record books? Here's the competition: the 10 costliest winter weather events of the past 30 years.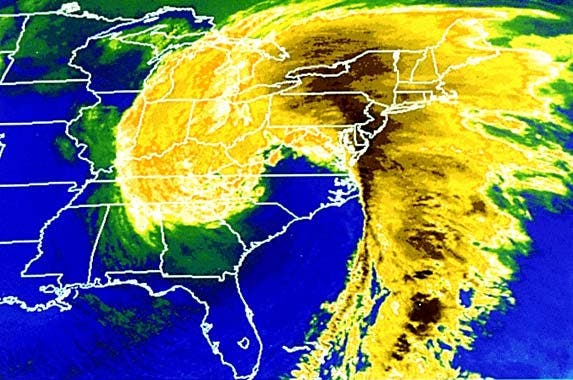 1. 'Storm of the Century': March 11-14, 1993
U.S. National Oceanic and Atmospheric Administration
The Insurance Information Institute and insurance giant Swiss Re say the U.S.'s most expensive winter storm of all time was the superstorm of 1993. Nicknamed the "Storm of the Century" because of its size, intensity and far-reaching effect, it walloped 2 dozen states with massive snowfall, hurricane-force winds and scattered tornadoes. At least 10 million power customers lost electricity. More than 200 people died during the 4-day tempest.
Damage estimate: $5 billion
Insured losses: $2 billion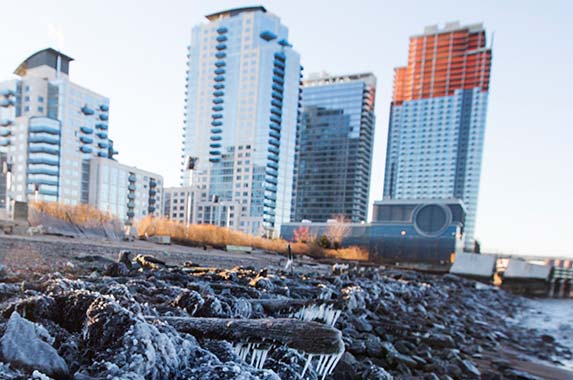 2. Polar Vortex: Jan. 5-8, 2014
© LUCAS JACKSON/Reuters/Corbis
CNN.com called it "the biggest visitor from the North Pole since Santa Claus." A huge wave of frigid air normally confined to the Arctic descended deep into North America, affecting roughly 200 million people in an area as far south as Alabama and Mississippi and as far west as Minnesota and Missouri. Scores of low-temperature records were shattered, schools and businesses shut down, and airlines canceled thousands of flights.
Damage estimate: $2.5 billion
Insured losses: $1.7 billion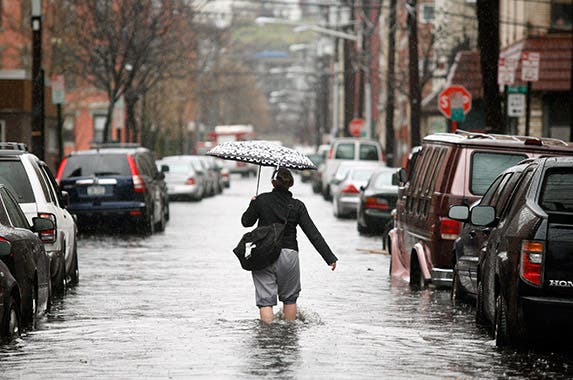 3. Late-season nor'easter: April 13-17, 2007
© GARY HERSHORN/X00129/Reuters/Corbis
This powerful storm assaulted the Northeast with heaping amounts of heavy snow, high winds and heavy rain, including 7.5 inches that deluged New York's Central Park in one 24-hour period. Flooding, hail, tornadoes and power outages hit an area stretching from the Carolinas to New England. The IRS delayed tax filing by 2 days for those in the storm's path. At least 18 people were killed.
Damage estimate: $2 billion
Insured losses: $1.6 billion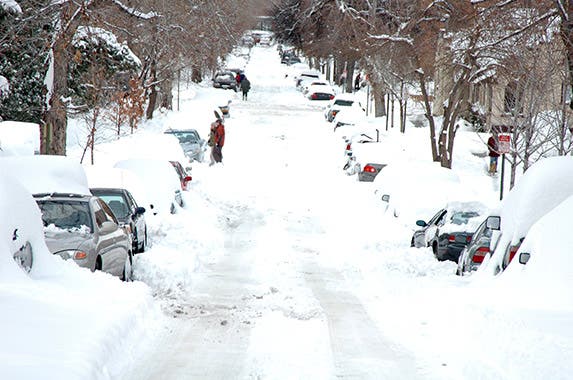 4. Winter storm: April 7-11, 2013
© MSPhotographic/Shutterstock.com
An unseasonably wintry weather pattern took a toll from California to the Midwest. During this five-day disturbance, hundreds of flights were canceled in Denver, record snow fell in the Dakotas, and large hail and harsh thunderstorms bombarded other states. The National Weather Service says one of the storm's 26 confirmed tornadoes began in Kemper County, Mississippi, and raced along the ground for 68 miles into Alabama. High winds flipped vehicles and ripped roofs off homes and other buildings.
Damage estimate: $1.5 billion
Insured losses: $1.2 billion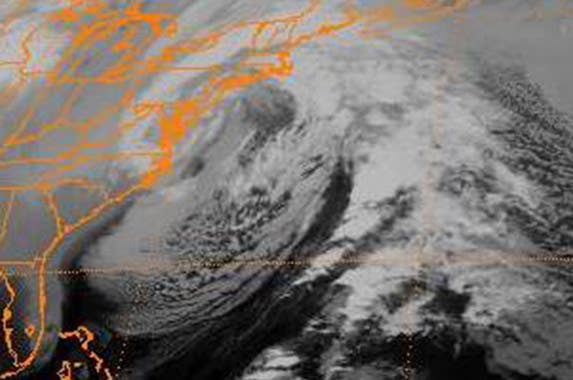 5. 'Downslope nor'easter': Dec. 10-13, 1992
U.S. National Oceanic and Atmospheric Administration
Extreme snowfall, sleet, rain, winds and high tides wreaked havoc in the Northeast. A tide of 10.4 feet was recorded at Perth Amboy, New Jersey. Record tides and massive waves caused more than 100 beach homes on Fire Island, New York, to tumble into the ocean. Several feet of snow were dumped on mountainous areas of New York and New England, but valleys were left relatively dry, in a "downslope" effect. Nineteen people died.
Damage estimate: $3 billion
Insured losses: $1 billion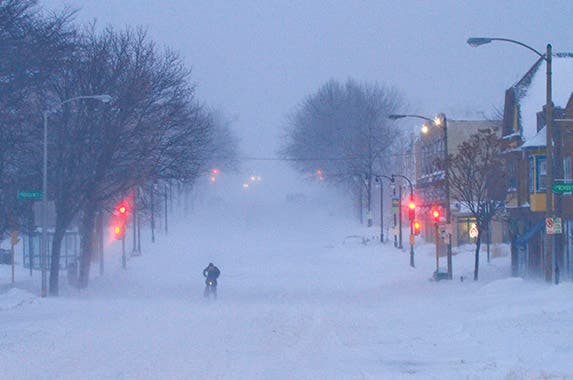 6. North American blizzard: Jan. 31-Feb. 3, 2011
© DARREN HAUCK/Reuters/Corbis
Sometimes called the "Groundhog Day Storm" because it peaked on Feb. 2, this weather anomaly affected areas from northern Texas to New England and eastern Canada. Cold air, heavy snow and winds gusting to 60 mph combined to produce blizzard conditions. Some locations recorded "thunder snow," in which thunder accompanies snow, not rain. Dozens of deaths were said to be related to the storm.
Damage estimate: $1.3 billion
Insured losses: $980 million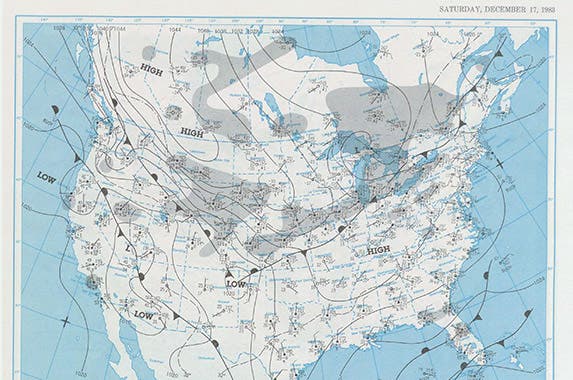 7. Coldest Christmas season: Dec. 17-30, 1983
U.S. National Oceanic and Atmospheric Administration
The coldest Christmas on record in the United States came within a 2-week period filled with bitter cold temperatures. Snow covered about three-quarters of North America, and temperature records were broken in 29 states. The National Weather Service said about 150 people died throughout the U.S., including many elderly people in unheated homes. According to the National Center for Health Statistics, winter cold kills more than twice as many Americans as summer heat.
Damage estimate: $1 billion
Insured losses: $880 million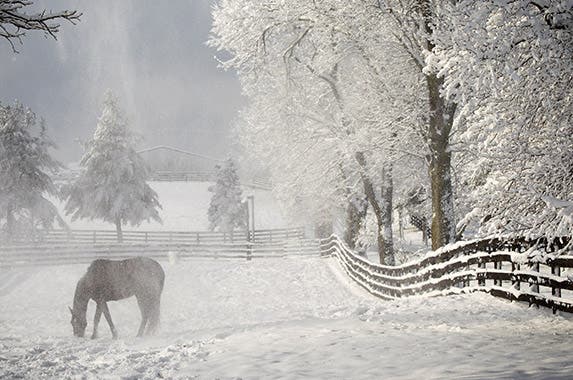 8. Arctic outbreak: Jan. 17-20, 1994
© David Stephenson/ZUMA Press/Corbis
While many Americans were focusing on the devastation from the infamous Northridge earthquake in California, Eastern and Midwestern states were plummeted into a record-breaking deep freeze. Shelbyville, Kentucky, measured a bone-chilling 37 degrees below zero, and Louisville received a record snowfall of more than 15 inches. Pittsburgh recorded its coldest temperature ever: 22 below. Rolling blackouts waved through the Mid-Atlantic, and the cold caused United Airlines to cancel about half its flights at O'Hare International Airport in Chicago.
Damage estimate: $1 billion
Insured losses: $800 million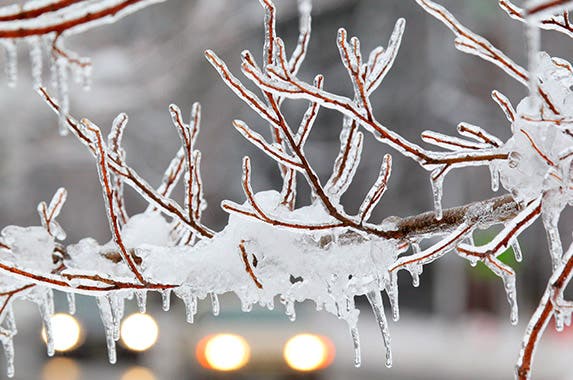 9. Ice storm: Feb. 10-12, 1994
© Kurdzuk, Tony/Star Ledger/Corbis
A severe storm started as rain and then, when temperatures turned sharply colder, deposited ice across the South and Southeast — up to 6 inches in some places. The National Weather Service says the weight of the ice pulled down more than 8,000 utility poles, and some residents of the region lost power for as long as a month. A quarter of Mississippi's pecan crop was ruined. Nine people died in this storm.
Damage estimate: $3 billion
Insured losses: $800 million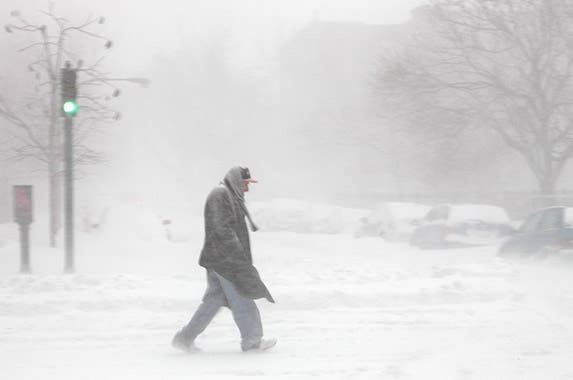 10. Midwest blizzard: Jan. 1-4, 1999
© Andrew A. Nelles/ZUMA Press/Corbis
Blustery record snowfalls ushered in the new year in the Midwest, with up to 2 feet of the white stuff dumped on many areas. Chicago registered 22 inches, paralyzing all activity there. Every form of transportation stalled. The snow was followed by record-low temperatures of 20 degrees below zero or colder in Illinois and neighboring states. The National Climatic Data Center says nearly 75 people died in the storm.
Damage estimate: $1 billion
Insured losses: $780 million