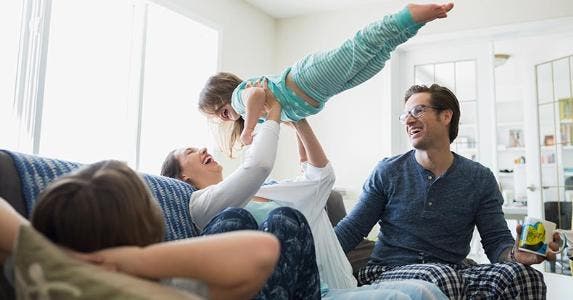 Hero Images/Getty Images
Keeping your kids in diapers, shoes and picture books requires more cash than you probably anticipated. If you're like most parents looking for ways to spend less money on your kids, buying life insurance for them may never cross your mind. If you do think of it, you might quickly reject the idea.
And that may be the right call, for 2 reasons:
They're not likely to die. While financial experts say life insurance is essential for parents, it's less important to buy a policy to cover your kids.
"The main purpose of life insurance is to replace the economic benefit of the insured person for their family or to pay for final costs," says John Gajkowski, a CFP professional and founder of Money Managers Financial Group in Chicago. "Thankfully, it's a slight possibility that something will happen to your kids, not a probability."
Gajkowski says that sometimes parents decide to buy a life insurance policy on their children because it's so inexpensive that it seems harmless or because someone in their life has had the experience of losing a child. The life insurance policy could pay for final expenses, as well as lost income while a parent grieves.
There are better ways to save for them. "The other reason some parents or grandparents purchase a life insurance policy on a child is as a way of providing savings for their future," Gajkowski says. "But if that's your goal, there are usually better mechanisms for long-term savings than a life insurance policy."
Gajkowski says a 529 college savings plan or another investment vehicle is usually better than a life insurance policy for savings because you can earn larger profits with investment accounts.
Want to insure your kids? You have options
If you do decide you want to buy life insurance on your children, to pay for final expenses or as a savings plan, several options exist:
Buy a small standalone policy from an insurance agent.

Children's life insurance policies are usually permanent, whole life policies offering a fairly low insurance benefit, says Gajkowski. For example, Globe Life Insurance advertises that it has whole life policies providing $5,000 in coverage for kids and costing as little as $26 per year.

Look for an inexpensive and small insurance policy through an alumni group or other affiliation.

"You can sometimes find a policy with a lower face value and lower premiums if you purchase it as part of a group you belong to," he says.

Add the child to your own life insurance.

"The most cost-effective way to insure your child's life is by adding a rider to your life insurance policy that covers the child," says Gajkowski. State Farm says its children's term insurance rider on a parent's policy can cost $50 per year and provide up to $20,000 in coverage for each child in the family. Future children are automatically covered under the rider. The coverage can be converted to the children's own life insurance policy once they become adults, which could be helpful for a child who develops a health condition that could make qualifying for life insurance difficult.
As with any insurance, be sure to compare quotes and read the fine print before choosing a policy for your child.