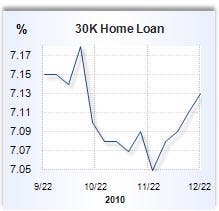 Interest Rate Roundup
Home Equity
5.52% (line of credit)
7.13% (loan)
Here's a look at the state of home equity rates from Bankrate.com's weekly national survey of large banks and thrifts conducted Dec. 22, 2010.
There was a slight upward tick in loans backed by home equity this week.
The average rate on home equity loans was 7.13 percent in Bankrate's latest survey, an increase of 2 basis points from last week's 7.11 percent.
The rise was even less for home equity lines of credit, or HELOCs. The typical HELOC rose 1 basis point, settling at 5.52 percent.
To find the best home equity loan rates in your area, check Bankrate's interactive tool.
See all home equity loan rates content.
— Gregg Fields