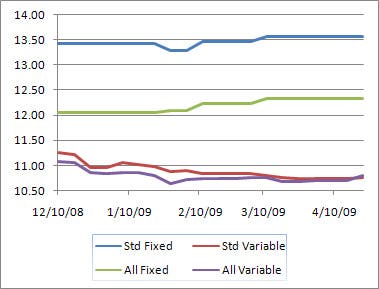 Credit Cards
Interest rates on variable-rate card offers have hovered around 11 percent since December, when the Federal Open Market Committee cut the federal funds target rate to a range of zero percent to 0.25 percent. And after today's meeting, they probably won't change.
Most variable-rate cards are pegged to the prime rate, which moves in lock step with the federal funds rate. Yet many banks aren't extending the rate cut to their customers, especially existing ones.
Some cardholders are even seeing their annual percentage rate soar. According to a January 2009 survey from Atlanta-based Synergistics Research Corp., 21 percent of consumers reported receiving an interest rate increase. Major card issuers — including Citigroup, Bank of America and American Express — have all raised interest rates on some cardholders due to market conditions within the past year.
These rate hikes come at a time when banks face rising charge-offs, new regulations and possible legislation that will limit their ability to adjust APRs. Congress is considering several bills that would impose restrictions on credit card lenders that go further than rules approved by regulators in December. The Fed regulations take effect July 2010 and require 45 days' notice for rate adjustments and limit retroactive rate increases. The loss in interest income would cost the credit card industry $5.5 billion in 2010, and $11 billion each year after that, according to an estimate that bank card advisory firm R.K. Hammer provided in January.
How has the Fed rate reduction affected credit card rates over the past five months?
Credit card interest rates since December 2008