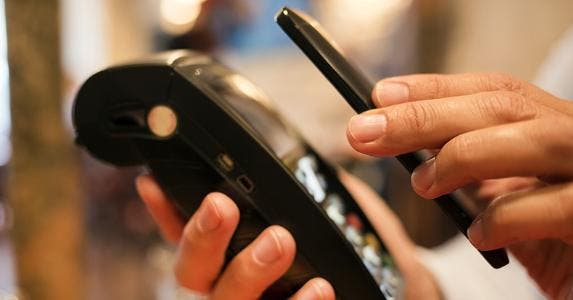 Apple is trumpeting the fact that its latest phones allow users to make purchases using near-field communications. But will Apple Pay succeed where several similar services have failed?.
Despite its golden brand name, Apple joins several mobile wallet products that still haven't caught on with consumers. Some big companies such as banks, mobile networks, credit card players and even retailers, not to mention Google, have staked out mobile wallets — only to falter later.
Why? The niche is highly fragmented and the technology is still evolving, experts say.
A mobile wallet is a payment system that uses an app on your smartphone linked to a credit card, debit card or prepaid card to make payments in person at a physical point of sale.
True, Apple's offering is the most important yet, says Mary Monahan, executive vice president of mobile at Javelin Strategy & Research, in a research note. Yet, the "cool factor" of paying with your phone isn't enough; the wallets need to function as more than just a way to pay, she says.
Many mobile wallets on the market
"Consumers also have so many mobile wallet choices," says Daniel Van Dyke, a research specialist at Javelin Strategy & Research. "But so few are worthwhile, and the niche is extremely volatile right now."
Over time, the players will be winnowed, he says.
The difficulty is that consumers have been understandably skittish about adopting mobile wallets. According to a Yankee Group report released in February, only 16 percent of all mobile device users made in-store purchases with their mobile phones in the three months before the study's release.
Another problem is that whipping out a phone to pay for that widget can be more complicated than just using Visa or MasterCard.
"Payment systems using credit and debit cards aren't broken," says Jordan McKee, a Yankee Group senior analyst and author of the report. "And then there are entrenched payment behaviors."
Clearly, he says, the way we pay for goods and services won't change soon.
Will mobile wallets be widely adopted?
Still, mobile wallets will keep changing with innovations over the next few years, according to the Yankee Group report.
Javelin's Van Dyke says mobile wallets will see more acceptance in 2015. Last year, consumers spent $3.1 billion using mobile wallets, according to Javelin Strategy & Research. By 2018, that number will rise more than tenfold to $34.8 billion. "At some point, mobile wallets will be for everyone," Van Dyke adds.
One tail wind is near field communication, or NFC, which is poised for higher adoption, Van Dyke says. Retailers use NFC wireless technology for payments by cellphone. And in late 2015, NFC is getting a boost, when smart card payment requirements are set to go into effect at U.S. retailers. "So by 2019, the vast majority of retailers will adopt NFC," pushing the technology's growth, he says.
For now, only 220,000 stores use NFC, while roughly 8 million merchants do not, according to Javelin Strategy & Research. So, adoption by merchants is still missing.
"Technology barriers are being removed painfully and slowly," says Nathalie Reinelt, an analyst with Aite Group's retail banking and payments practice. "These barriers have to be addressed first."
NFC will be used more often. For now, Softcard, formerly Isis Wallet, which is a mobile wallet consortium formed by AT&T Inc., Verizon Communications Inc. and T-Mobile, is one of the few mobile wallets using NFC. Consumers can download a free app and then make payments using their phones.
"(Softcard) isn't a cohesive mobile payment service," says Van Dyke. "And, it's choice No. 8 for consumers."
Mobile wallet products have faltered
Even new upstarts like Square Wallet have fumbled. The much-talked-about mobile wallet, which was a downloadable app that had the backing of Twitter inventor Jack Dorsey, was folded and replaced by another payment product.
"The wallet struggled at gaining adoption with retailers and consumers," McKee says. However, the startup LevelUp is still offering its mobile wallet app. "Adoption is fairly good," he says.
Another challenge is that the mobile wallet market is fragmented, with versions differing widely. A few institutions such as U.S. Bank have rolled out their own mobile wallets. So far, none have done a great job at adoption, McKee says.
The newest entrant, Apple Pay, is available only for iPhone 6 customers because it requires a special chip. So lots of iPhone users will be left out of Apple Pay at first.
However, Javelin's Monahan says that Apple customers spend more money than other smartphone owners, which could help nudge NFC acceptance later on.
A consortium of retailers has banded together to form Merchant Customer Exchange, or MCX, to produce a mobile wallet. It includes heavyweights like Best Buy and Exxon Mobil. "MCX could potentially revolutionize mobile wallets because it has lots of merchant acceptance," Javelin's Van Dyke says.
Who's the early leader?
McKee says that with Google Wallet struggling, PayPal is the early leader in this technology niche, with four times the adoption rate of Google, according to Yankee Group. So PayPal's prospects look very good, McKee says.
"So many contenders are vying for mobile wallet adoption," McKee says. "They're all out for a land grab."
Given the crowded mobile wallet landscape, consider the mobile wallet players you're most comfortable with before adopting the technology, McKee says. So if you have a good relationship with PayPal, use its mobile wallets.
The parting message: "Mobile wallets won't happen overnight," says McKee. "But in the next five years, there will be lots of progress."