Think you are the only one deep in credit card debt? Think again. While the average American carries nearly $5,000 in credit card debt at any given time, a minority of people are drowning in tens of thousands of dollars in debt from credit cards, according to the most recent figures from TransUnion.
Getting financially fit
It's a problem that can occur quickly, such as after a medical emergency, or gradually by simply spending beyond your means. But the situation isn't hopeless.
Consumers who visit CredAbility, a nonprofit credit counseling agency in the Southeast, on average carry $25,000 in debt on their credit cards. While that is a mountain of debt, 7 in 10 of those people pay it off in five years, says Michelle Jones, the agency's senior vice president of counseling.
"The one thing that's challenging about debt is it simply takes time to pay down," she says. "There's no quick solution."
Here are the stories of two women who conquered their credit card debt in less than five years with the help of a credit counselor.
An 'ugly, vicious habit'
Lorie Ewing's journey down the rabbit hole of credit card debt started with a house she was buying with the man who would become her husband. Ewing, a retired Air Force reservist who also owns three separate businesses in San Antonio, wanted to contribute something to the down payment, but didn't have any cash.
"So I got a $10,000 cash advance, no questions asked," Ewing, 53, says.
Lorie Ewing paid off more than $50,000 in credit card debt over four years.
After that, Ewing says she fell into an "ugly, vicious habit" where she felt compelled to charge rather than spend her own money. She bought a $10,000 lawn mower, furniture, gas — most everything — on seven credit cards. Her purchases piled up until the bill came in at $53,000, and her fiance said he wouldn't marry Ewing until she paid off her debts.
Ewing found a consumer credit counselor after reading an article in the Sunday paper about a local teacher paying off her credit cards. She gave the agency a call. The counselor helped negotiate lower rates on Ewing's credit cards and create a payment plan. The counselor also showed Ewing how much in interest she would end up owing if she only paid the minimum payment.
"If you don't stop, this will be how much you owe, she told me," Ewing says. "I thought, wow, I could do a lot with that money."
Ewing embarked on a four-year trek to pay down her debt. She directed between $4,000 and $6,000 to her balance every month. She didn't have a car payment and her fiance paid the mortgage. She only spent money on gas and groceries. When she was deployed last year, she closed down two of her three businesses — a flower shop and a hair salon — and funneled even more money into her credit cards. Last summer, Ewing sent in her last payment for her credit card debt.
She now keeps just one credit card in her wallet to help with supplies for her tax accounting business. Otherwise, she doesn't believe in credit cards. As for her fiance? He married a debt-free Ewing Nov. 11, 2011.
A soup-kitchen type of sacrifice
Molly Stillman's battle with credit card debt started when she was in college. She put school expenses such as books, food and extracurricular activities on her credit card. The charging habit followed her after graduation when she moved to Virginia as a first-year teacher. She signed up for four store credit cards and another card through her vet to pay for her cat's medical treatment.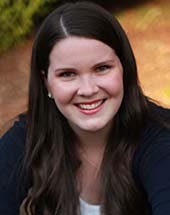 "I look at credit cards in a very different light now," says Molly Stillman.
"They were handing out credit cards like packages of gum," Stillman, 27, says. "They make it so easy."
At the end of her first year of teaching, Stillman realized she couldn't pay her bills. She had racked up $36,000 in debt on six credit cards. The card with the biggest balance required a $600 minimum payment, a payment she couldn't make. She called her issuer, which referred her to a credit counseling agency.
Two hours later, a counselor with a thick New Jersey accent had contacted all of Stillman's creditors and worked out a payment plan. She also shared with Stillman a very sobering reality: If she only paid the minimum payment, it would take 45 years to pay off her debt. The counselor's plan would take only five years. Stillman committed herself to it.
The plan meant she had to pay $800 to her creditors every month. After paying her debt and rent, Stillman had only $100 left over for the rest of her expenses, including food and gas. That meant major sacrifices.
"It's humbling to stand in line at a soup kitchen and wait among people who are homeless for food," she says. "And I didn't tell anybody. When I went places to get free or discounted food, I would bring grocery bags, so my roommates would think I went grocery shopping."
For most of her early and mid-20s, Stillman didn't go to the movies or out bowling with her friends. She traded in clothes she didn't wear for secondhand clothes at a local consignment shop. She sold much of what she bought with the credit cards on eBay to pay off those same cards. Every tax refund, bonus or raise went straight to her credit card bills.
"The hardest part was when I got a bonus. I would get all excited, but I couldn't do anything with it," she says. "I kept reminding myself that I did enjoy it, but I enjoyed it too early."
Along her journey to debt freedom, Stillman met the man she was going to marry. As she paid down her debts, the two of them saved together to pay for their February 2012 wedding. Stillman vowed to extinguish her debt by then, by herself, even though her fiance offered to help.
"These were my mistakes, and I didn't want to bring that to my marriage," she says. "I wanted a fresh start."
Two weeks after her wedding, Stillman mailed in her last debt payment. She conquered her debt in less than five years. She still carries a credit card that she shares with her new husband. But they only charge what they can afford to pay off each month.
"I look at credit cards in a very different light now," she says. "You just have to spend less than you make."