Ally CashBack Credit Card
At Bankrate we strive to help you make smarter financial decisions. While we adhere to strict editorial integrity, this post may contain references to products from our partners. Here's an explanation for how we make money.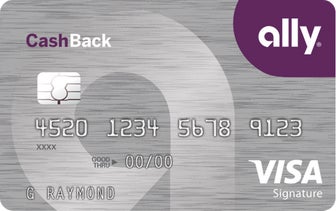 Annual Fee:

$0

Purchase Intro APR:

N/A

Regular APR:

15.24% 20.24% 25.24% Variable based on your creditworthiness
Terms and Restrictions Apply
Bankrate Rating
Our writers, editors and industry experts score credit cards based on a variety of factors including card features, bonus offers and independent research. Credit card issuers have no say or influence on how we rate cards.
This card offer is currently unavailable on Bankrate. To see more cards in this category, please visit our cash back category page.
The Ally CashBack Credit Card offered by the online bank of the same name just doesn't have that wow factor we've seen in other cash-back cards. Offering a just-OK 2% rate on groceries and gas and 1% on all other purchases, Ally CashBack is easily bested by several others that offer greater rewards value and other perks.
That being said, this is a perfectly fine credit card for someone who wants no complications, especially if you own an Ally Bank deposit account.
Review
Although there's a lot to like about Ally Bank, the Ally CashBack Credit Card could use a little improvement.
First the good: There's no annual fee, and you can earn a $100 bonus if you make $500 in eligible purchases within the first three months of opening the account.
Now the rest: There are several other cards on the market that offer better rewards. Even though this card comes with a 10% bonus if you deposit your earnings in an Ally bank account, this still isn't a strong enough rewards rate to choose this card over another.
Ally pays an unlimited 2% back on all eligible grocery and gas spending. If you spend $500 one month at the supermarket and $500 on other purchases on the Ally CashBack Credit Card, you'll earn $15 back in rewards, plus another 15 cents if you deposit it into your Ally account. If you spent that same $500 at the supermarket and another $500 on other purchases using a card like the Citi Double Cash, which pays 1% when you buy and another 1% when you pay your bill, you'd earn a total of $20 cash back for the same amount.
There are also cash back credit cards that pay bigger rewards specifically on groceries or gas, although these typically have spending caps or are part of a rotating category program and good for only a limited time. Still, the Ally CashBack Credit Card could stand to gain some other perks that might make it a better card, like an introductory 0% APR offer for example.
Who should get this card
This card might be right for you if you're an Ally Bank customer and you're looking for an uncomplicated rewards credit card.
Advantages
The sign-up bonus is pretty easily attainable.
The rewards on grocery and gas spending are decent.
If you choose to have your rewards deposited into your Ally bank account you'll get a 10% bonus.
Disadvantages
Other cards pay higher rates.
This card comes with a 3% foreign transaction fee, making it a poor choice for overseas travel.
If you close your account, you'll forfeit any unredeemed cash-back earnings.
Fees and APR
Pay no annual fee.
The variable APR for purchases and balance transfers is 14.24% to 24.24% based on creditworthiness.
Pay a 3% foreign transaction fee on purchase made outside the U.S.
Balance transfer fee is $5 or 3% of the amount transferred, whichever is greater.
Late payments won't affect your APR, but you may be subject to a late fee of up to $35.
Extras, perks and using points
Ally Bank pays a 10% bonus on all rewards deposited into an Ally bank account.
To redeem your points, log into your Ally account online and choose to either deposit the rewards into your account or receive them as a statement credit on your bill. You have to have a minimum of $25 worth of rewards in order to redeem. There is no charge to redeem your rewards.