Which bank should I choose?
Get personalized bank recommendations in 3 easy steps.
Advertiser Disclosure: The credit card offers that appear on the website are from companies from which this site receives compensation. This compensation may impact how and where products appear on this site (including, for example, the order in which they appear). This site does not include all credit card companies or available credit card offers.
Information about credit cards and card offers is accurate as of the date of publication.
Editor's note: Some of the offers on this page may be expired. Check out our Best Credit Cards of 2020 for the most up-to-date offers for our favorite credit cards.
You reach the register, and the sales clerk tells you that you could save 30 percent on your purchase if you open a store credit card today.
You quickly do the calculations.
With $300 worth of winter jackets for the kids, holiday gifts and those boots you just had to have, you'd save $90. But is it worth it? Store credit cards have some advantages, including the discounts, rewards, and perks you can get at your favorite store. Some cards offer additional benefits like free shipping, free alterations or free gift-wrapping.
If you are building or rebuilding your credit, store credit cards are also relatively easy to get; many require a credit score of just 580. And by paying your credit card on time, making more than the minimum payment, and keeping your debt-to-available-credit ratio low, your credit score can quickly rise when you use your store credit card responsibly.
The drawbacks of store credit cards
In spite of the generous savings and rewards the best retail credit cards provide, these cards have some significant disadvantages, including high interest rates, low credit limits and programs designed to keep you in debt.
Beware of high interest rates
The average store credit card has an interest rate of 24.99%, compared to the 16.15% average interest rate on a general-purpose credit card, according to the 2017 Retail Card Survey. If you don't pay off your store credit card by the time your first statement arrives, you could get hit with hefty interest charges.
Let's take that $210 store credit card purchase described earlier as an example. Assuming a 24% interest rate, it would take you 17 months to pay off your debt if you made only the minimum payment each month.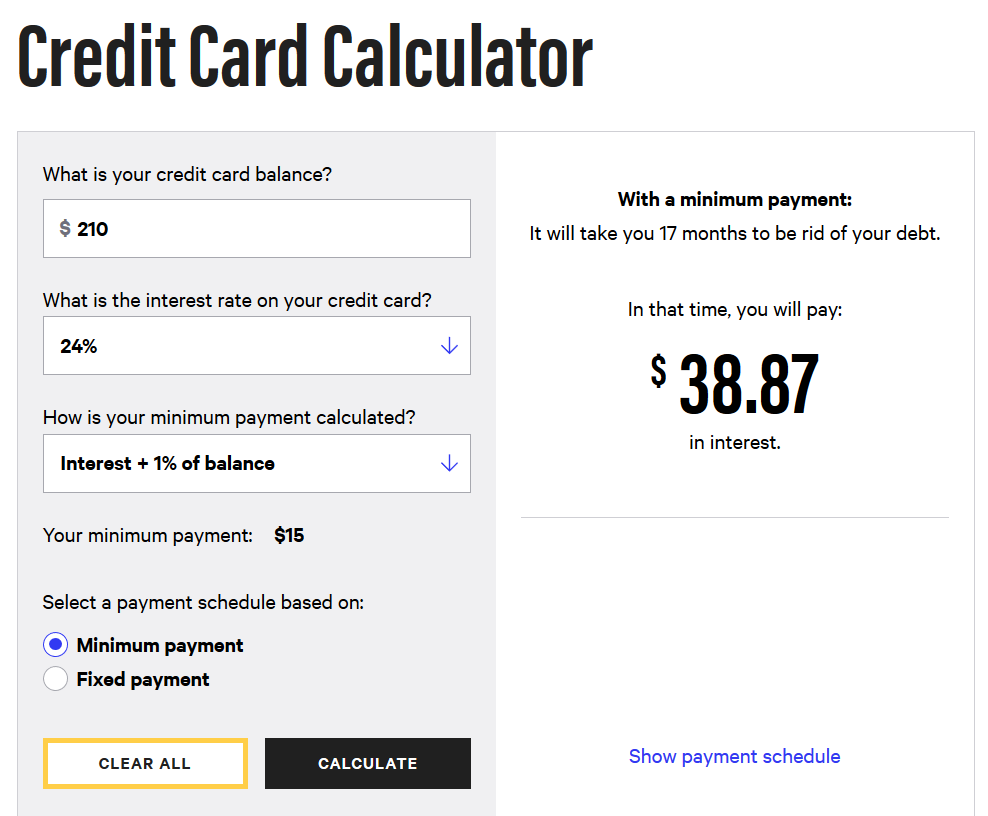 You'd pay $38.87 in interest, reducing your savings to $51.13.
That's still an excellent deal, but it's important to consider the other potentially negative consequences of letting the discounts entice you to open a store credit card.
Low credit limits can hurt your credit score
Many people apply for store credit cards with the intention of building a credit history or improving their credit. But a store credit card can hurt your credit score in a few ways.
New cardholders often start with a low credit limit of $300 to $500.  If you make a large purchase, you will increase your credit utilization percentage – a determining factor in your credit score. Creditors like to see credit utilization under 30%, ideally.  So, even if you pay your balance at the end of the billing cycle, depending on when the company reports information to the credit bureaus, you could show a high credit utilization ratio, which lowers your credit score.
You could lose out on better credit cards or loans
If you plan to apply for other credit around the same time you open a store card, be careful. Your credit score will drop by five to 10 points when you apply for a store credit card.
You could also lose five to 10 points for opening a new account; customers who recently opened new accounts are considered a greater credit risk.
If you are planning to get another loan, such as a zero-interest rewards credit card, a car loan, or a mortgage, you don't want to jeopardize that loan or risk a higher interest rate – which could cost you hundreds or thousands of dollars over time – for the sake of saving some money on a pair of jeans.
Store credit cards are designed to keep you shopping
Balances and interest charges can add up quickly with store credit cards because their rewards programs are designed to keep you coming back to the store. Companies mail well-timed coupons, notify you of sales via text messages and apps, and make sure their credit card customers get the best deals.
If you don't pay off your card in full every billing cycle or can't control your spending, steer clear of store credit cards.
How Do Store Credit Cards Compare to Cashback Rewards Cards?
If you are looking for a credit card that will save you money on every purchase – without the risks of high interest – consider a top-rated credit card with a 0% introductory APR for anywhere from 12 to 24 months.
Benefits of zero interest credit cards
If saving money is your priority – one of the leading benefits of store credit cards – you can save hundreds of dollars in interest charges alone with top-rated 0% introductory rate credit cards.
Let's consider the $300 purchase described earlier.
This time, you use a 0% APR credit card. Instead of getting 30% off your purchase, you save 15% with a store coupon available to customers using another payment method.
You save $45, close to the same amount you saved after interest charges with your new store credit card.
By paying with your cash back rewards credit card, you could earn an additional $3.83 or more in rewards. You also have more time to pay off the balance, since the 0% introductory rate typically lasts for 12 to 24 months.
In addition, cards like Chase Freedom and Chase Freedom Unlimited offer $150 cash back when you spend $500 using your card within the first three months. You won't find that level of reward with any store credit card.
Use your credit card, and your rewards, anywhere
Unlike a store credit card, you can use your 0% cashback rewards credit card anywhere major credit cards are accepted. And, depending on the credit card, you can cash in your rewards at any time, with no minimum to earn. Not only can you earn cash back with a major credit card, but it's great to hold in your wallet for emergencies.
A card from Kohl's or Gap or The Children's Place won't help if your hot water heater breaks or your car needs new brakes. If you want to greater control over how you can use your credit card and where you spend your rewards, consider a 0% interest card.
Rewards credit cards have lower interest rates for qualified customers
Even after the introductory rate expires, you'll come out ahead with a rewards credit card. Chase Freedom Unlimited offers a 16.49 – 25.24% variable APR to customers with excellent credit. The Capital One Quicksilver card has interest rates ranging from 16.24% to 26.24% variable for customers with average to good credit.
You won't find interest rates that low with a store credit card, no matter how good your credit score is.
Enjoy additional benefits with 0% APR credit cards
Most major credit cards today offer a host of perks that store credit cards don't.
Cards from Chase, Discover, Wells Fargo, and Capital One (to name a few) all provide free credit monitoring service to help you keep tabs on your accounts. Free credit monitoring can help you spot fraud faster and can also help you track your progress if you are working on building your credit.
Most major credit cards also provide purchase protection. Visa, Mastercard, and American Express will repair, replace, or reimburse the purchase price if an item is damaged or stolen within 90 days after purchase when you use the card.
Finally, by using a major credit card, you may be able to extend the manufacturer's warranty on some purchases. If you are buying a big-ticket item such as kitchen appliances or electronics, the extended warranty can save you time and money.
Just be sure to read the fine print for your particular card, because some exclusions and limits apply.
Think twice before applying for that store credit card
If you don't qualify for a 0% APR card, you may want to consider a store credit card as you build your credit. But be careful to avoid the pitfalls that come with low credit limits and high interest rates.
Carrying a 0% APR credit card can give you more flexibility in your finances and greater rewards over time. Most of all, you'll gain peace-of-mind, knowing you have a card you can use for a wider variety of purchases and take several months to pay without worrying about interest charges.