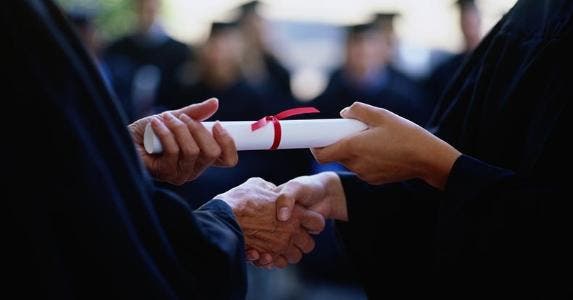 As many students are working to earn college degrees in mainstream majors, some are studying to take a job or career path that's quite out of the ordinary.
Imagine a career in bagpiping. Or take a job piloting drones. Or, go to work, engineering a Las Vegas show?
Here are those and other outside-the-box college degrees that lead to an unconventional career.
At Carnegie Mellon University in Pittsburgh, students can earn a bachelor of fine arts instrumental performance degree in bagpiping.
A career in food manufacturing, research labs or commercial bakeries could lead to a rising salary, thanks to a 4-year bachelor of science degree in bakery science and management at Kansas State University
A "B.S. in aeronautics with a major in unmanned aircraft systems operations" is a mouthful. But in short, this degree prepares students to develop and pilot drones at the University of North Dakota in Grand Forks, North Dakota.
Get a motorsports degree
If NASCAR's calling, the motorsports engineering is offered at Indiana University-Purdue University in Indianapolis, allowing students to learn the fundamentals of the motorsports industry.
Work as a funeral service director or professional embalmer with a 2-year funeral services degree from the Lake Washington Institute of Technology in Kirkland, Washington.
A costume technology major at DePaul University in Chicago prepares students for spectacular careers as film, TV and theater costume makers, prop managers and fashion designers.
CSI nerds may want to look into a forensic biology major at Embry-Riddle University in Prescott, Arizona, where they'll study DNA, tissue sampling and crime scene analysis.
Try your luck at ski area management
Gobegic Community College in Ironwood, Michigan offers an associate of technology degree in ski area management that combines classroom learning with on-the-slopes internships in locations such as Colorado, Utah, Vermont and California.
"Culture and Zero Waste" is a required course if you're pursuing an associate degree in recycling and resource management from Santa Monica College, which prepares students for careers in the green jobs sector.
An anthrozoology major at Carroll College in Helena, Montana, focuses on the human-animal bond and can lead to employment in a research facility, animal-assisted activities for children and adults, search-and-rescue missions or zoos.
University Nevada Las Vegas's B.S. in entertainment engineering and design combines straightforward engineering with technical theater, which can be used post-college to create the stage shows appearing nightly on the Las Vegas Strip.
Florida Southern College in Lakeland, Florida, offers students the nation's only bachelor's degree in citrus. Grads often go on to work in the U.S. Department of Agriculture and for much of the Florida citrus industry.
Become a horseman
If your interests include rodeos and horse shows, try out the 4-year degree in natural horsemanship, at the University of Montana Western in Dillon, Montana. It prepares graduates for careers like ranch manager, mounted tour guide or horse trainer.
A 4-year bachelor of science degree in fermentation from Oregon State University in Corvallis, Oregon, or food science with a brewing option from University of California, Davis prep graduates to work in the brewing industry, for artisan food manufacturers or for regulatory agencies.
Students at Southern Utah University in Cedar City, Utas, learn canyoneering, scuba diving and Nordic skiing in the bachelor's degree program in outdoor recreation in parks and tourism, prepping them to work for tourism companies, national agencies, and wilderness adventure organizations.