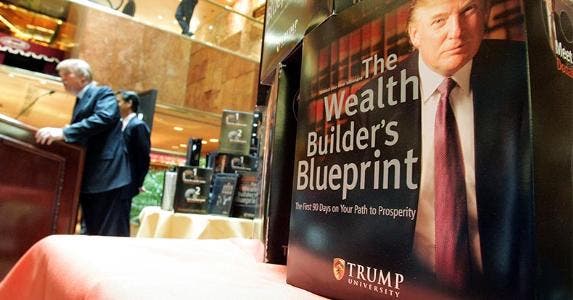 In recent months, the media firestorm surrounding Trump University and the collapse of the Corinthian Colleges chain has thrust for-profit colleges into the spotlight. They've been dubbed scams, rip-offs and diploma factories, leading many students and parents to beware their legitimacy.
What is a for-profit college?
A for-profit college is any postsecondary institution that is registered with the IRS as a profit-making company. This could include a beautician school or a flight school, for example. For-profit colleges are regulated nationally because the government subsidizes tuition through grants and loans to students.
In June, things got even more problematic for for-profit colleges. The nation's largest accreditor of for-profit colleges — the Accrediting Council for Independent Colleges and Schools, or ACICS — is at risk of being shut down. An advisory panel voted to recommend the government to cut ties with the accrediting group after discovering major problems in its standards, including the fact that it continued to give accreditation to the Corinthian Colleges chain while it was being investigated for fraud, according to an Associated Press report.
The Center for American Progress recently released a scathing report of the ACICS, revealing that from 2010 to 2015, there were 90 instances in which ACICS named campuses or institutions to its "honor roll" around the same time they were under federal or state investigation.
FREE TOOL: Check your credit report today at myBankrate.
The aftermath of an ACICS shutdown
ACICS accredits over 200 institutions and gives colleges the approval they need to receive federal aid. If the U.S. Department of Education revokes its federal recognition, hundreds of schools will be at risk of losing their ability to take part in federal financial aid programs, and will have to clamber and find new accreditors within 18 months. Since nothing will happen right away, students already enrolled will have time to finish their programs and will likely not be immediately affected.
"The immediate impact on students may be small. But it would certainly raise questions about whether they should continue their enrollment or look somewhere else," says Kevin Kinser, an associate professor at the University at Albany in New York, who studies nontraditional and alternative higher education and has written several books on the topic. "I imagine that the affected institutions will do whatever they can to reassure students, but this is really unprecedented territory. I don't think anyone knows what is going to happen."
Elizabeth Baylor, the director of the postsecondary education team at the Center for American Progress, says she is optimistic that the trickle-down effect of the June 23 recommendation to shut down ACICS will be positive for students attending for-profit colleges, and will help protect them better. Better oversight of colleges will ultimately mean that students attend programs that set them up for success, she says.
For-profit colleges are sometimes an expensive option for the degree offered …
"If ACICS-accredited schools provide good value, I expect they will continue to receive federal financial aid and be able to serve students." says Baylor. "If some schools are found to be lacking, it is important to restrict federal funds before students devote more time and money to an endeavor of little worth."
How students can ensure legitimacy
Still, the decision from June 23 could make things increasingly difficult for students who are trying to decipher whether a for-profit college's accreditation is legitimate if it was accredited by the ACICS.
What does ACICS accredit?
The scope of recognition for ACICS accreditation includes, "postsecondary, non-degree-granting institutions and degree-granting institutions in the United States, including those granting associate, baccalaureate and master's degrees, that are predominantly organized to educate students for occupational, trade and technical careers, and including institutions that offer programs via distance education," according to the U.S. Department of Education's website.
Students looking for a legitimate for-profit college have a few other places they can look, though, to determine the validity of a college. Baylor recommends checking out the U.S. Department of Education's college scorecard. You can search a specific school name and get detailed information, including average annual cost, graduation rates, median salary after attending and the share of students who are paying down their debt.
Kinser, the associate professor at the University of Albany, also recommends the National Center for Education Statistics' College Navigator, which provides students with similar information, such as graduation rates and financial aid information, and for students to take a peek at the college's gainful employment disclosures. If a student is looking at a specific program at a for-profit college, Kinser suggests that the student check whether the program has accreditation from an agency other than ACICS.
"For example, a radiology program may be accredited by the Joint Review Committee on Education in Radiologic Technology. That may give students confidence that the program is of good quality and the institution will be able to find accreditation to replace ACICS," explains Kinser. "ACICS is an institutional accreditation agency. It approves the entire institution and is what qualifies the institution to participate in federal student aid programs. The Joint Review Committee on Education in Radiologic Technology is a programmatic accreditation agency. These evaluate the quality of the specific program, not the institution as a whole."
Why people choose for-profit colleges
With such turmoil surrounding for-profit colleges — and such a wide selection of public colleges and universities, as well as non-profit, private schools — what would propel someone to choose a for-profit college?
For-profit colleges cater to nontraditional students, and are an attractive option for people who might not be able to commit to a typical schedule, according to Kinser.
"They might be older and had tried college before or are looking for a specific type of job training, like hairstyling," says Kinser. "If someone has a busy schedule and is limited in their ability to go to class during the day, they might find a for-profit college more attractive."
Unlike public colleges and universities that receive a large chunk of their funding from state or local taxes, private for-profit colleges are run by companies that function under the demands of investors and stockholders, according to the National Association for College Admission Counseling.
FREE TOOL: Get your credit report and score today, free and with no obligation, at myBankrate.
"I don't think there's anything inherently problematic with for-profit colleges. If we decided to have for-profit hospitals, why can't we think the same thing for education?" says Kinser. "(For-profit colleges) just need another regulatory oversight in order to ensure that they meet the public good and serve the public good rather than their own private gain."
For-profit college red flags
However, for-profit colleges are routinely slammed by critics claiming that their hefty prices aren't worth the education the students receive.
"Some of the problems for-profit colleges have are based on challenges they've had in demonstrating the value graduates get from the education that is received," says Kinser. "For-profit colleges are sometimes an expensive option for the degree offered … other programs include potential fraudulent activity, misrepresentation of information and aggressive recruitment practices that are either illegal or inappropriate for higher education institutions to conduct."
The federal government and numerous states' attorney generals have conducted investigations that have produced examples of for-profit colleges engaging in deceptive, aggressive and manipulative tactics, with the goal of enrolling as many as students as possible while disregarding their potential for success or ability to afford tuition, according to the National Association for College Admission Counseling.
Baylor, from the Center for American Progress, says that the amount of pressure put on students to sign up right away could lead to bad decision-making, and is something to be aware of.
"One of the biggest things is don't let anyone pressure you to sign on the dotted line," says Baylor. "For-profit colleges can create this sense of urgency, implying that if you don't sign up today, you won't get in. It's about knowing the situation you are in to make the proper decision. If they (the students) have this sense of urgency, they might have made the wrong decision."