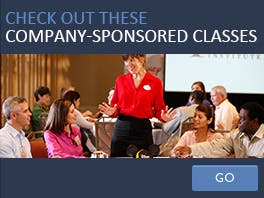 Earning a degree while staying employed can be tough, but many companies help out their workers with tuition reimbursement and benefit programs. To add to these programs, an increasing number are taking the concept one step further, by offering their own training classes that can be taken for college credit. Courses like Starbucks' Barista Basics are specially tailored to build skills employees can use on the job while also helping workers reduce the number of courses they'll need to pursue a college degree.
"For a lot of our employees, going from where they are today to a college degree is just an enormous leap," says Ken Barber, manager of learning and development for Jiffy Lube International.
Barber says that the company strives to provide "an easy path to follow" by offering up to seven college credit hours for training programs that the American Council on Education, or ACE, has evaluated and recommends for college credit. Upon completion, students can apply to use their credits at any of the approximately 2,000 institutions that may grant transfer credit for ACE-approved courses. Cathy Sandeen, ACE's vice president for education attainment and innovation, adds that it's up to each individual college to decide whether to accept transfer credits.
Students can also apply their credits to a partnership Jiffy Lube formed this past year with the University of Maryland University College. There, students can take an additional three business classes to receive a certificate in small-business management, which fulfills approximately half of the requirements for an associate degree.
"Our hope is they would see that as, 'If I just continue to do what I've been doing, it won't be long and I'll have my associate degree.' Then once they do that, they're halfway to their college degree," says Barber.
Supplement your degree
Students aren't just using corporate-branded training programs to break into college. They're also using training credits and tuition benefits to supplement degrees that haven't fared as well in the job market, says Laura Williamson, an associate professor in the MBA program at City University of Seattle. City University currently provides several benefits to Starbucks employees, including some college credit for up to 26 training programs offered through the company, a waiver on the school's application fee, and a 25 percent tuition discount that Starbucks employees can apply to any undergraduate or graduate program of study.
"I've had Ph.D.s (using Starbucks' tuition benefits in my classes). I've had lawyers," she says. "All sorts of degrees come in and they can't find work in their discipline — but Starbucks is hiring."
Get work from training?
Corporate-branded classes have established their place in community and vocational colleges for years. Unlike the Starbucks and Jiffy Lube programs, which offer credit for training programs employees take through the company, corporations such as Toyota create their own branded programs through certain two-year institutions. Students who complete Toyota's Advanced Manufacturing Technician program frequently find work in the company's facilities directly after graduation without having to spend months in unemployed limbo like many of their four-year college counterparts.
Anya Kamenetz, author of the book "DIY U: Edupunks, Edupreneurs, and the Coming Transformation of Higher Education," says corporate-branded classes should also raise the question of: "What is the role of private companies in providing what should be a public good?"
Kamenetz cites the recent trouble between Caterpillar Inc. and Milwaukee steelworker union members as an example. Up until recently, Milwaukee Area Technical College had a contract with the machinery company to provide a customized worker welding assessment and testing training program for Caterpillar employees. In March, United Steelworkers Local 1343 accused Caterpillar of using the program as a way to train nonunion workers who could replace union employees in case of a strike and sent a letter to the college asking to halt the program. The college has now fulfilled its contract with Caterpillar, confirms MATC spokeswoman Kathleen Hohl.
"I think it's just a really interesting example of what can happen when a corporation is very heavily involved in creating and sponsoring and funding courses that are happening in an educational context," Kamenetz says. "…it's particularly interesting just because Wisconsin is a state where there have been many, many cuts to public higher education and therefore the technical college is really at the mercy of sponsors that want to fund it."
Kamenetz says that the Caterpillar-steelworkers clash is an isolated example and not necessarily indicative of corporate-branded curriculums. For many students, they can be a way to improve higher education accessibility for working adults.
Barber concurs. "Our ultimate goal with this program is to see individuals go from virtually no college to a college degree, and we would love to see some of those who make that journey end up working for Jiffy Lube International and being able to go full circle with that process."