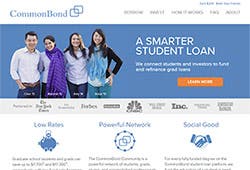 Many college students rely on loans to get through school. In fact, 7 out of every 10 U.S. college seniors who graduated in 2012 left campus with student loan debt, according to The Institute for College Access & Success. There is another alternative, however. An influx of crowdfunding options provides new ways for needy students to sidestep traditional lenders. Crowdfunding websites pool smaller investments from individuals to fund a student's education directly or create loans the student will repay.
Each site comes with its own set of rules as well as pros and cons for the borrower. These tips will help you decide if crowdfunding is right for you.
Know the playing field
No two crowdfunding sites are the same. Unlike federal and private loans that offer a certain borrowing amount over a determined period of time with specified borrower protections, crowdfunding sites vary dramatically in terms of eligibility requirements, lending models, loan terms and repayment conditions.
For example, CommonBond allows current students and graduates of more than 100 graduate programs across the country, spanning law, medical, engineering, and MBA degrees, to skip traditional lenders and borrow or refinance from the site's network of alumni, individual investors and "institutional investors," which include community banks and hedge funds. Students who refinance through the site, which offers rates lower than those at most private lenders, save up to $17,300 in interest over the life of their loan, says co-founder and CEO David Klein.
On the flip side, the more than 6,000 students already signed up for Zero Bound, the beta version of which launches at the end of March, won't need to pay any funds back. But they are required to contribute at least 30 hours per month to a nonprofit organization or community service project to earn crowdfunded sponsorship that they can apply to tuition bills or loans.
"Maybe (a student) only gets a couple hundred dollars, but at the same time, it's a few hundred they didn't have before and now they can put this really great experience on their resume," says Kelli Space, a Northeastern University graduate who, prior to co-founding Zero Bound, raised $13,000 online to pay off her loans in 2010.
Students also need to research what kind of borrower protections each platform offers. Nearly all students taking out new loans from the federal government automatically receive deferment, forbearance, graduated repayment and income-based repayment options, but crowdfunding platforms aren't required to offer any of these protections.
A guide to crowdfunding platforms
With so many crowdfunding websites to choose from, it's easy to get lost in the shuffle. Here are the major players in the college finance market.
CommonBond
How it works: Students borrow or refinance through CommonBond. The website uses multiple investors to create fixed-interest student loans set at 6.24 percent or 6.4 percent for students graduating from an MBA program in 2014, 2015 or 2016. Graduates who are refinancing can do so at 5.99 percent. Borrowers who opt for auto-debit payments are eligible for a 0.25 percent interest rate reduction.
Who's eligible: Current MBA students and alumni of more than 100 law, medical, engineering and MBA programs.
Minimum fundraising requirements: No fundraising required for this site.
Fees: 2 percent origination fee for in-school loans; no origination fee for refinancing with CommonBond.
GoFundMe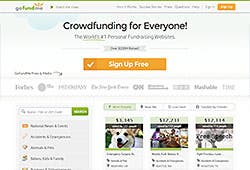 How it works: Starving students can raise money for tuition, books, living expenses, loans or almost anything else by setting up a profile page, promoting it and watching donations roll in. Since this is not a loan, GoFundMe users are not required to pay funds back or offer incentives in return.
Who's eligible: Anyone with a personal cause, education-related or not. Family and friends can also set up GoFundMe campaigns.
Minimum fundraising requirements: None.
Fees: Processing fee of about 3 percent plus a 5 percent service fee.
Piglt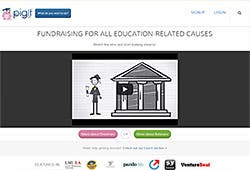 How it works: Like Kickstarter, Piglt allows users to create a profile and offer "incentives" in exchange for crowdfunded dollars. Graduates running "loan campaigns" to pay off loans they've already taken out get to keep any funds raised, regardless of whether the campaign reached its ultimate goal. Students running "tuition campaigns" to fund current tuition bills must reach their goals in order to keep the funds.
Who's eligible: Students ages 18 and above who are attending U.S. schools or paying off student loan debts.
Minimum fundraising requirements: None.
Fees: 5 percent service fee for those who reach their campaign goals and 8 percent fee on loan campaigns that do not reach their goals. Both come with a 3 percent processing fee. No fees on tuition campaigns that do not reach their goals.
Upstart
How it works: Instead of paying back a set loan amount, Upstarters share up to 7 percent of their income over the next five or 10 years. Payments are waived for borrowers earning less than a certain income threshold.
Who's eligible: Current students and graduates at any accredited, four-year college or university.
Minimum fundraising requirements: $10,000.
Fees: 3 percent of the total amount raised.
Zero Bound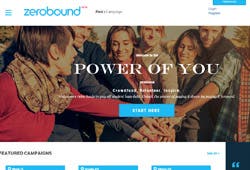 How it works: Zero Bound users raise sponsorship money for a service project, not capital for a student loan, so they're not required to pay anything back after receiving funding. They are required to either find a volunteer project through Zero Bound's site or create one of their own and put in at least 30 volunteer hours in a given month.
Who's eligible: Community service-minded students and graduates at any college or university.
Minimum fundraising requirements: None.
Fees: A processing fee of about 3 percent, plus a 5 percent service fee on successful campaigns or an 8 percent fee on campaigns that do not reach their goals.
Consider your financial aid
Graduates raising funds to repay loans are in the clear, but current and future students raising money for tuition could potentially lose some financial aid.
"If the student is receiving massive donations, they do need to report it" to the federal government, says Jefferson Blackburn-Smith, vice president for enrollment management at Otterbein University in Westerville, Ohio. "If a student gets $100 and it helps them buy books, we would never know about it, and we don't need to know about it."
The tipping point, he says, is when crowdfunded dollars plus the school's offered financial aid package exceed the total cost of attendance for that school. In that circumstance, the school is required to adjust the student's financial aid package, though many institutions will reduce the amount of student loans in the package before touching need-based scholarships and grants. "Merit aid" awards, such as academic and athletic scholarships that aren't doled out according to financial need, would not be impacted.
Current students can ask their financial aid office for an estimate of how much a successful crowdfunding campaign could impact their awards. Future students who haven't enrolled in college yet can use the government's FAFSA4caster tool at FAFSA.ed.gov to estimate their future federal aid package.
Plan for success
On top of examining lending models, loan terms, fees and the financial aid impact of crowdfunding, students should also evaluate the likelihood of success, especially since some platforms only award funds if students meet their campaign goals. Though numbers on student loan fundraising campaigns aren't available, only about 44 percent of all campaigns created through Kickstarter, one of the largest crowdfunding sites, get fully funded.
"The most difficult offer to get on almost any crowdfunding platform is the first one because there's no other social proof" that the cause is worth investing in, says Dave Girouard, co-founder and CEO of Upstart. His platform allows students to raise funds in exchange for a percentage of the students' future incomes over the next five or 10 years. "It's important for (students) to have their own plan to get backers. That usually begins to build momentum towards a successful funding."
It's also crucial for students to know how to sell themselves, he adds. Having a clear idea of your goal, a demonstrated passion for your field, a readable and concise project description and the ability to connect with like-minded funders is vital. If your fundraising platform requires a photo, choose one that shows you "doing something that's relevant to your career, as opposed to relaxing or having an umbrella drink by a pool," he says. "That might be perfectly nice, but it's not very inspiring to backers."