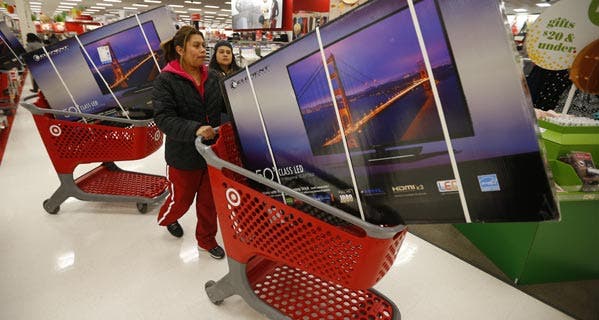 Target unveiled its Black Friday deals on Monday. The announcement, which featured the standard discounts on toys, movies and electronics, also contained a bit of a surprise: The retailer is running a gift card promotion.
On Nov. 28, holiday shoppers will be able to purchase up to $300 in Target gift cards at 10 percent off at Target stores and Target.com from 6 a.m. to noon.
© JEFF HAYNES/Reuters/Corbis
The cards purchased on Black Friday will be available for redemption beginning Saturday, Nov. 29. (So, yes, you could conceivably buy the gift cards for the discount then use them to buy other presents later on.) The cards don't expire and don't carry any fees.
This is the first time Target has offered a discount on gift card purchases. The retailer has been on the forefront of the increasingly popular digital gift card market. It currently allows consumers to save, give, share and redeem gift cards through its mobile app.
"This year we're offering more ways to save to make it convenient for guests," Target spokeswoman Jenna Reck said in an emailed statement. "We know that guests tend to spend more when (they) return to Target to redeem gift cards, so it's a great way to get guests to come back to Target during the busy holiday season."
Of course, gift cards remain a popular present. According to recent gift card survey commissioned by Bankrate, 84 percent of consumers say they have received a gift card and 72 percent say they have given one.
You can use Bankrate's chart outlining the terms and features of 62 different gift cards to help find the perfect plastic present for your friends and relatives this holiday shopping season.
Do you plan on giving a gift card this year? Let us know in the comments below.
Follow me on Twitter: @JeanineSko.