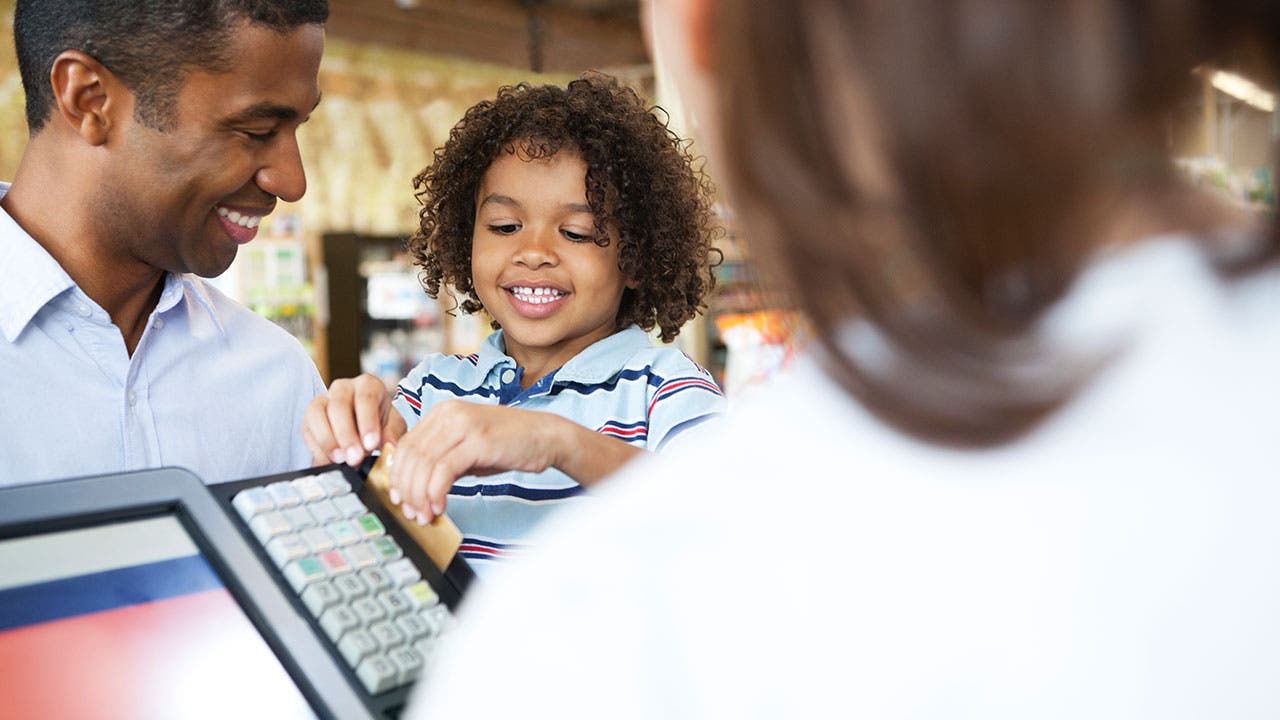 Advertiser Disclosure: The credit card offers that appear on the website are from companies from which this site receives compensation. This compensation may impact how and where products appear on this site (including, for example, the order in which they appear). This site does not include all credit card companies or available credit card offers.
Information about credit cards and card offers is accurate as of the date of publication.
Teaching credit card basics from a young age is a great way to help your child maintain good credit into adulthood.
According to a new survey by CreditCards.com, a Bankrate sister site, many parents take their children's credit education one step further.
Eight percent of parents surveyed with children under age 18 say at least one of those children has a credit card. That's equal to 6 million parents with at least one child who has their own credit card.
"There are several reasons to give a child a credit card before age 18," says Ted Rossman, industry analyst at CreditCards.com. "You can boost a child's credit if you add him or her to one of your cards as an authorized user. Your positive track record will help your child establish good credit as long as you pay your bills on time and keep your debts low."
Before giving your child free rein on a high-interest credit card, though, you should ensure that both your own credit is in order and your child can handle the responsibility.
Here are a few ways you can help your child establish a healthy relationship with credit cards:
Lay the groundwork
Credit education shouldn't begin when your child has a card in hand. You can instill good financial habits even in early childhood.
"In terms of how to explain it to kids, I would get really tactile," says Lindsay Bryan-Podvin, financial therapist and founder of Mind Money Balance.
Russell Nauta, 42, from Massachusetts, began teaching his kids complex concepts like debt and interest as early as age eight. When they want to buy something using their own money, Nauta or his wife orders it on Amazon.
Nauta uses their card to make the purchase and then offers a choice: "You have the option of paying now for the $10 amount of what you are buying, or you can pay $1.25 every month for a year," he tells them. "If you select that method, you will end up paying $15 for this item."
The cost you impose doesn't have to hold monetary value.
"Parents could also make that cost something behavioral, like a chore, but make sure they understand that it isn't free money," Bryan-Podvin says.
Some parents are more likely to allow credit card access
The CreditCards.com survey also found that income and regional demographics play into whether children are likely to have access to credit cards.
Kids whose families earn $50,000 or more per year are more than twice as likely (12 percent versus 5 percent) to have their own card than those from families making less than that. Kids from the Northeast are more likely to have a credit card than those from other regions across the country.
But regardless of demographics, if you have good credit yourself and a responsible child, allowing credit card access can be a great hands-on approach to learning the rewards, responsibility and consequences of credit cards.
Add your child as an authorized user
Being given access to a credit card as an authorized user can help your child build a credit history and learn the value of money from a young age. As a parent, you may also gain peace of mind from your child's access to funds in case of emergency or for daily expenses.
Some issuers do have age restrictions for authorized users. For instance, American Express and Discover both have a minimum age of 13, while Chase and Capital One have no age restriction.
Bryan-Podvin says it may be beneficial to name your child as an authorized user as young as possible, even if you're not ready to give card access yet, in order to maximize credit history.
The age at which you give a child access to an authorized card will vary based on your personal situation. "Some who are 13 or 14 might be able to understand the concept, whereas with other kids it's more like 16 or 18."
You may also consider starting out by giving your child access to a prepaid credit card, especially if you don't have a strong credit score. The card can still be used in emergency situations or for small daily purchases, but it won't have the same credit consequences.
Establish rules — and follow through
CreditCards.com's survey reports that 21 percent of parents with credit cards found their children using them without permission at least once. This may include anything from unauthorized in-app game purchases to shopping sprees with a stolen card from your wallet.
Before you give your child a credit card as an authorized user or allow access to your credit cards, communicate appropriate use and the consequences of overspending.
This editorial content is not provided or commissioned by any of the referenced financial institutions or companies. Opinions, analysis, reviews or recommendations expressed here are the author's alone, not those of any financial institutions or companies, and have not been reviewed, approved or otherwise endorsed by any such entity. All products or services are presented without warranty. Bankrate.com is an independent, advertising-supported publisher and comparison service. This post contains references to our partners, and Bankrate may be compensated in exchange for featured placement of certain sponsored products and services, or your clicking on certain links posted on this website.
"Keep a close eye on your child's spending and consider limiting purchases to relatively small items (gas, food, movie tickets, etc.) and emergency spending," Rossman says.
Many issuers allow you to set the authorized card at a low spending limit, which you can increase as necessary. You can also take time to view your child's credit card statement together each month and discuss good spending habits and budgeting methods.
"It's really important to make sure that you're following through with your messaging, whatever that messaging is," Bryan-Podvin says. "If it's, 'You can spend $50 a month on gas using this card,' that's fine. But if they spend $55, have that discussion of 'Are you going to pay me $5 back or next month do you only get $45?'"
Jeff McCulloh, 56, from Maine, gave his daughter a credit card when she left home to attend school at age 17 and made clear that it was designated for emergency spending.
"We have access to the spending by logging in online and watching her expenses, and so far it's been great," he says. "She has only had to use it twice, for a bus ticket to school and an Uber from the airport, but it's given us a lot of peace of mind knowing she has an extra margin of safety."
Lead by example
If your finances aren't up to par, you don't want to put your child's future credit at risk as an authorized user on your accounts. You may also risk taking on more debt yourself since you'll be on the hook for paying down balances.
The best thing you can do to ensure your child develops good money and credit habits is to set an example. Use your card responsibly and pay off your balances in full. Once your child understands the responsibility of borrowing and using cards appropriately, the benefits of an authorized card can help them even years into adulthood.
Still, there's no one-size-fits-all solution to financial health, so consider your own habits and your child's needs to determine the best option for your family.