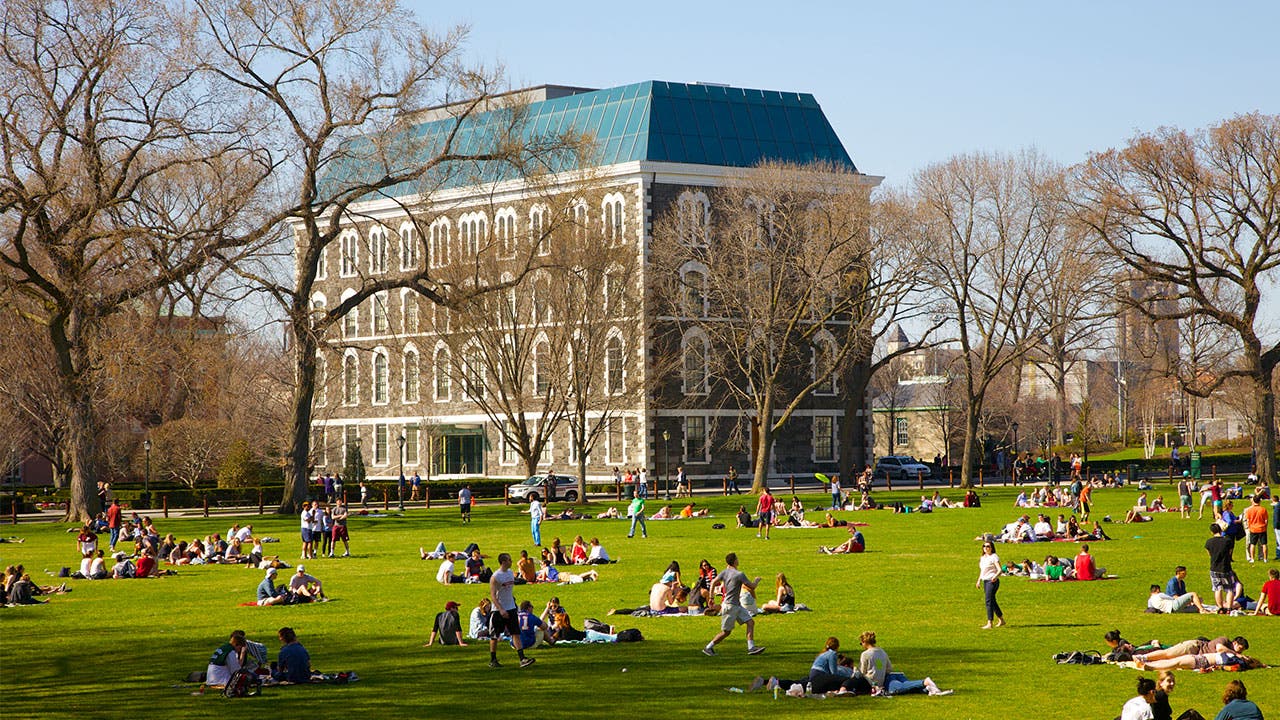 Advertiser Disclosure: The credit card offers that appear on the website are from companies from which this site receives compensation. This compensation may impact how and where products appear on this site (including, for example, the order in which they appear). This site does not include all credit card companies or available credit card offers.
Information about credit cards and card offers is accurate as of the date of publication. The information about the UnitedSM Explorer Card has been collected independently by Bankrate.com and has not been reviewed or provided by the card issuer.
Editor's note: Some offers on this page are no longer available through our site.
If that five-figure college bill is making you cry, just think of the rewards.
Not the benefits of higher education for your child. The credit card rewards.
College is one of those life experiences card-reward experts refer to as "a spending event," says Jon Hayes, founder and CEO of RewardStock, a site that helps consumers optimize rewards for travel.
Meaning, if you're already spending a significant amount of money, you're smart to manage it so that you can also score a pile of points, miles or rewards from the deal.
Considering maximizing rewards by charging college expenses or giving your student a card? Here are three moves to make first (plus tips to add your college student as an authorized user to your card):
1. Look at what you gain/lose by charging tuition
Salivating at the chance to put that four- or five-figure tuition bill on your rewards card for the points? Not so fast.
"If you're doing it for the rewards, hopefully you've done the analysis to make sure it's worth it," says Ira Rheingold, executive director of the National Association of Consumer Advocates (NACA).
Of the 300 largest U.S. colleges and universities, 85 percent of colleges accept credit cards to pay tuition, according to a 2016 study by CreditCards.com.
Of the colleges that take plastic, most — 57 percent — charge a convenience fee. And those convenience fees average 2.75 percent. Cash back and rewards points, on the other hand, often equal 1 to 2 percent. However, know that many community colleges don't charge a card-processing fee.
So, unless you're averaging at least 3 percent back, or you're planning to charge tuition in order to meet a hefty minimum spend on a juicy sign-up bonus, you're losing money.
Ask upfront: Does the school charge a fee for paying with a credit card and, if so, how much?
And if you already have the cash to pay the bill in full and there's no fee for the privilege, or if the bonus you'll earn will offset the fee, "it's a no-brainer," says Joe Ridout, consumer services manager for Consumer Action.
2. Match the card to the job and maximize rewards
Not all school-related expenses are the same when it comes to collecting rewards. But you can maximize your opportunities by selecting the right card for the job. For instance:
Tuition payments. If you're fronting the card for rewards, and paying off the bill immediately, opt for a new card with a big sign-up bonus. One example: Chase Sapphire Preferred gives 60,000 bonus points if you spend $4,000 in the first three months. And you get 2 points for every dollar you spend on restaurants and travel and 1 point/dollar on everything else.
Pricey expenses. You want a card to charge high-dollar incidentals at irregular intervals, such as additional textbooks, trips home and extracurricular activity expenses and travel. So, look for a card that returns rich rewards year-round and doesn't cost anything to carry. One to consider: The Discover it Cash Rewards card doubles any cash rewards you earn in the first year and has no annual fee.
Regular bills. Want a card to set up auto-pay for your student's regular bills, such as a cellphone or auto insurance? Look for a card that's accepted virtually everywhere, charges no annual fee, and gives a nice return even if you're spending small amounts. One example: Bank of America Travel Rewards Visa has no annual fee and gives 1.5 points for every dollar you spend. You also get a 20,000-point bonus if you spend $1,000 within the first 90 days.
3. Decide what you want out of the deal
As the parent of a college kid, your goal is to rack up the rewards. But you should also consider what you plan to do with them.
Do you want young Erasmus to score free airfare for trips home? Are you and your spouse looking forward to an empty-nester vacation to Europe? Or do you just want a little extra cash to offset those collegiate costs?
The secret to making a smart deal is to decide what you want first — and work backward, says Hayes.
If your goal is travel, which card rewards programs offer the best service and deals on where you want to go? If, for instance, you or your college student will be traveling frequently on United, the United Mileage Plus card offers 2 miles per dollar on United Airline purchases, a 40,000-mile sign-up bonus if you spend $2,000 in the first three months, and 5,000 miles more if you add an authorized user in the same time period.
If you're looking for extra cash, which cards offer the most either in actual money or benefits where you regularly shop? The American Express Blue Cash Preferred card is a good example. It offers 6 percent cash back at supermarkets, 3 percent at gas stations and select department stores, and no annual fee in the first year.
That way, you don't pile up the rewards only to realize that they're not going to get you to your goal, says Hayes from RewardStock.
In the end, it's important to keep the big picture in mind: Remember that sending that card with your college student "is not about getting rewards, it's about teaching financial responsibility," NACA's Rheingold says.
Making your college student an authorized user
Adding your child to your card account can help you amass extra rewards and help them learn smart credit habits. But have a game plan, Rheingold says.
As the primary account holder, you can monitor how much they spend and what they buy. You receive the rewards, but also are ultimately responsible for the bills.
A few points to cover when you have "the talk:"
What's the purpose of the card? Use it for everything, or just emergencies they can't cover? Spell out exactly what items and situations rate as a card-worthy emergency.
How much they can spend without asking? What items are allowed, and which (like alcohol or cash advances) are prohibited.
Who's paying the bills? And who gets to use the rewards generated by the student's spending? Let them know when bills are due and devise a plan for reviewing them together.
Also, use spending limits and text alerts:
Some issuers, such as American Express, will let you set a separate limit for an authorized user's card.
You can set up a spending limit that matches the budget you've previously agreed on with your kid.
Alerts will notify you when the card's been used, where and for how much.
Talk to your student about the tools you'll both be using, as well as what they can do to secure the card in a dorm environment.
The content on this page is accurate as of the posting date. Please see the bank's website for the most current version of card offers.
See related: 4 reasons why college kids need a credit card, 9 credit lessons for college students
Editor's note: This story, "Sending kids off to college with a rewards credit card" originally was posted on CreditCards.com.
---
Editorial disclosure: All reviews are prepared by Bankrate.com staff. Opinions expressed therein are solely those of the reviewer and have not been reviewed or approved by any advertiser. The information, including card rates and fees, presented in the review is accurate as of the date of the review. Check the data at the top of this page and the bank's website for the most current information.
---