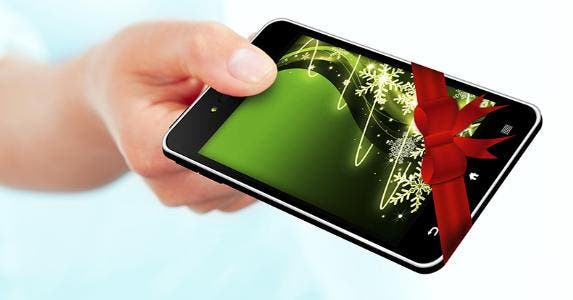 If the future of gift cards is digital, then the future is, well, almost here.
Fifty-nine percent of the 62 gift cards surveyed by Bankrate.com as part of its 2014 Gift Card Survey come in digital form, a small uptick from the 54 percent of gift cards surveyed last year.
Three retailers — Bed, Bath & Beyond, Office Depot and Dillard's — have added a digital gift card to their product lineup since Bankrate's 2013 Gift Card Survey. No brand eliminated their virtual offering in between.
Bankrate's 2014 Gift Card Survey looked at 62 gift cards in total: seven bank and credit card company-issued gift cards and 55 other gift cards from chain restaurants, online stores, supermarkets, department stores, big-box stores, major airlines and gas stations.
Its findings are congruent with Bankrate's gift card surveys from the past few years, which show a slow but fairly steady rise for digital gift cards, starting in 2011.
Six merchants launched virtual versions of their gift card products that year, a boom that decelerated during 2012's survey, with a few brands even eliminating the option. (Enough merchants added a digital offering between the two analyses for the total number of brands with the product to break about even year over year.)
Consumers getting more comfortable
Still, experts predict that a larger move to digital gift cards is inevitable.
"Retailers and shoppers are getting more comfortable with the idea of a digital gift card," says Ben Jackson, director of Mercator Advisory Group's prepaid advisory service. According to his research, these cards (both e-cards and mobile) made up about 7 percent of the $85.8 billion gift card market in 2013. Comparatively, digital gift cards made up about 4 percent of the $97.2 billion in gift cards back in 2011.
While the latest stat still represents a small part of the total gift card market, "it's going to continue to grow, just like everything else is becoming more digital," Jackson says.
Digital gift cards currently come in many forms. Some retailers offer e-cards, which can be purchased online and delivered right to a friend or family member's inbox. Others have gone mobile. A virtual card can be purchased online or with a smartphone and then sent to the recipient via email, text message, app or even Facebook.
There are lots of reasons why these products would appeal to customers. For starters, they're a quick fix for anyone who might need a gift on the fly. Second, unlike their plastic counterparts, they don't take up excess real estate in your wallet. And though it may seem counterintuitive, a digital gift card can be easily personalized.
"If I want to send you a (digital) gift card and I want to put a picture of me as a dancing elf on it, I can do that," Jackson says.
Another bonus for consumers: Some merchants are pairing their digital gift cards with existing or enhanced loyalty programs. Case in point: Starbucks, whose e-gift cards can be loaded into and then redeemed through the merchant's mobile app at the point of sale.
Coffee chain's mobile revenue percolates
A report from Business Insider's BI Intelligence found that Starbucks drove over $1 billion in mobile payment revenue in 2013, which represents a full 4 percent of U.S. mobile payments that year.
The coffee chain isn't the only retailer active in the digital gift card marketplace. Target launched its mobile gift card back in 2011. Its product, which arrives to recipients via text message, has been well-received.
"We continue to see strong growth with our mobile and eGiftCards," said Meghan Cushing, a spokeswoman for Target, in an emailed statement.
Home Depot, which launched its digital gift card more than five years ago, continues to see increased consumer interest in that marketplace.
Digital is "one of our fast-growing gift cards," says Spencer Allen, a senior director at Home Depot overseeing its gift card operations. While most consumers still redeem the card via an email printout, "we're seeing a very nice redemption on (Apple) Passbook," he says. (Apple Passbook stows gift cards, boarding passes, movie tickets and more on your phone to be scanned for redemption later on.)
These and other successes are likely to spur more merchants to jump on the digital gift card bandwagon — particularly if mobile payment platforms like Soft Card and Apple Pay start to catch on.  
"The way retailers work is they don't want to miss the boat," says Matt Davies, founder and CEO at Powerhouse Brands Consulting, which focuses on gift cards. "Whatever the boat is, they want to be on it."
Millennials lead the way
Demographics will also play a role in the shift.
According to a survey commissioned by Bankrate and compiled by Princeton Survey Research Associates International, 14 percent of millennials (ages 18 to 29) have given or received a mobile gift card, compared with only 7 percent of consumers ages 30 to 49 and only 6 percent of consumers ages 50 to 64. (Too few consumers ages 65 and over sent or received mobile gift cards to even register as a percentage.)
"The younger the consumer, the more comfortable they are digitally gifting," says Martha Weaver, director of the Gift Card Network, a gift card-specific marketing and collaboration platform. "We'll see a whole shift in the next 10 years."