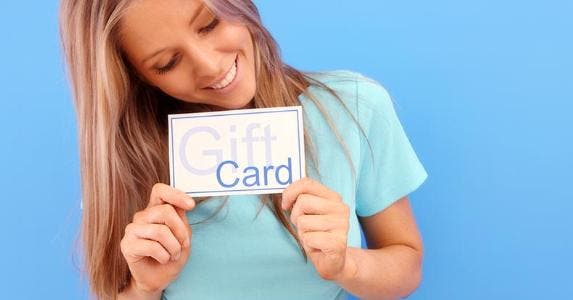 If you're a believer that gift-giving requires some careful consideration, then pulling a gift card off the rack at a grocery store and dropping it in an envelope probably isn't going to do it for you. But with mostly consumer-friendly terms and a huge range of options, they're a pretty good choice for everyone else.
Bankrate's 2015 Gift Card Survey shows that most gift cards have few, if any, fees, and many now offer digital versions to make buying and sending them even more painless.
Fees, expiration dates fairly rare
The last thing you want when buying a gift card is for its value to get frittered away before a recipient can get your money's worth. Luckily, most gift cards make it fairly easy to get full value from a card — even if it gets left in a drawer for a while.
Among the 60 widely used gift cards Bankrate surveyed, only 8% have an expiration date — mostly so-called "open-loop" gift cards issued by banks that can be used at almost any store. Among the few that have expiration dates, some apply only to the card itself, but not to the funds, so users can get a new card to access their money.
Only 5% of cards surveyed have an inactivity or maintenance fee. For those that do, fees kick in after 12 months.
In most cases, the recipient will usually get to spend every dime you put into a card. Few cards charge a purchase fee beyond the card's face value — only 13%, down from 17% in Bankrate's 2014 survey.
With so many options out there, it doesn't make much sense to settle for cards that have consumer-unfriendly gotchas, says Greg McBride, CFA, chief financial analyst at Bankrate.
Related story
Compare gift cards
Bankrate looked at the terms and features of 60 gift cards. Find the right card for you.
"You certainly want to stay away from any kind of expiration," he says.
Digital features proliferate, but rewards still rare
For those who feel that buying a plastic gift card and sending it to someone in the mail feels like too much work, your utopia is here. More than two-thirds — 67% of cards — are now available in an e-card version, according to the survey.
Another nice digital feature — being able to check a card balance online — has also become an industry standard. It's now available on 92% of cards, up from 87% last year.
But while card issuers are increasingly offering online functionality, don't expect plastic gift cards to go away anytime soon, says Ben Jackson, director of the prepaid advisory service at Mercator Advisory Group, a payments industry consulting firm near Boston.
"Technologists are going to tell you that plastic is going to disappear, but the retailers who deal with this stuff everyday will tell you, 'No it's not,'" Jackson says. "There are … folks who like to be able to take that physical card and put it in a box, or put it in another greeting card — do something to kind of fancy up the presentation — as a way of sort of saying, 'I'm going to give this to you and I'm going to personalize it, but still give you a choice.'"
Unlike digital options for cards, rewards for using gift cards are still a relative rarity. Only 8% of the cards in our survey had them.
"Everybody wants to be Starbucks. That was the beginning, in that they very early on figured out, 'Hey, if we attach loyalty to the gift card then it's going to become a spending tool and we're going to get a lot more customers,'" Jackson says.
Still, many businesses don't have the sort of fanatic, twice-a-day following that Starbucks has, however, so offering rewards may never make sense for them, he says.
Security perk becomes more widespread
Half of the cards in Bankrate's survey now offer the ability to add a security code to keep someone besides the recipient from cashing in on a stolen or lost card, up from 35% last year.
These days, with new data breaches being announced weekly and security at the front of consumers' minds, it makes sense that those marketing gift cards would offer some security features to set their cards apart, McBride says.
"It's very interesting, particularly with the move to EMV," the new chip card standard that's rolling out nationwide right now, says McBride, who recommends consumers take advantage of the feature on cards where it's offered.
Know your rights
The biggest thing you can do to make sure your gift card actually becomes a real gift someday is making sure it has reasonable terms.
However, gift cards' big selling point — that they're more fast and convenient than tangible gifts – makes it unlikely that people are going to sit down and read all the fine print on a $25 Chili's gift card. Enter the Federal Reserve, which in 2010 put in place some basic protections, including: 
Card issuers must wait 1 year before charging inactivity, dormancy or service fees.
Fees can be charged no more than once per month.
The balance on a gift card cannot expire for at least 5 years.
Fees for replacing an expired card are banned.
Regulations do have some holes
Still, it's important for consumers to realize that some cards that seem like regular gift cards aren't, says Christina Tetreault, a staff attorney at Consumers Union, the publisher of Consumer Reports. "A prepaid phone card, for example, that can only be used for the telephone — that's not covered by some of the laws that are out there that protect gift card users," Tetreault says.
Rewards or promotional gift cards are not covered; neither are general purpose prepaid debit cards not marketed as gifts, Tetreault says.
Also, if a retailer is on shaky ground financially or is a startup without a record of financial stability, you should probably stay away, Tetreault says.
"Once a retailer goes into bankruptcy, consumers can end up with worthless gift cards," Tetreault says, citing the case of former book retailing giant Borders, whose fall left a trail of useless plastic in its wake.
Also, there are no regulations protecting consumers against the loss or theft of gift cards. Some retailers do allow consumers to register their gift cards and/or provide replacements for lost or stolen cards, and if that's the case, Tetreault recommends registering a gift card as soon as you get it.
Lastly, make sure you're buying gift cards from a reputable source, and not from, say, a seller you found on Craigslist, Tetreault says.
"There have been a lot of scams that have come across our desk," she says.