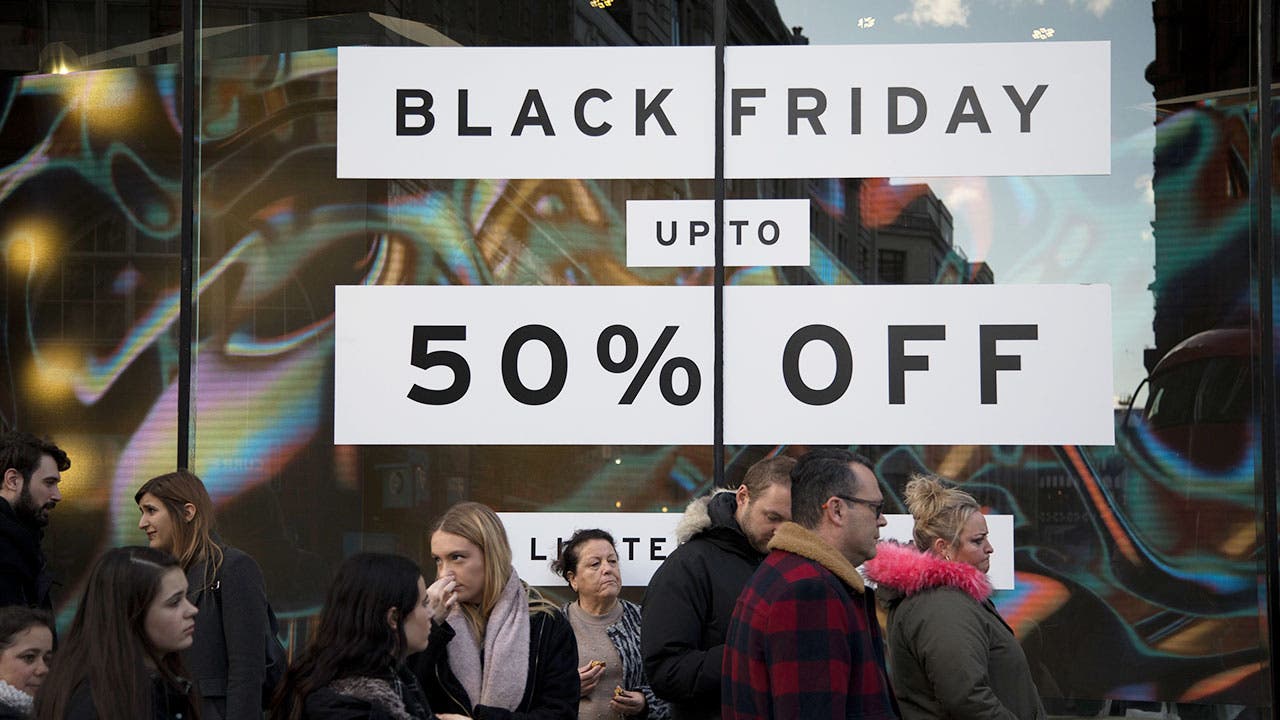 Advertiser Disclosure: The credit card offers that appear on the website are from companies from which this site receives compensation. This compensation may impact how and where products appear on this site (including, for example, the order in which they appear). This site does not include all credit card companies or available credit card offers.
Editor's note: Some of the offers on this page may be expired. Check out our Best Credit Cards of 2019 for the most up-to-date offers for our favorite credit cards.
Perhaps no other day so accurately captures the value of a credit card than the greatest consumer holiday of all: Black Friday. The day when America resurfaces from its tryptophan nap, setting its sights on the malls, outlets and brick-and-mortar outposts just gutsy enough to brave the hysteria.
Plastic is the preferred method of payment for the 24-hour purchasing spree. In fact, research shows that there's no more popular time to sign up for a retail credit card than during the holiday fervor.
But is a retail card really your best bet? Do the big department store cards offer you anything that the traditional issuers can't? And beyond that, is it really worth making that commitment just for a one-day shopping extravaganza?
The myth of the perfect Black Friday credit card
Before we get too far ahead of ourselves, one thing should be made clear: There is no Black Friday credit card to rule them all. While it's tempting to simplify your swipes in such consumption-heavy circumstances, the real value is in your wallet's diversity. Knowing what you're buying, how much it costs and where you're buying it will dictate the card for the moment.
Take the Blue Cash Preferred® Card from American Express. One of its biggest (yet lesser known) perks is a 6% cash back reward at U.S. supermarkets (on up to $6,000 in purchases annually, then 1%). So if you're using the big day to stock up on paper towels and other non-perishables, then Blue Cash Preferred is the way to go.
The Black Friday credit card for every occasion
While supermarket sales may be fewer and farther between, electronics, wholesalers and even impulse buys all have a card that suits them best on November 23. We looked into it and came out with a few favorites:
Best for wholesale clubs
Most wholesale clubs have a card associated with their store alone, but the Bank of America® Cash Rewards card has you covered anywhere you buy in bulk — to the tune of 2% cash back on any purchase (up to $2,500 on quarterly spending combined for wholesale clubs plus grocery and gas purchases). Long story short: If you still haven't made a dent in that spending limit, that means you're eligible for as much as $50 cash back. Not to mention, the Cash Rewards card sports an intro rate (see terms). So if you're looking to go all in on gifts for the whole family and get up to a year to pay them off interest-free, this card can make it happen (see terms).
Best for electronics
Not every Black Friday purchase demands instant gratification. No doubt, a shiny new tablet, smartphone or big-screen TV feels like a life-changer, but perhaps as impressive are the sensible perks of an extended warranty. With the Citi® Double Cash Card, shoppers can stretch any purchased product's warranty 24 months beyond the manufacturer's. That's fast and easy peace of mind for some of your most expensive holiday buys.
Best for the big purchases
The Chase Freedom Unlimited® card takes the cake for no-frills, straightforward spending. Earning 1.5% cash back on all purchases means you have a lot of potential to rack up rewards. So whether you're lumping together a bunch of gifts or hunting for one huge score, you've got plenty of incentive to add this card to your wallet. Plus, the no-annual-fee enrollment and $150 bonus for spending $500 in the first three months make it a no-brainer for Black Friday shoppers.
Best for travel deals
While Black Friday is typically characterized by the in-store madness, plenty of online travel sites reserve their steepest markdowns for the holidays. The Capital One® Venture® Rewards Credit Card can help you double down on the discounts, boasting a 50,000-mile bonus once you spend $3,000 within three months of opening your account. Plus, earn 2X miles per dollar for every purchase and 10X miles on thousands of hotels through January 2020. If you're thinking about booking a trip, a card like this can help you save even more than what the airlines and hotels are advertising.
Best for impulse buys
While we can't completely condone them, impulse buys are a simple fact of Black Friday. Once you're in the door, the consumer mindset takes hold. And another simple cash back card like the Capital One® Quicksilver® Card is a surefire bet for the odds and ends you didn't know you came for, but just can't leave without. Earning 1.5% cash back on everything (plus no annual fee) spares you the mental mathematics and guarantees easy rewards for your spending.
The skinny on retail cards
While retail store credit cards are a savvy, low-risk option for both brand loyal shoppers and those with a relatively short credit history, the truth is that Black Friday probably shouldn't be a deciding factor in submitting an application.
You'll find plenty of booths and promotional materials scattered around department stores at the holidays, so it's important to do your research before you commit to any one of them. Take a day to think on it and see if you can find any of our best Black Friday cards that offer similar (or even stronger) rewards.
The Cyber Monday caveat
Black Friday's younger brother, Cyber Monday, is a special case that springs two cards to mind. Both the Discover it® Cash Back and Amazon Prime Rewards Visa Signature Card have select benefits for online shoppers who are ready to spend at the world's largest online retailer.
It's no surprise that the Amazon Prime Rewards card comes with 5% cash back for any Amazon purchase. The same goes for the Discover it Cash Back through December 2018.
Further, the Discover it Cash Back promises a cash back match at the end of your first year of ownership. Say you end up spending enough to earn $50 cash back on Cyber Monday, in addition to the $200 you've earned in cash back over the course of the year. That $250 total would be matched on your anniversary for a $500 total payout.
Think before you apply
As you could imagine, applying for a credit card based solely on the Black Friday payoff isn't necessarily the right move for everyone. Do a quick self-audit before you start filling out applications:
• Do you already have a card that rewards you the ways you need?
• Are you overextending the number of cards you own?
• Are you pushing your credit limit?
That said, if you're already in search of a new card, Black Friday is a great day to get a jump on some of your signup bonuses and rewards minimums.
Happy shopping, and enjoy the holiday responsibly — fiscally and otherwise.
---
Editorial disclosure: All reviews are prepared by Bankrate.com staff. Opinions expressed therein are solely those of the reviewer and have not been reviewed or approved by any advertiser. The information, including card rates and fees, presented in the review is accurate as of the date of the review. Check the data at the top of this page and the bank's website for the most current information.
---