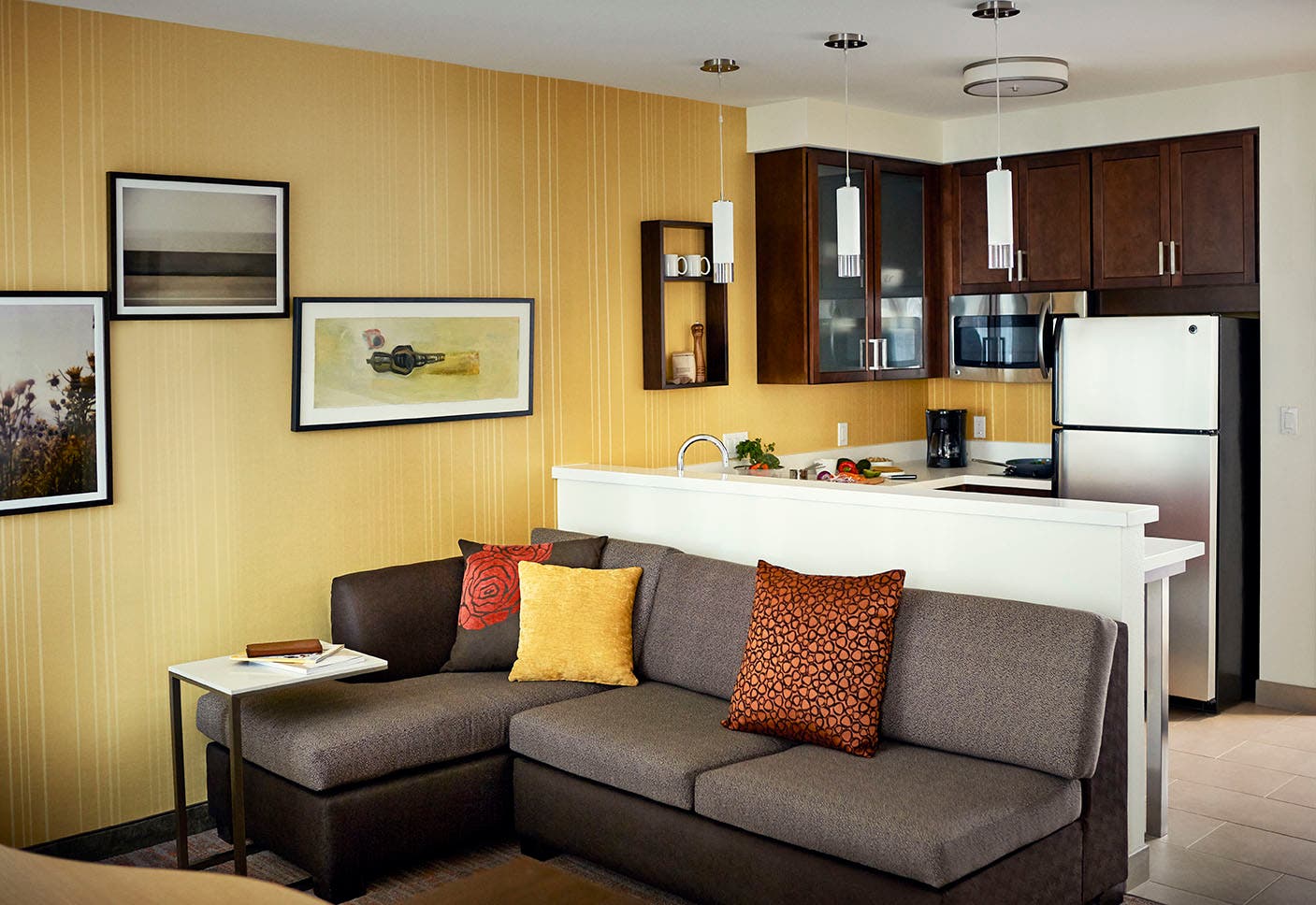 Maybe you're traveling cross-country on business and looking for a place to stay that provides space for work and meetings. Maybe you're planning a family reunion and need lodging that offers affordable rooms and access to a banquet hall. Whatever the reason or the destination, it's important to have a place to stay that fits your travel needs.
Finding the best lodging doesn't have to be a chore. Some credit cards can help you earn travel rewards for staying at hotels, home-shares and hostels — yes, hostels — all across the United States. Here's how to pick the best lodging option and earn rewards at the same time.
Hotel stays
A hotel stay is often the gold standard for domestic travel. There are a lot of options that will fit your budget and needs. As a bonus, a variety of hotel chains have loyalty programs that will earn points towards future stays. There are also hotel rewards cards and travel rewards cards that will help add to your travel rewards bank. Finding the right hotel really comes down to the intention of your stay. The best way to break that down is between resorts and affordable chains.
Resorts and luxury hotels
This is the option to go for if you're interested in some pampering. While this option will cost more, you will likely not have to leave the resort for anything, meaning you can focus on relaxing.
When it comes to luxury options, Hilton is a prominent name. The Hilton brand has a variety of resorts, some all-inclusive, across the nation. A stay in one of these locations might offer you pools, spas and even wedding chapels.
And if you book your stay with the Hilton Honors American Express Card, you stand to earn 7x Hilton Honors Bonus Points for each dollar of eligible purchases charged directly with a hotel or resort in the Hilton Honors portfolio and 3 Hilton Honors Bonus Points for all other eligible purchases. The other rewards rates and categories include:
5 points per dollar at U.S. gas stations, U.S. supermarkets and U.S. restaurants
3 points per dollar on other purchases
There's also a welcome offer of 75,000 Hilton Honors Bonus Points after you use your new card to make $1,000 in eligible purchases within the first 3 months of card membership.
Another big name in the luxury market is Ritz-Carlton. With over 40 locations in the U.S., this chain has luxury offerings that include fine dining, recreational activities and golf. Ritz-Carlton is a part of the Marriott's Hotels and Resorts, so make sure you apply for the Marriott Bonvoy loyalty program before you book to earn substantial points toward free lodging in the future. Also, paying with your Marriott Bonvoy Business™ American Express® Card automatically places you at Silver Elite level in the program and includes a welcome bonus of 75,000 points, worth around $675, after spending $3,000 in purchases in the first 3 months.
Affordable hotel chains
The luxury route isn't the best way to go for everybody. If you're looking to keep lodging costs low, affordable chain hotels offer comfortable and secure spaces that will fit your budget. These hotels will often offer discounts for large groups, making them great for events like reunions and conferences. They also frequently offer conference room and banquet hall spaces to help you host your event, not to mention continental breakfast service to get you started in the morning.
Some great hotel brands that fall into this category are Ramada and the Days Inn. These hotels also happen to be eligible for rewards with the Capital One® Venture® Rewards Credit Card. This card has a low annual fee of $95, which is waived in the first year. It also offers 2x miles on any purchase and 10x miles when you book and pay through hotels.com/venture.
Marriott also has some options in this category, like Courtyard and Fairfield Inn. If you're part of the Marriott Bonvoy loyalty program and have a Marriott Bonvoy Business™ American Express® Card, booking these budget options will also add to your rewards.
Hostels
If you thought hostels were a strictly international type of lodging, think again. You can find hostel accommodations not only across the world but also in the United States.
If you're making multiple stops during your travels, a hostel is a good option. A hostel will offer you a bed for a few nights at a very reasonable price. While hostels are known for shared sleeping spaces and bathrooms, most will also offer private options for a higher, but still very reasonable, price.
Hostels are often centrally located in population centers. This will put you within walking distance of restaurants and points of interest, helping you make efficient use of your time.
Hostelworld has a comprehensive database of hostels and includes a helpful rating system and reviews of their searchable locations.
Book using the Capital One® VentureOne® Rewards Credit Card and you'll earn 1.25 miles on every dollar you spend. There's no limit on the rewards you can earn, and your rewards never expire. The lack of an annual fee is a pleasant bonus.
When a hostel stay isn't classified as lodging
In some cases, a hostel may accept credit cards but your credit card network doesn't register the purchase as a lodging expense. The lack of a merchant code will likely prevent you from earning travel rewards points.
Always ask before booking whether the hostel has the proper merchant code for your travel credit card's network. If it doesn't, you could pay with a cash back card in an attempt to earn some rewards.
Home-sharing with Airbnb and Vrbo
If you're traveling with a large group, home-sharing is an option worth looking into. Renting a house for a bachelorette party or a yoga retreat will offer you a communal space reserved for your group, so you can enjoy your group moments in a private space. This option will likely save you money as well, since most spaces will have a kitchen where you can prepare meals. Of course, sharing the cost of a house is usually cheaper than paying for individual rooms or beds.
Airbnb is one of the most familiar names in the home sharing game, but it's not the only business offering this service. You can also find home sharing-spaces with Vrbo. And if you're looking for a luxury home-sharing experience, Marriott has you covered with its new Homes & Villas program, which is also linked to the Marriott Bonvoy loyalty program.
However you choose to book your home away from home, make sure you make your booking in advance so that you can get your property of choice. And consider paying with a card that offers rewards for Airbnb and Vrbo rentals.
Bottom line
When traveling domestically, you will have a variety of options for lodging. Think about your specific needs and choose accordingly. Whether you're planning for your dream wedding or heading to your high school reunion, your lodging should provide you with a cozy and secure space that fits the bill. The chance to earn some travel rewards could be a welcome addition to the experience.
---
Learn more with Bankrate.com