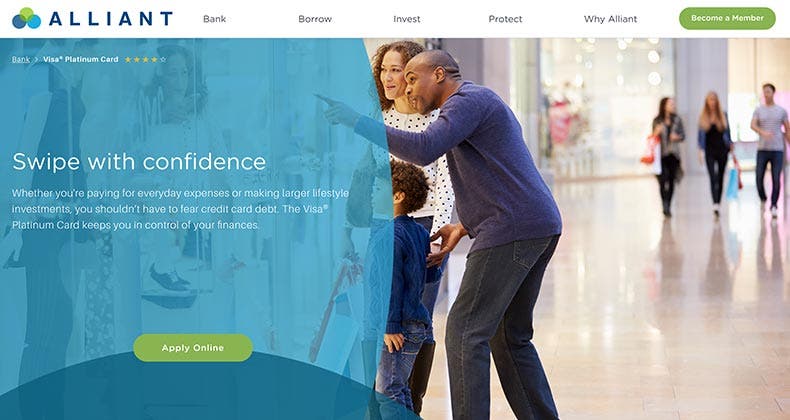 Alliant Credit Union has done it again. The Chicago-based institution has boosted the rewards on its Visa Platinum Rewards card, making it a front-runner for best-in-class among no-fee credit cards.
Cardholders will now earn two rewards points for every $1 spent on all purchases, up from one point.
The increase comes after last month's launch of the trailblazing Alliant Cashback Visa Signature card, which offers the highest flat cash back rate available — 3 percent cash back on all purchases in the first year, and 2.5 percent after that. The Cashback Visa Signature card also comes with a $59 fee, although it's waived for the first year.
The beefed-up payout on the Visa Platinum Rewards card is matched only by one other card — Citi Double Cash. The Citi card pays out 1 percent when you make a purchase and 1 percent when you pay your bill on time. Read the full Citi Double Cash card review here.
There are other no-fee cards on the market that offer higher rewards, but those are limited to specific categories and typically have a spending cap.
Other highlights of this card include:
A 5,000-point bonus after spending $500 within the first three billing cycles.
A 12-month, 0-percent introductory APR offer on purchases and balance transfers. After that, the variable rate is 13.99 percent to 23.99 percent.
No balance transfer fees.
Flexible redemption options. Points can be redeemed for cash back, travel, gift cards or merchandise.
How do I get this card?
Because Alliant is a credit union and doesn't operate like a traditional bank, you have to become a member to apply for this card. Membership is open to people who live in one of the Illinois communities Alliant serves, relatives of an existing Alliant member or through membership in select organizations.
If none of those criteria apply to you, you can still join by making a $10 minimum donation to Foster Care for Success, a charity that aids teens throughout the United States living in foster care.
Complete your membership by opening a savings account and depositing at least $5.
Choosing between the two Alliant cards
If you're not sure which of these cards might be right for you, it pays to do the math. If you spend less than $11,800 annually on your credit card, Alliant's Visa Platinum Rewards card is the better choice. That amount is the break-even point between the Visa Platinum Rewards 2 percent rewards and the Alliant Cashback Visa Signature's ongoing rate of 2.5 percent minus the $59 annual fee .
Keep in mind that, like all rewards card, unless you pay your balance in full every month, the cost of paying interest will outweigh the value of any rewards.
If joining a credit union doesn't appeal to you, consider applying for a different rewards credit card.
Follow me on Twitter @robinsaks
This editorial content is not provided or commissioned by any of the referenced financial institutions or companies. Opinions, analysis, reviews or recommendations expressed here are the author's alone, not those of any financial institutions or companies, and have not been reviewed, approved or otherwise endorsed by any such entity. All products or services are presented without warranty. Bankrate.com is an independent, advertising-supported publisher and comparison service. This post contains references to our partners, and Bankrate may be compensated in exchange for featured placement of certain sponsored products and services, or your clicking on certain links posted on this website.