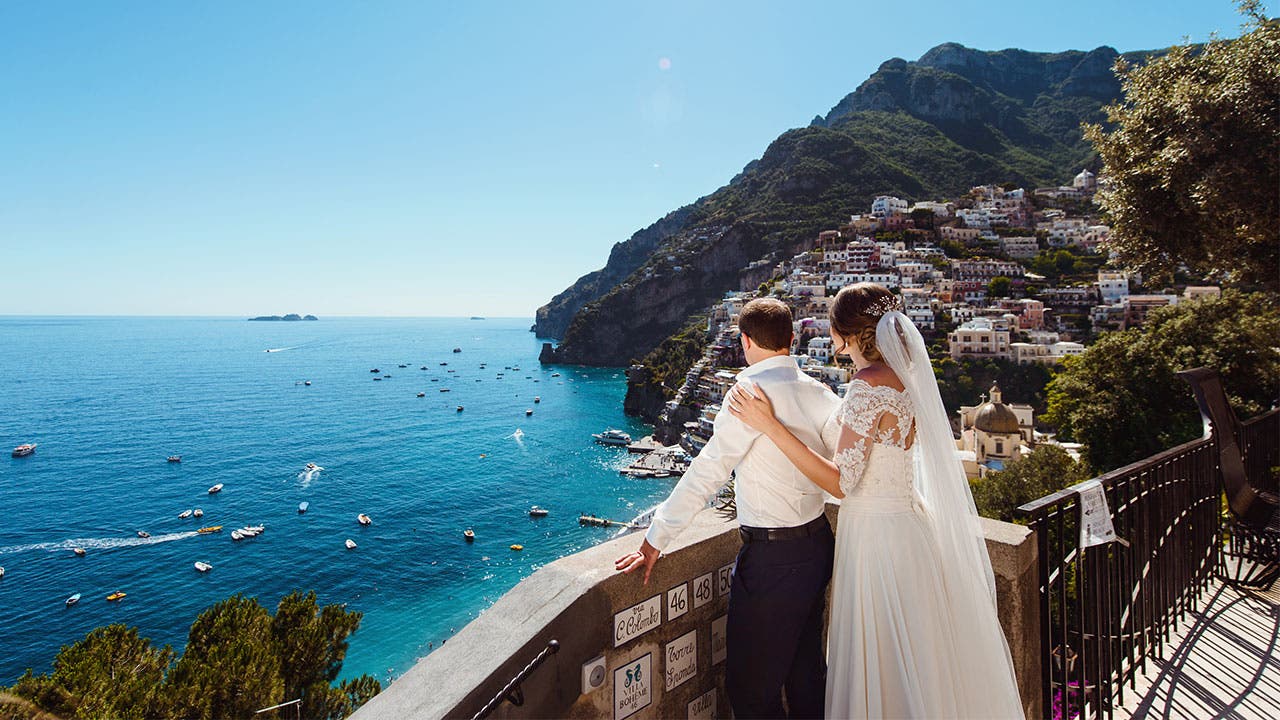 Editor's note: Some offers on this page are no longer available through our site.
Advertiser Disclosure: The credit card offers that appear on the website are from companies from which this site receives compensation. This compensation may impact how and where products appear on this site (including, for example, the order in which they appear). This site does not include all credit card companies or available credit card offers.
Information about credit cards and card offers is accurate as of the date of publication.
Destination weddings have grown in popularity in recent years, and with good reason. For one, they can actually be more budget-friendly than traditional nuptials, according to experts at Brides Magazine. Popular resorts often offer discounted prices for wedding parties, attire is often less formal (and therefore less expensive), destination weddings typically cost less to decorate (the destination itself provides a lot of natural beauty), fewer guests attend — all of this contributes to a cheaper price tag.
Weddings in exotic locations can also provide a more romantic and memorable experience for couples and their guests.
While a destination wedding might be more affordable for the bride and groom, that isn't necessarily the case for friends and family. Adding airfare and accommodations to traditional wedding expenses including attire and gifts can dramatically increase the cost of attendance. For this reason, many people have to choose between financial strain to cover the costs or potentially straining a relationship by declining to attend a friend for family member's wedding.
Who typically pays for destination wedding expenses?
The subject is a bit controversial, and conventional etiquette contradicts itself when it comes to who should be responsible for travel and accommodations.
In an article for Brides Magazine, Jamie Mackey explains that paying for the travel and accommodations for wedding "VIPs" is a thoughtful way to show that a couple appreciates them celebrating their special day. However, Mackey also says that there are no expectations for couples to pay for the entire guest list's costs.
Typically, guests are required to pick up the tab for their travel expenses — but most Americans aren't happy about it.
Is it unreasonable to require guests to pay for destination wedding expenses?
The short answer? It can be.
While guests are on the hook for the cost of their own travel and accommodations, most Americans agree that it's not an ideal situation. According to Bankrate's recent Wedding Costs survey, 56 percent of those surveyed answered that it's "in poor taste for a couple to plan a destination wedding where all guests will incur travel expenses to attend."
However, 72 percent of Americans also responded that it's not appropriate to decline a wedding invite because you can't afford to attend. Wedding experts disagreed — all nine experts said couples shouldn't even expect close friends and family to attend a destination wedding where they would have to foot their own bill.
The general consensus from experts is that the bride and groom both need to understand that some guests may not be able to attend because of both logistical and budgetary reasons, but most Americans seem to think it's not polite to decline an invite based on the potential cost.
Should you attend a destination wedding where the travel expenses aren't covered?
It's understandable to hesitate before dropping a thousand dollars to attend a destination wedding. Unfortunately though, declining the invitation could cause a strain on your friendship. According to Bankrate's 2019 Wedding Costs survey, 30 percent of participants experienced fallout after not attending a wedding because they couldn't afford to go.
It might not be a deal breaker if you pass on a distant relative's destination wedding, but skipping out on your best friend's Caribbean nuptials could cause a significant rift. For close friends and family, it's worthwhile to try to make it work if your budget can handle the expense.
Minimizing the costs to attend a destination wedding
Destination weddings do provide an opportunity to celebrate in a more personal setting, and you can treat them like a miniature vacation. If you already budget for an annual vacation, you can treat a destination wedding as a getaway — fly out early or stay a few days later for some R&R outside of the wedding festivities.
Plus, the right credit cards in your wallet can help you further minimize the costs of attending a destination wedding. Depending on which cards you get, you can earn amazing bonuses, finance a trip to pay it off over the course of the next year and get access to some great travel perks and insurances.
Have time to plan? Pick a card with a large sign-up bonus
If you know you have a destination wedding coming up in six months to a year, you can rack up a lot of travel points and miles by signing up for a card with a great sign-up bonus. If you can hit the minimum spend requirements for the bonus, you can earn enough points to cover most if not all of a round-trip ticket.
Often labeled as the best beginner travel card on the market, the Chase Sapphire Preferred Card is currently offering 60,000 bonus points after you spend $4,000 in the first three months of account opening. Chase Ultimate Rewards points are worth 1.25 cents each when you book for travel through the Chase portal. That sign-up bonus alone is worth up to $750 dollars. Plus, you'll earn 2x points on all dining and travel purchases — which makes it a great card to keep in your wallet long-term.
Another travel card with a nice sign-up bonus is the Barclaycard Arrival Plus® World Elite Mastercard®, which is currently offering 70,000 bonus miles when you spend $5,000 on purchases within the first 90 days. The redemption process is really flexible with this card. You can book your travel however you like, then redeem the mileage as a statement credit.
Just keep in mind that you'll need ample time to hit the minimum spend and earn the sign-up bonus before you book. Assuming you want to book flights around three months in advance, you'll need to apply for the card at least six months before the big day.
Need time to pay off your expenses? Pick a card with a 0% APR offer and no annual fee
If you're hesitant to apply for a travel card with an annual fee or just don't have the time to rack up a significant number of points, there are other options to help you finance your trip. A credit card with 0% APR offer can help you pay off trip expenses over time while avoiding interest payments. Many of these cards also come with no annual fees, so the costs associated with these cards is minimal.
The Capital One® VentureOne® Rewards Credit Card is a great option. You'll have 12 months of zero interest on new purchases (13.74% – 23.74% variable APR applies after the intro period ends). You could put the cost of your trip on the card — while earning 1.25 miles on every purchase and 10x miles on eligible hotel stays (learn more at hotels.com/venture) — and pay it off over the course of the next year.
While you may not be able to budget for a $1,000 vacation to attend your best friend's destination wedding, you might be able to budget an extra $85 a month to pay it off over time.
Just make sure you are diligent in getting the balance paid off before the intro APR period ends. Interest payments can easily spiral out of control and cause a lot of financial stress.
Want to upgrade your travel experience? Pick a travel card with additional perks
If you are a seasoned traveler (or a wannabe seasoned traveler), you can get a lot of value by applying for a luxury travel credit card. These cards come with many additional perks that help you make the most out of your trips — competitive sign-up bonuses, lounge access, trip insurance coverage, concierge services and more.
While luxury cards are typically accompanied by hefty annual fees, the benefits you'll get from using these cards almost always outweighs the cost.
The Chase Sapphire Reserve** is one of the most sought-after luxury cards on the market. Chase Ultimate Rewards points are worth 1.5 cents each when you have this card in your wallet, so the 50,000-point sign-up bonus (after spending $4,000 in the first three months) is worth $750 when you book travel through Chase's portal. Where this card really shines is its perks. You get a $300 travel statement credit each year, Priority Pass Select lounge access and great travel insurance coverage.
The Platinum Card® from American Express and the Citi Prestige® Card are also popular luxury travel card options that offer great perks and a competitive rewards structure.
No matter what: Pick a card with no foreign transaction fees
If you're traveling abroad for a destination wedding, make sure you have a credit card that charges no foreign transaction fees. Most travel credit cards don't charge these fees, but double check before you go. A three or five percent foreign transaction fee on each purchase can add up quickly and completely negate any rewards you earn while on the trip.
The cards mentioned above all come with no foreign transaction fees, but you can check out all of our available card offers with no foreign transaction fees here.
The bottom line
It can be difficult to choose between attending a destination wedding and saving money — especially if you're working with a tight budget. Couples who plan destination weddings should understand when guests can't afford to come, but it's definitely worth trying to attend when possible.
Destination weddings provide a unique opportunity for a couple to celebrate their new marriage with friends and family in a more intimate setting. The memories (and gorgeous photos) will last a lifetime. If you can finagle your budget to make it to a close friend or family member's exotic nuptials, it's almost always a worthwhile experience.
**Editor's note: The information for the Chase Sapphire Reserve card has been collected independently by Bankrate. The card details on this page have not been reviewed or provided by the card issuer.
---
This editorial content is not provided or commissioned by any of the referenced financial institutions or companies. Opinions, analysis, reviews or recommendations expressed here are the author's alone, not those of any financial institutions or companies, and have not been reviewed, approved or otherwise endorsed by any such entity. All products or services are presented without warranty. Bankrate.com is an independent, advertising-supported publisher and comparison service. This post contains references to our partners, and Bankrate may be compensated in exchange for featured placement of certain sponsored products and services, or your clicking on certain links posted on this website.