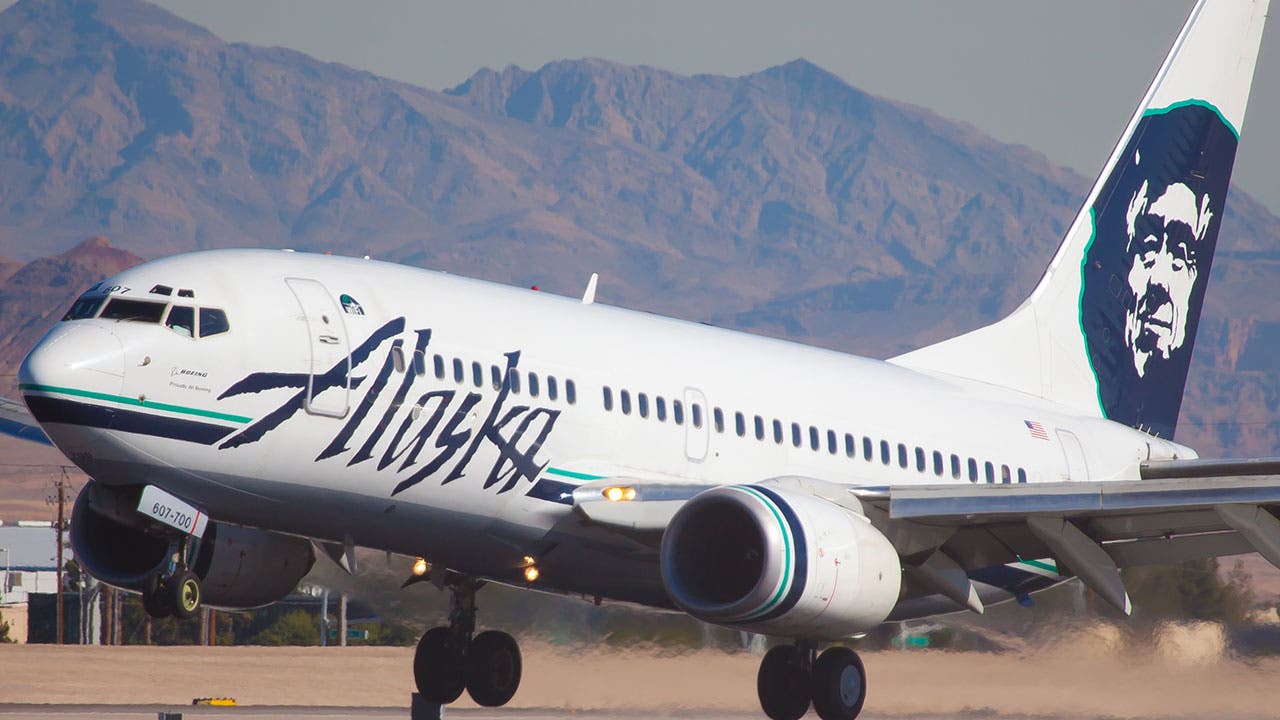 Advertiser Disclosure: The credit card offers that appear on the website are from companies from which this site receives compensation. This compensation may impact how and where products appear on this site (including, for example, the order in which they appear). This site does not include all credit card companies or available credit card offers.
Information about credit cards and card offers is accurate as of the date of publication.
Editor's Note: Some of the offers on this page are no longer available. 
In the case of Alaska Airlines, the adage holds true: West coast, best coast.
Few airlines can top the nation's fifth-largest carrier when it comes to perks and credit card rewards. So much so that the Alaska Airlines Visa Signature® credit card always hovers around the top of our best airline cards, regardless of the fact that most routes fly in the airspace between Seattle and San Diego.
And while the branded card can take you far with its modest annual fee and welcome offer alone (40,000 bonus miles for $2,000 of spending within the first 90 days of ownership), it's the Alaska Airlines Mileage Plan that puts it over the top.
What stands out about the Mileage Plan?
Most airlines reserve their glitziest rewards for the top spenders and most frequent fliers. Not so with Alaska.
Of course, the incentives are always there. The air carriers and credit cards issuers would be remiss if they weren't giving you a reason to spend more. But with Mileage Plan, status is just a little closer to every cardholder's reach.
Elite Status
Starting at just 20,000 miles, elite status confers a catalog of benefits for members who fly with Alaska Airlines and its global partners. Compare that to American Airlines' AAdvantage elite status or Delta SkyMiles medallion status, both of which kick in at 25,000 miles.
Much like Delta, American, or any airline rewards program though, Mileage Plan tiers its elite members into three separate categories: MVP, MVP Gold and MVP Gold 75K. The good news is that Mileage Plan isn't skimpy at MVP tier. Take a glance at the selection of perks available from the get-go, which include:
First class upgrades
50% mileage bonus on base miles earned
Two free checked bags
Dedicated phone lines for Alaska Airlines reservations
And that's hardly the extent of the perks. Whether you're MVP, MVP Gold or MVP Gold 75K, every Mileage Plan elite status member is eligible for a number of outside-the-box perks that show up pretty much only within the Alaska portfolio.
Here's a quick cheat sheet of what you can expect to get with Mileage Plan tiers, and how soon you can expect to get it. Full details are on Mileage Plan's official site.
| | | | |
| --- | --- | --- | --- |
| | MVP | MVP Gold | MVP Gold 75K |
| Miles Eligibility Requirement (Alaska Airlines alone) | 20,000 | 40,000 | 75,000 |
| Miles Eligibility Requirement (Alaska Airlines and partner airlines) | 25,000 | 50,000 | 90,000 |
| Bonus miles after qualification | 50% bonus | 100% bonus | 125% bonus |
| Benefits | Class upgrades, priority check-in, two free checked bags, preferred seating, dedicate phone lines | All MVP benefits plus waived Alaska Lounge membership initiation fee, express security line at select airports, waived ticket change fees | All MVP Gold benefits plus four Alaska Lounge day passes, 50,000 bonus miles upon qualification, opportunity to nominate someone for MVP status |
Club 49®
The Mileage Plan is at its best if you're lucky enough to live in the only state north of the 49th parallel. That's right: Alaska residents get preferential treatment. (If you're hardy enough to set up shop across the street from the Arctic Circle, then you've probably earned the right to a few extra perks.)
Club 49 membership comes with a two 30% discount vouchers for one-way travel to, from or within Alaska every year. Plus, you can mix business and leisure with a 100-pound freight allowance wherever you're flying within Alaska for just $10 — no limits.
Alaska Airlines credit cards
The aforementioned Alaska Airlines Visa Signature credit card is an ideal complement to Mileage Plan. Everyday purchases get rewarded to the tune of one mile for every dollar spent. Plus, you'll get three miles for every dollar spent on eligible Alaska Airlines purchases.
Perhaps the best and greatest value perk available with this Alaska Airlines credit card? The Famous Companion Fare™ offer. The closest thing you'll get to an outright buy-one-get-one free in the industry.
The way it works is simple: After spending a minimum amount (typically $1,000 to $2,000 — but it could depend on your location or credit score) in the first 90 days of ownership, new cardholders are able to purchase a round-trip coach ticket and receive a second identical ticket for nothing more than the taxes and fees.
Every year after that, the airline will send you another companion coupon that redeems at a fixed $99 (plus taxes and fees from $22) price point on the anniversary of your membership. Not quite the same windfall as your first year, but still a fantastic deal for longer flights.
Other Alaska Airlines credit cards include the personal Visa card's business companion, the  Alaska Airlines Visa® Business credit card.
Mixed cabin itineraries
Alaska is one of the few airlines that doesn't wrap mixed cabin upgrades in red tape.
For the uninitiated, a mixed cabin itinerary is one that includes 2+ service classes on the same ticket. For example, flying first class on the first leg of a trip, touching down for a layover, and then flying business class on the second leg.
With the Mileage Plan, you can upgrade fairly easily to the highest grade on your ticket should a seat become available closer to the date. There won't be a fuss regardless of whether you bought it on points or dollars.
Airline partners
Alaska Airlines Mileage Plan also works with a number of partner airlines to ensure you can earn or redeem points on flights to 900+ destinations worldwide. See any names you recognize here?
Aer Lingus
American Airlines
British Airways
Cathay Pacific
Condor
Emirates
Fiji Airways
Finnair
Hainan Airlines
Icelandair
Japan Airlines
Korean Air
LATAM Airlines
PenAir
Qantas
Ravn Alaska
Singapore Airlines
The Million Miler milestone
Rarely achieved but thoroughly rewarded, Mileage Plan's Million Miler status is available for devotees who spend almost as much time in the air on as the ground. As a Million Miler flyer, you get a complimentary meal on every flight, as well as MVP Gold perks for life — regardless of how many miles you fly in ensuing years.
All the ways to earn miles and rewards
Outside of traveling with Alaska and its partners, Mileage Plan gives customers a bevy of ways to collect points in a hurry. With a number of rental car partners, hotel partners and everyday vendor partners, points stack up at every leg of the journey — and then some.
Take Rover, for example, a dog sitting service that currently rewards Mileage Plan customers with three miles for every dollar spent on your first booking. Even Fido can help you climb the ranks.