The popularity of online-only banks is surging, thanks to their convenience, low fees and higher-than-average interest.
An online bank is exactly what it sounds like: Every aspect of the banking process is done online. There are no branches, no tellers, no waiting in line to deposit a check.
But some people have been skeptical about the idea of banking without a storefront. Here are the 2 most common myths about internet banking, debunked.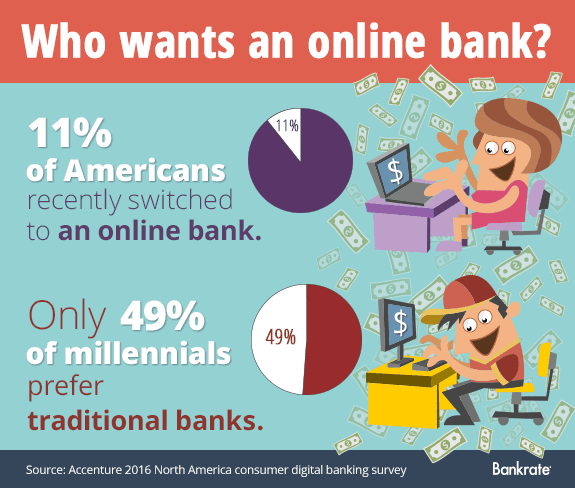 © Bigstock
Myth: Online-only banks aren't safe
With an online-only bank, you deposit or withdraw money without ever dealing with a person. That missing element can make the whole thing kind of scary. And with so many headline-grabbing data breaches in recent years, that fear is understandable.
Data breaches are a problem that all banks, whether they're online-only or have a storefront, have to contend with. But a solid internet-only bank will offer the same security and protection as any other bank.
You'll want to make sure your potential online bank offers the following:
Insurance up to $250,000 from the Federal Deposit Insurance Corp.
2-factor or multifactor authentication.
Encrypted transactions.
2-factor authentication
When a user is required to provide 2 ways to prove who they say they are. Some financial institutions may require, for example, that you provide a password when you log on and a phone number that can receive text messages. The bank would send a text to that number when you attempt to make account changes.
Online banks offer the same amount of security and protection as other banks. You should research a virtual bank's policies and customer reviews, the way you would with any bank.
Myth: Online-only banks are inconvenient
It's true that there are some conveniences traditional banks offer that online-only banks can't. You can't, for example, walk into an online bank and deposit a check. But online banks are aware of these limitations and offer workarounds. And these workarounds aren't that difficult or inconvenient.
"Customers can deposit funds how and when they want … by snapping a picture of a check, setting up direct deposits, incoming wire transfers from any U.S. bank or mailing in deposits with postage-paid envelopes," says Andrea Puchalsky, Ally Bank's communications director.
Here are a few additional examples of common online-banking solutions:
How online banks handle common transactions:

Traditional banking services
Online-banking solution
Depositing cash.
Most online banks use the Allpoint ATM network, and Allpoint ATMs allow cash deposits.
Withdrawing money.
You can withdraw money at plenty of ATMs. Many online banks will reimburse any fees incurred.
Reaching customer service.
Most online banks offer 24/7 customer service support, via phone, email and chat.
Here's the pain point
Overall, internet banking is pretty convenient. But you may run into the occasional drawback, depending on your needs.
For example, there are withdrawal limits for ATM transactions, often $1,000 per day. If you need more than that for any given reason, it can be inconvenient because you can't just walk into a bank and talk to a teller.
However, some online-banking users work around this by going into another bank's branch and asking for a cash advance on their online debit card. And unless you're regularly withdrawing large sums of money, this likely won't be an issue.
RATE SEARCH: Get some interest on your savings starting today by shopping money market accounts.