Which bank should I choose?
Get personalized bank recommendations in 3 easy steps.
If your bank is being bought by another firm, you'll have to decide whether to stick around.
Many customers have recently had to make this choice. Data from investment banking firm Keefe, Bruyette & Woods reveals that there were 260 bank acquisitions in 2017, up from 239 deals in 2016.
Consumers should be prepared to see more acquisitions throughout the new year.
"We think volumes will pick up in 2018, both in the number and size of deals," says Jason Langan, who leads the financial services M&A team at Deloitte. "There are a lot of banks in the $10 [billion] to $100 billion range that are trying to figure out whether they're a buyer or a seller. That's a tough spot to be in from an economic and a regulatory perspective."
What to expect when banks merge
Banks merge for various reasons—cost efficiency, a desire to scale the business, a lack of a succession plan (if you're a small bank run by people nearing retirement). But a key part of most deals is keeping customers satisfied.
Expect banks to make modifications during acquisitions. Savings account rates and bank fees may rise or fall. Branches may close. However, acquisitions can be positive for many consumers. "The customer is exchanging sometimes branch proximity for a more holistic footprint, a more robust service offering," Langan says.
When evaluating product lines, merging banks consider both their customer relationships and whether keeping certain products make sense from an economic standpoint, says Josh Carter, a partner at PwC. Ultimately, some products may be simplified or abandoned, especially if the acquiring bank doesn't have the technology or can't afford to provide the same services, Carter says.
Customer dissatisfaction
Banks expect some customers to jump ship when an acquisition is announced.
According to J.D. Power's 2017 U.S. Retail Banking Satisfaction Study, 46 percent of respondents whose bank went through a merger within the past year reported that they would definitely switch banks. But among retail banking customers whose banks merged one to three years ago, only 29 percent said they would move on.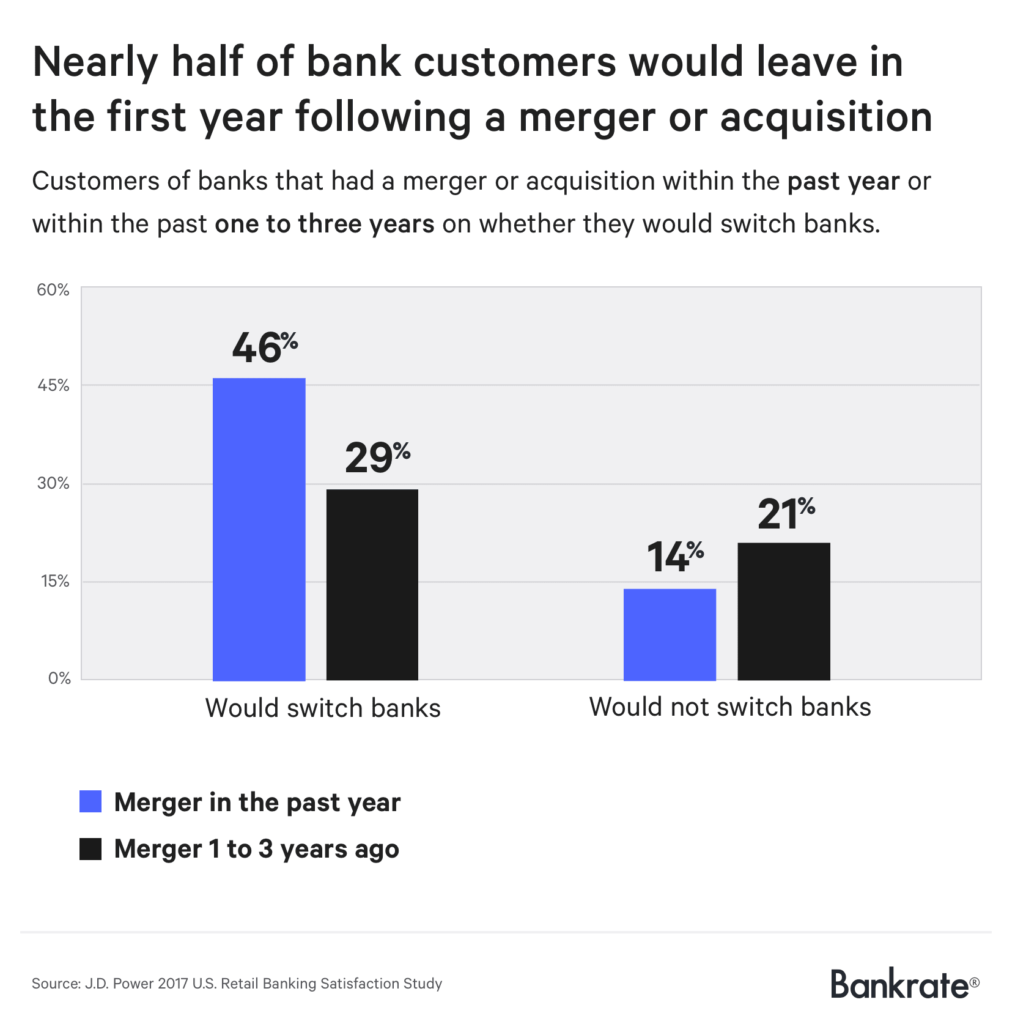 When banks merge, anxiety can lead some consumers to consider leaving, says Bob Neuhaus senior director of the banking and credit card practice at J.D. Power. Customers may also put a bank "on probation" to see what other potential problems could come up.
"Attrition is likely to drop off as consumers get used to the new bank," Neuhaus says.
Customers who begin using the acquiring bank's ATMs before the deal closes can be charged a fee. This is one of the biggest things that upset people during acquisitions, says Max Bercum, a principal with Deloitte's financial services and banking M&A practice. It's also why banks in the process of merging often waive ATM fees.
And although banking transactions have largely migrated to digital channels, branch closures can still ruffle some feathers. "The reason why people pick a bank and stay with a bank is that  they want to know it's there. But few people actually visit the branch itself," Bercum says.
Merger impact on customers
Knowing what's in store for a bank preparing to merge can help you decide whether to stay or go. Once your bank announces the merger, pay attention to any notices you receive and ask questions. Often, it'll take at least 60-90 days to get regulatory approval and close a deal, and another 60-90 days to begin moving accounts over to the new system, Bercum says.
Find out what the merger means for you. If you have a mortgage, for example, neither the rate nor the terms will change. Since you signed an agreement, you'll have to continue paying off the loan.
Similarly, if you have a CD, you probably can't break your contract without facing a penalty. A bank failure, of course, changes the game. If that happens and your CD is repriced, the Federal Deposit Insurance Corp. (FDIC) says you can withdraw your deposit penalty free.
Plotting your next move
After the acquisition, take inventory of your accounts. If you end up with more than $250,000 in deposits (the insurance limit per depositor for each qualified account type), the FDIC will insure the funds from your old bank separately for at least six months.
If one of your favorite products is being discontinued, consider speaking with a bank representative. Your ability to negotiate may be limited, but you may walk away with something.
"No bank is going to say, 'Hey we're going to reverse our decision and we're going keep our old product type just for you one customer,'" says Steve Reider, founder of Bancography. "But what they should do is have a set of trade-offs ready for disgruntled customers."
If you're unhappy with your bank's merger, don't leave until you've thought about the consequences of that decision. Closing out your account could be a process. But in exchange for switching banks, you could end up with lower fees, better digital features and higher rates on CDs and savings accounts.