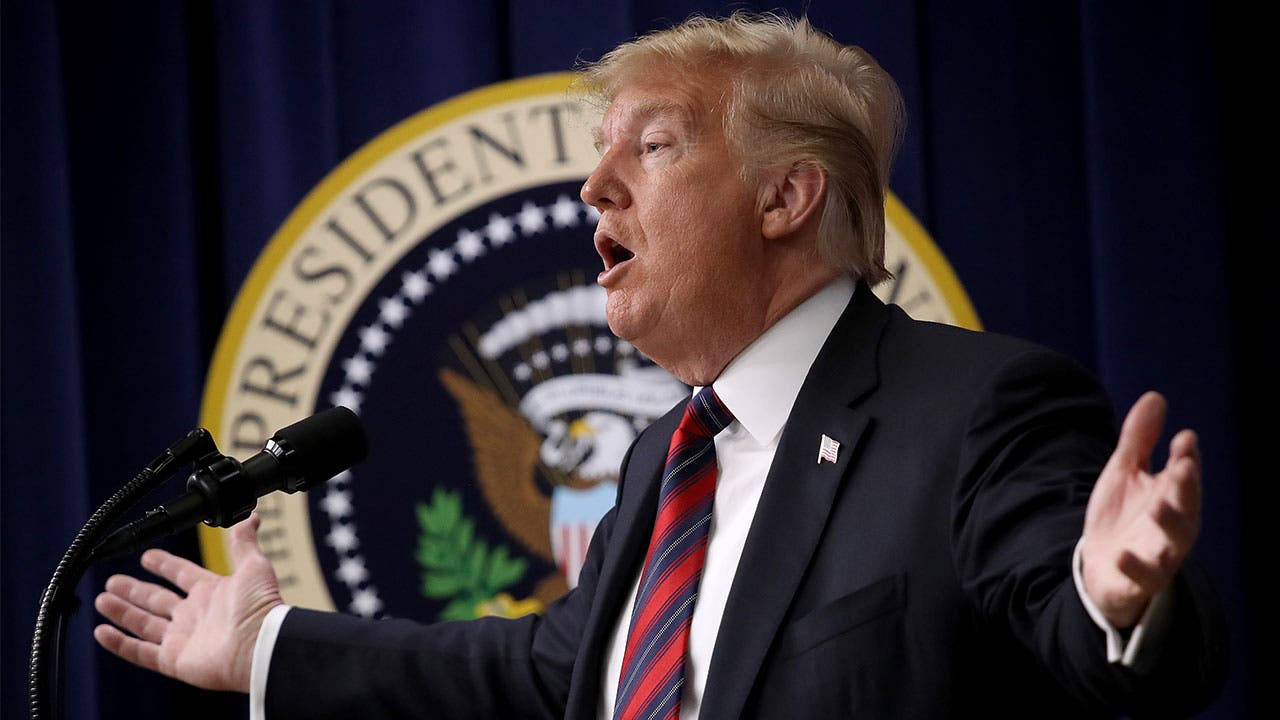 President Donald Trump is at odds with Federal Reserve Chairman Jerome Powell, accusing Powell of putting the economy at risk by raising interest rates.
The Fed has raised interest rates three times this year. The latest hike was in September, bumping the fed funds rate 25 basis points to a range between 2 percent to 2.25 percent. This in turn has raised rates for consumers, from mortgages to credit cards.
Powell "almost looks like he's happy raising interest rates," the president said in an interview published today in the Wall Street Journal.
He compared the Fed's near-zero interest rates during most of the Obama administration with the series of increases during his own administration: "I'm just saying this: I'm very unhappy with the Fed because Obama had zero interest rates."
The Fed's rate hikes are a response to solid economic growth, which is in part due to the massive tax cuts Trump ushered in last year and the low unemployment rate. The federal funds rate hikes are an attempt to cool the economy and prevent inflation from spiking.
Trump's frustration is not expected to have an impact on rates going forward, as Fed officials have stated that the benchmark rate will hit above 3 percent by mid- 2019.
The Federal Reserve is independent of the president and Congress. The chair is chosen from among the Board of Governors by the president. Trump named Powell to the post in 2017.
"The president's comments about Fed Chair Jerome Powell don't present any new action steps for the consumer. Interest rates will continue to rise, just as they have for the past three years, as long as the economic performance justifies it," says Greg McBride, the chief financial analyst at Bankrate.com.
Borrowers should be proactive when rates rise
For consumers, the rate hikes mean more expensive credit card and home equity line of credit, or HELOC, costs. It takes about 60 days for increases in the fed funds rate to affect these loans, so it's important for borrowers to be aware of the coming increases. The hikes have helped pushed the 30-year rate mortgage to more than 5 percent, the highest in seven years.
"Focus on paying down high-cost, variable-rate debt such as credit cards, lock in fixed rates wherever possible, and give yourself a further tailwind toward debt repayment by utilizing zero percent balance transfer offers to accelerate debt repayment," McBride says.
Investors should pay attention too
For investors, there's no need for drastic action, says Mark Hamrick, senior economic analyst at Bankrate.
"Rising rates bring the prospect of increased volatility in financial markets, some of which we've been seeing very recently. One needs to try to avoid making emotional investment decisions based on fear and stick to the game plan," Hamrick says.
Investors should assess their investment strategy, including whether their investments are intended for the short or long term.
"One might consider whether portfolio rebalancing or changing asset allocation is called for. In any case, that process needs to be based on thought and deliberation not fear," Hamrick says.
Savers can benefit from higher interest rates by putting their money in accounts that are finally beginning to pay decent interest after years of being close to zero. Click here for the best high-yield savings accounts.