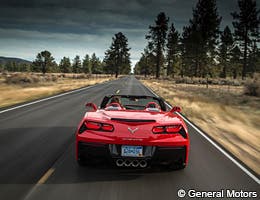 7 cars to steal your heart at Chicago show
Because Valentine's Day is all about celebrating the object of your affection, Bankrate picked seven cars to steal your heart. These are cars that, for one reason or another, you just can't help but love.
Sometimes love doesn't make sense. But the heart wants what it wants, right? These seven picks aren't based on fuel economy or high "Consumer Reports" scores, but on their ability to touch people on an emotional level.
Bankrate considered only cars priced less than $60,000. Who wouldn't fall in love with a $200,000 Bentley Continental GTC or Aston Martin Rapide S? Otherwise, there were no requirements beyond a car's ability to generate some passion.
Prices are for the specified models and don't include manufacturer delivery charges. Every car has popular features such as Bluetooth connectivity, audio system with iPod interface, trip computer, and power windows, door locks and outboard mirrors. Hardtops have at least six air bags, and convertibles have at least four.
And remember, your car is one love in your life that doesn't expect a card on Valentine's Day!
For the best auto loans, check out Bankrate.com.
Ford Mustang V-6 Premium Convertible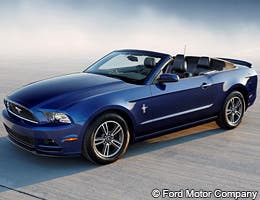 Price:

$31,610

Gas mileage:

City – 19 mpg
Highway – 29 mpg
Combined – 22 mpg
You will probably be able to get a better deal on the 2014 Mustang Convertible once the 2015 arrives in showrooms later this year. In the meantime, it's tough to beat the 2014 convertible's combination of stunning good looks and spirited performance. Bankrate didn't choose the available V-8s because the V-6 produces a very respectable 305 horsepower. A smooth-shifting, six-speed manual transmission is standard, but $1,200 will get you the six-speed automatic.
There's just something about dropping the power convertible top on a sunny day to make your heart sing. Bankrate stepped up to the Premium model to get the eight-speaker Shaker Audio System with iPod interface as well as the Ford Sync voice-activation system.
Mercedes-Benz CLA with Premium Package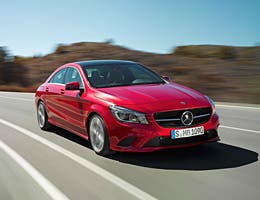 Price:

$32,200

Gas mileage:

City – 26 mpg
Highway – 38 mpg
Combined – 30 mpg
Yes, it is surprising that the most affordable of Bankrate's picks almost is a Mercedes-Benz. The base price actually is less than $30,000, but Bankrate added the $2,300 Premium Package to get dual-zone climate control, heated front seats and the Harman Kardon audio system with iPod interface.
Despite its price, it still looks and rides like a Benz. The only Mercedes-Benz sold in the U.S. with front-wheel drive, it delivers terrific estimated fuel economy from its 208-horsepower, turbocharged four-cylinder engine and seven-speed, driver-shiftable automatic transmission.
Sure, the seats aren't covered in leather, but most people won't be able to tell. Among its standard features are a 5.8-inch touch screen and mbrace2 connectivity system with a wide range of apps and concierge services.
Dodge Charger SXT Plus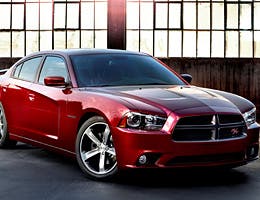 Price:

$32,290

Gas mileage:

City – 19 mpg
Highway – 31 mpg
Combined – 23 mpg
There is just something wonderfully visceral in the Charger's exterior styling. It looks like it packs a performance punch, even when equipped with the V-6 that powers the SXT Plus. Producing 292 horsepower, it's no slouch, but it doesn't have the oomph of the Hemi V-8s farther up the Charger food chain. And, in SXT garb, Charger gets terrific fuel economy, thanks to an eight-speed, driver-shiftable automatic transmission.
A roomy interior easily accommodates five adults. Dodge bundled a lot of technology into the SXT, including Chrysler's Uconnect systems interface with an 8.4-inch color touch screen and voice command. Bankrate opted for the SXT Plus model to add heated front and rear nappa leather seats, a heated steering wheel and antitheft security alarm.
2014 Kia Cadenza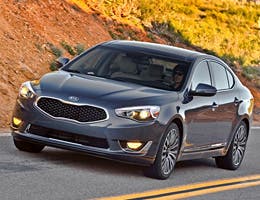 Price:

$35,100

Gas mileage:

City – 19 mpg
Highway – 28 mpg
Combined – 22 mpg
Although the price may sound a bit steep for a Kia, the entry-level Cadenza Premium is a bargain. Kia always has a value story and the Cadenza is another chapter. There is a pricier Limited model with even more goodies, but the Premium comes with leather seats, dual-zone automatic climate control, heated front seats, an 8-inch touch screen, a navigation system, Kia's UVO eServices interface and a 12-speaker Infinity surround-sound audio system. Additionally, your first five scheduled maintenance appointments are free.
Standard safety features include eight air bags, backup camera and backup warning system.
Roomy inside, Cadenza packs a surprising punch with its 293-horsepower V-6, which turns the front wheels with a six-speed, driver-shiftable automatic transmission. It is nimble and quick.
BMW 335i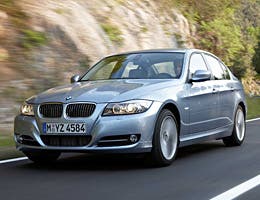 Price:

$43,400

Gas mileage:

City – 22 mpg
Highway – 32 mpg
Combined – 25 mpg
On most everyone's top 10 list, the BMW 3 Series holds court as the king of smaller luxury cars. Bankrate picked the higher-end 335i as its heart-stealer, but there are several other 3-Series versions, beginning with the 320i at $32,750.
The 335i gets its go from a 300-horsepower, 3-liter inline six-cylinder turbocharged engine matched to an eight-speed, driver-shiftable automatic transmission. There is no charge to opt for the six-speed manual. This is a performance sedan of the highest order. It can go from zero to 60 mph in 5.1 seconds.
As the 3 Series has matured, it's become more comfortable and user friendly. The cabin is nicely appointed and carefully constructed. Although it has eight air bags, most high-tech safety features like backup camera and parking sensors are options.
Porsche Boxster with CDR Plus Audio System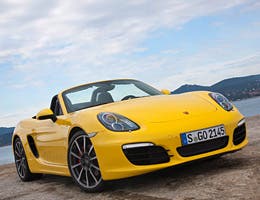 Price:

$53,750

Gas mileage:

City – 20 mpg
Highway – 30 mpg
Combined – 24 mpg
With a base price of $51,350, the Boxster is expensive, but it is on the bottom rung of Porsche's product ladder. Dazzling good looks and a luxuriously sporty cockpit soon make the driver and passenger forget they aren't in a Porsche that costs $30,000 more.
Placing the engine amidships gives the rear-wheel-drive Boxster wonderful balance. The 265-horsepower, flat, horizontally opposed six-cylinder engine has plenty of spunk. A six-speed manual transmission (as priced here) is standard. A seven-speed, driver-shiftable automatic is optional. Reaching 60 mph from a stop takes just 5.5 seconds.
Bankrate added the optional $2,400 CDR package to get the iPod interface as well as 7-inch touch screen and nine-speaker audio system.
Chevrolet Corvette Stingray 1LT Convertible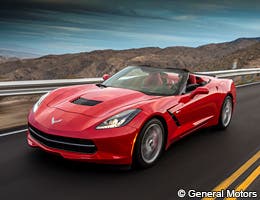 Price:

$56,000

Gas mileage:

City – 17 mpg
Highway – 29 mpg
Combined – 20 mpg
Enthusiasts can't have a most-bang-for-the-buck sports-car debate without including the iconic Chevrolet Corvette. Neck-snapping acceleration, tires that grip like a vice and spot-on steering housed in a drop-dead gorgeous wrapper secure the redesigned 2014's spot in the Corvette legend. And this year Chevrolet reintroduced the Stingray nameplate.
Bankrate highlights the convertible version here, but the more affordable coupe will win hearts as well. Interior fit and finish finally match this two-seater's dynamic performance. Leather sport seating, dual-zone automatic climate control, an 8-inch color touch screen and nine-speaker Bose audio system are standard, as are MyLink and a backup camera.
A 455-horsepower, 6.2-liter V-8 turns the rear wheels with a seven-speed manual transmission. A six-speed, driver-shiftable automatic is optional.
See what's next