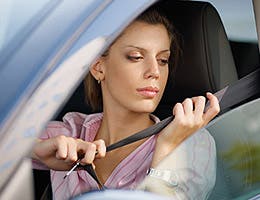 Safe cars for family driving
Whether you're the designated taxi driver for your precious cargo — your family — or your teen is getting behind the wheel for the first time, safety matters just as much as price when it comes to choosing a car.
Unfortunately, not all vehicles are created equally, which means some are safer than others. Unless you are an engineer, chances are you're not going to know the difference between one car's occupant protection and another's. The Insurance Institute for Highway Safety compiles an annual list of the safest cars based on a series of crash tests. IIHS rates the vehicles on their performance in frontal crashes, side-impact smash-ups and rollover accidents. It also evaluates seat/head restraints for protection against rear crashes.
The annual rankings cover every vehicle segment, which means that whether you are looking for a lower-priced compact car or a large sport utility vehicle, there's a safe car for you. With that in mind, here's a look at five safe 2014 cars that are not only good in the event of an accident, but also good at avoiding one. Our descriptions include the manufacturer's suggested retail price and fuel economy in miles per gallon.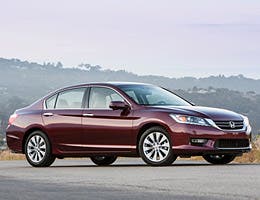 Honda Accord
MSRP:

$21,955

Safety rating:

2014 top safety pick +

Estimated mpg:
You don't have to pay a fortune to drive a super-safe midsized car, especially if you are buying a 2014 Honda Accord. This midsized sedan was awarded a top safety pick + from IIHS, garnering the highest rating in all crash tests.
Its safety features don't stop at protecting the driver and passengers. Elements like the forward collision warning system, which uses cameras to detect vehicles in front, and its lane-departure warnings that alert the driver when the vehicle is drifting are designed to prevent accidents with other cars on the road.
The Honda Accord body also is constructed in a way that reduces the impact from a frontal crash on the cabin and comes equipped with front air bags and SmartVent front side air bags that are designed to decrease the chances of an air-bag-related injury. Standard on all the Accord models is Vehicle Stability Assist with Traction Control that helps put you back on course if you understeer or oversteer. Like most vehicles on the market, the Accord also has anti-lock brakes and a tire pressure monitoring system.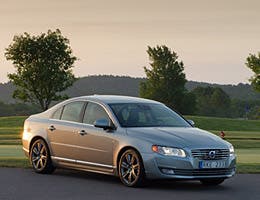 Volvo S80
MSRP:

$39,900

Safety rating:

2014 top safety pick +

Estimated mpg:
There's a reason Volvo is known for its safety. After all, this luxury large sedan has garnered the top rating from IIHS since 2007, and that didn't change in 2014. Another top safety pick, the Volvo S80 performed well in all crash tests and also got the highest rating for rear crash protection and head restraints.
In addition to holding its own in crashes, the Volvo S80 offers a host of safety features — some standard and others that can be added to help avoid accidents.
Included are active high beams, which recognize the headlight beam of oncoming vehicles and automatically shifts between high and low beams; an adaptive brake light that can tell the difference between panic and normal braking; and collision warning and lane-departure warning.
The Volvo also offers safety technology, which is designed to prevent accidents at low speeds by applying the brakes automatically if a crash is imminent. Pedestrians don't have to worry about getting hit, thanks to the pedestrian detection with full auto braking.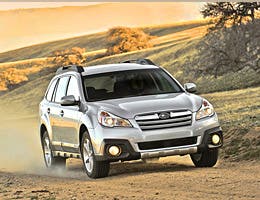 Subaru Outback
MSRP:

$23,495

Safety rating:

2014 top safety pick +

Estimated mpg:
Winning the top safety pick in any given year is tough, but getting it four consecutive years for all models is unheard of unless the manufacturer is Subaru.
Not only do all the models have the top rating from IIHS, but the Subaru Outback was able to win a top safety pick + rating for 2014, a good reason to put it on our list of safe cars.
One of the reasons that the Subaru Outback does so well in crash tests is its ring-shaped reinforcement frame and multiple air bags. A rollover sensor is also included in the Outback.
The Outback can prevent accidents with its available EyeSight technology that utilizes two cameras to monitor traffic and react to conditions before the driver does. If there's a chance of a collision, the brakes will be applied automatically.
To provide more control on the road, the Outback is equipped with all-wheel drive, which gives more stability than front- or rear-wheel drive and provides maximum traction because power is sent to all the wheels at the same time.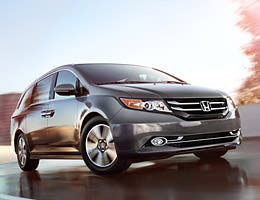 Honda Odyssey
MSRP:

$28,825

Safety rating:

2014 top safety pick +

Estimated mpg:
Minivans often conjure up images of row after row of children being shuffled from one after-school activity to the next. Since parents are the biggest consumer of these vehicles, they want one with a good track record when it comes to safety, which is where the Honda Odyssey comes in.
A 2014 top safety pick +, the Honda Odyssey has received the highest rating in crash tests from IIHS for more than a decade. Boasting an advanced body structure that enhances the protection of driver and passengers, the Honda Odyssey comes equipped with anti-lock brakes, driver's and front passenger's active head restraints and dual-stage, multiple threshold front air bags that can be inflated at different rates depending on the severity of the crash and other factors.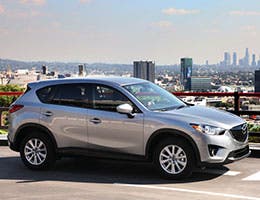 Mazda CX-5
MSRP:

$21,395

Safety rating:

2014 top safety pick +

Estimated mpg:
The Mazda CX-5 is one of three small sport utility vehicles to be chosen by the IIHS as a top safety pick + and only one of 39 vehicles to be named to the institute's list of safe cars in 2014.
It comes standard with front-impact air bags, side-impact air bags and advanced front air bags as well as side-impact air curtains for front and rear outboard passengers.
Driving should be less worrisome with dynamic stability control, traction control, blind-spot monitoring, anti-lock brakes and a Smart City Brake Support system.
This small SUV is built for your protection with side-impact door beams, unibody construction and a collapsible steering column.
On some models, an emergency 911 automatic notification system comes as part of a package. This system dials 911 via a paired Bluetooth-enabled phone in the CX-5 when there's an accident and air bags deploy.