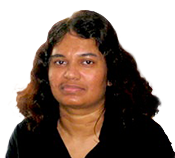 Poonkulali Thangavelu
Contributing reporter
Poonkulali, a freelance writer and editor based in New York's Brooklyn borough, has written on topics ranging from investments and personal finance to mortgages and commercial real estate finance during the course of her financial journalism career.
She started her career as an analyst and writer gauging the prospects of public companies for an Indian financial publication. She has also spent several years covering the mortgage beat as a reporter and editor for National Mortgage News in New York City.
She also has written for, among other publications, National Real Estate Investor, Seeking Alpha, Multi-Housing News and REIT magazine. Her articles have been picked up by various national newspapers and syndicated to outlets such as Yahoo! Finance, Fox Business, NASDAQ, MSN Money and Fidelity.
She likes to explain business and financial topics and holds a master's degree in journalism from Ole Miss, in addition to an MBA degree.