Simplify your finances: All you need is an index card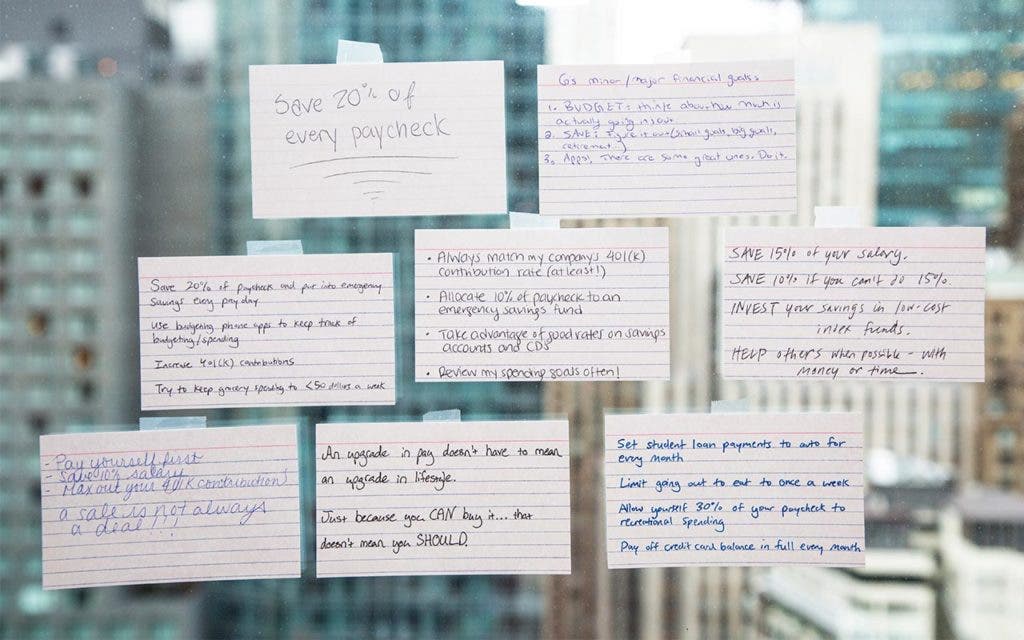 Finance should be simple.
I've said many times that I don't relate to finance books. I like my personal finance clean and uncluttered, and with references to smart living. But you get the opposite message from a lot of personal finance books. 
One card to rule them all
"The Index Card" is a relief, with its calm language and easy instructions about saving and investing. Authors Helaine Olen, an award-winning personal financial journalist, and Harold Pollack, a policy professor at the University of Chicago, say that everything you need to know about finances can be written on a single index card.
The Index Card rules are:
Strive to save 10 to 20 percent of your income.
Pay your credit card balance in full every month.
Max out your 401(k) and other tax-advantaged savings accounts.
Never buy or sell individual stocks.
Buy inexpensive, well-diversified indexed mutual funds and exchange-traded funds.
Make your financial adviser commit to the fiduciary standard.
Buy a home when you are financially ready.
Insurance — make sure you're protected.
Do what you can to support the social safety net.
Remember the index card.
Keep it simple
Each rule gets its own chapter, just about 20 pages long. The pages are pleasingly uncluttered. Occasional all-caps subheads give common-sense recommendations you may already know. Like this one:
YOU'RE NOT A BILLIONAIRE, AND YOU CAN'T INVEST LIKE ONE

We want you to use your common sense when thinking about investments.
The book covers a number of topics, from homebuying and mortgages to building an emergency fund while also paying credit card debt.
It definitely inspired me to create my own index card.
How to make your own index card
Olen's advice for an index card includes a suggestion to enjoy life and not to set impossible goals. "I certainly wasn't going to recommend people save 20 percent" no matter what, she says. "Most people would run screaming."
Start with a savings goal you think you can manage and build from there. "I'm a big fan of baby steps," Olen says. Strive to save that bigger percentage, but always remember it's better to save $5 than nothing at all.
What is important to you? Use that to create your own goals.
We took the one-card approach to Bankrate staff, and here's what we got:
Pay yourself first.
Use apps to keep track of budgeting and spending.
Save 20 percent of every paycheck.
Review my spending goals often.
An upgrade in pay doesn't have to mean an upgrade in lifestyle.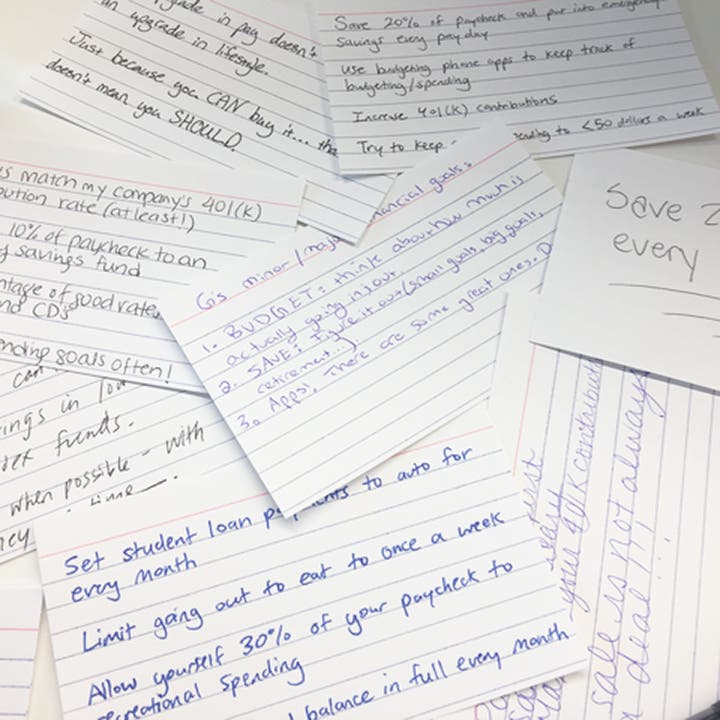 Our index card contest winner is …
We also asked our Money Masters group on Facebook to come up with their own personal finance index cards. There were a number of great entries, but the $100 Amazon gift card went to Yulanda Curtis!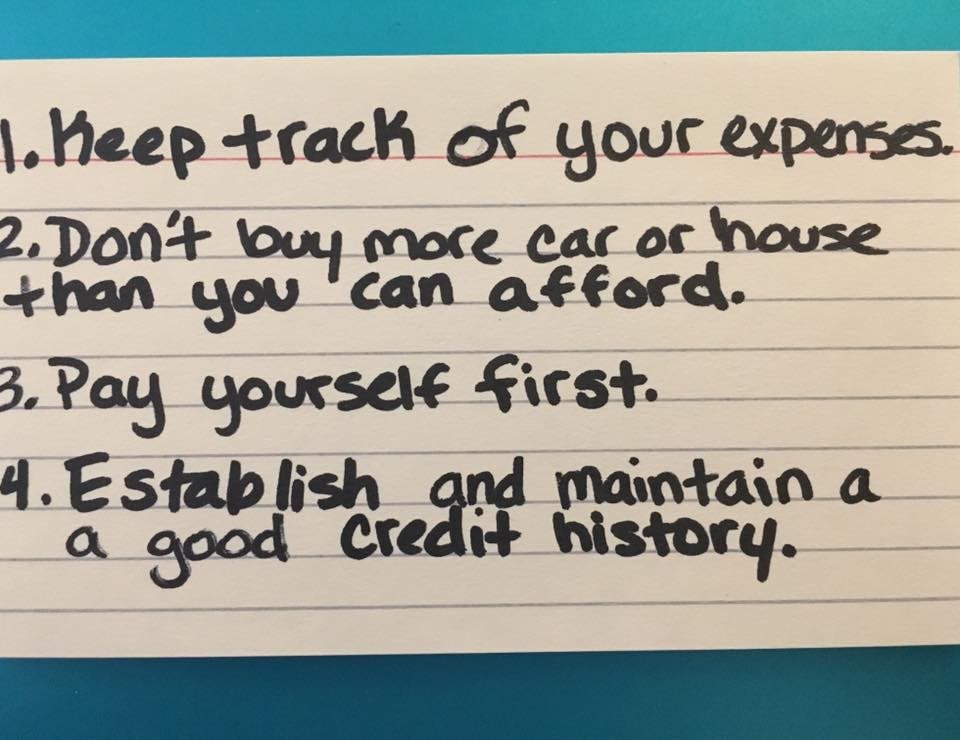 If you're not a member of Money Masters, now's a great time to join. In addition to contests, you can ask questions and get personalized advice from some of the sharpest minds in personal finance.
How do you roll over a SIMPLE IRA?
This week's question from Money Masters is about transferring assets from a SIMPLE IRA to a traditional IRA
A reader has a SIMPLE IRA. He's happy with the plan, but he'd like to roll over the funds to another IRA at a different broker but was told he couldn't.
First, what's a SIMPLE IRA? It's a company-sponsored plan that's designed for small businesses of 100 or fewer employees who make a minimum of $5,000 each. It's a savings incentive match plan for employees in which the employer makes matching or non-elective contributions.
So, to answer the question: You can roll the money into another plan if you think it will benefit you in some way — but only after you've been participating in the plan for two years.
Then you're free to move it to another IRA. You can move it from one SIMPLE IRA to another SIMPLE IRA (if you have access to one) inside that two-year waiting period.
Follow me on Twitter: @jill_cornfield