Will Trump's approval ratings crush stocks?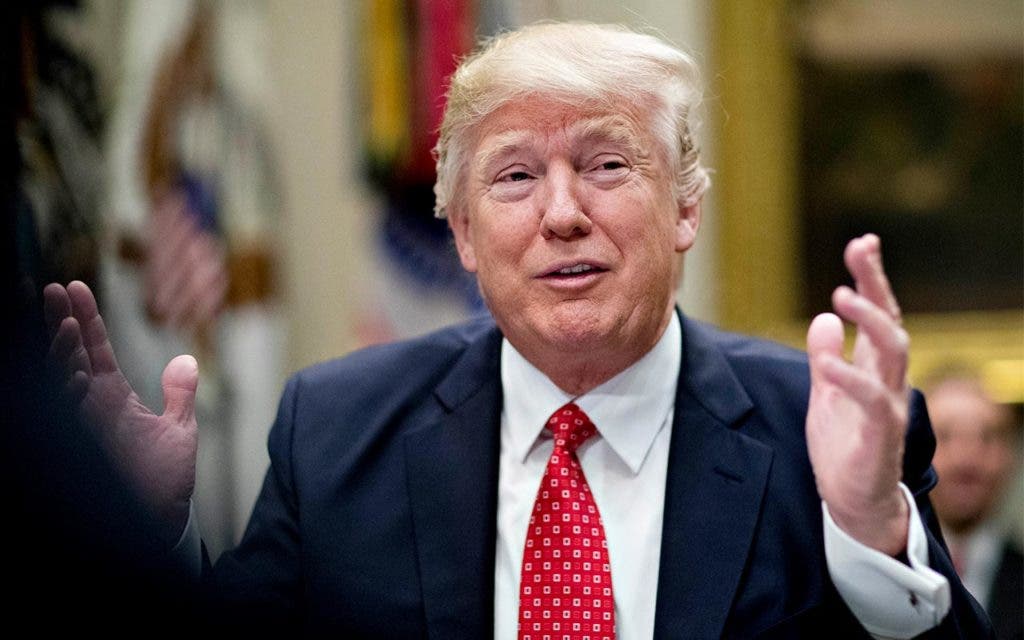 The stock market has continued to notch new highs, largely on the hope that the Trump administration will deliver on promises aimed at boosting economic growth and jobs. At the same time, the president is suffering from historically low approval ratings.
You might be tempted to think: Something has to give.
Is the record rally at risk?
We wanted to find out what happens to the stock market (as measured by the broad S&P 500 index) as presidents' approval ratings move.
Take a look at this chart going back to 1949.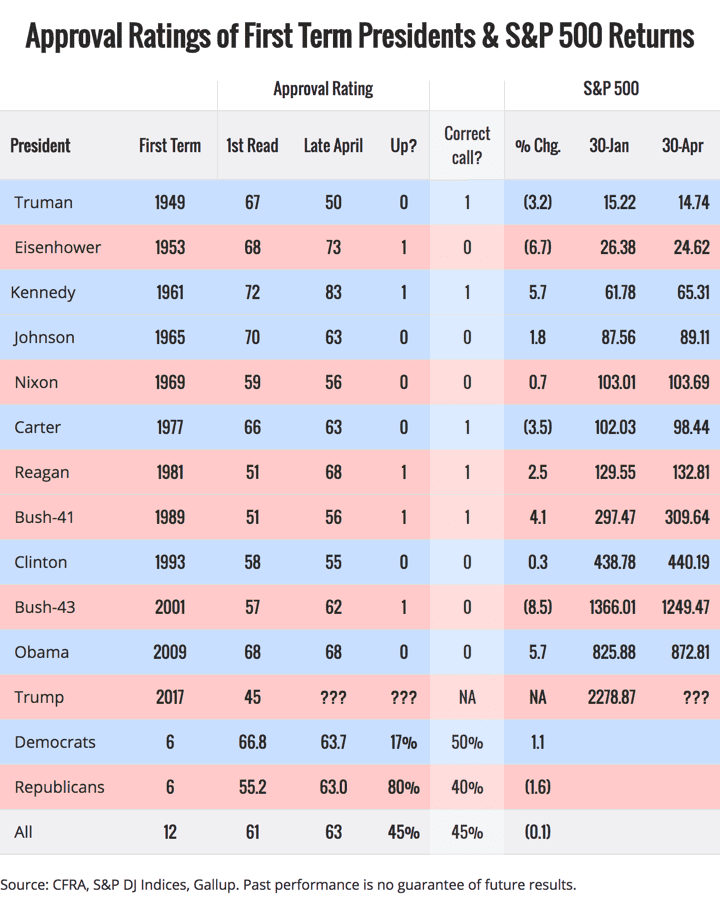 Quick answer: There's no historical evidence to guarantee that the stock market will slump when the president is held in relatively low regard by the public.
RATE SEARCH: Find a safe place to park your cash. Open a CD today.
What do stock market experts have to say on the subject?
Sam Stovall, chief investment strategist, CFRA, who helped us crunch the data: "In terms of the trend of a new president's approval rating predicting the price change for the S&P 500, I think it is more fiction than fact, as the frequency of a correct call was not much better than a coin toss. If anything, the trend in approval ratings for Republicans made for a better contrary indicator."
Hugh Johnson, chairman, chief investment officer, Hugh Johnson Advisors: "Unfortunately, my guess is that there is no useful statistical relationship between the equity markets and presidential approval. The world is far more complex, as are presidential approval ratings."
Jamie Cox, managing partner, Harris Financial Group: "Presidential approval ratings reflect lots of things; however, stock market performance is not one of them. Stocks price on expected future earnings, not opinion polls either of the personality or the economically unrelated policies of a president."
My take: We're still in the early days of the Trump administration. Much depends on whether it will successfully implement policies, such as tax reform, infrastructure investment and replacement (or "repair") of the Affordable Care Act. If an international crisis erupts, it could easily derail the stock market. Finally, regarding the chart above, we should remember the tag line often used with investment promotions: "Past performance is no guarantee of future results."
(Thanks to super-smart Bankrate Data Editor Claes Bell for helping with the numbers on this.)
Test your financial 'street smarts'
Let's face it: Depending on where we are in our own financial journey, some of us are better armed than others with the information we need to accomplish our goals. Here at Bankrate, we're all about trying to help people along that journey.
So, it's interesting to see the result of a new survey that finds millennials are "overconfident" about their own level of financial knowledge. That suggests they're at risk of making a mistake that could cost them.
Research from the National Endowment for Financial Education and conducted by George Washington University found: "Only 24 percent of respondents showed basic financial literacy in the study, with just 8 percent showing a high level of knowledge. Yet, 69 percent gave themselves a high self-assessment of financial knowledge."
Here's an example of the questions asked to gauge financial knowledge:
Question: If interest rates rise, what will typically happen to bond prices?
They will rise.
They will fall.
They will stay the same.
There is no relationship between bond prices and the interest rates.
Do not know.
Prefer not to say.
 Answer: They will fall. Interest rates and bond prices typically move in opposite directions.
Footnote: One thing that makes my blood pressure rise is when people generalize about millennials or any other group. I typically come to their defense.
Still, most of us could stand to raise our financial literacy game. There's always something new that we can learn, possibly paving the way toward greater financial success.
Follow me on Twitter: @Hamrickisms
RATE SEARCH: Find the right rewards credit card for you, today.