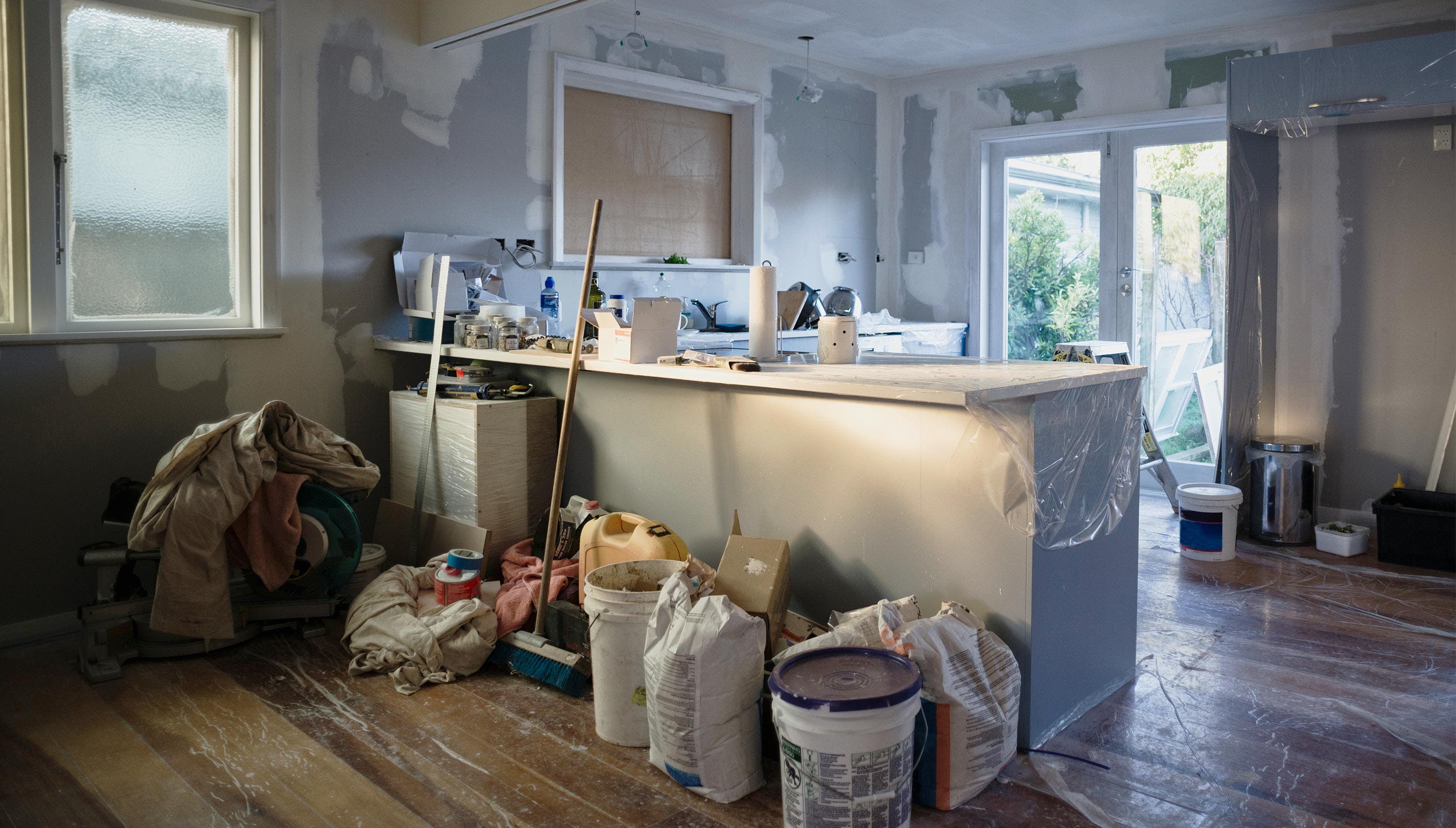 If your aging kitchen needs to be remodeled and you're thinking about doing it yourself, consider the time, energy and money you'll spend.
First step is to find out how much a kitchen remodel will ultimately cost. Experts say homeowners — who often tap home equity or do a cash-out refinance to pay for the work — typically spend from $20,000 for a minor kitchen remodel up to $62,000 for a high-end renovation.
Totally remodeling a kitchen typically requires it to be demolished and built back up from scratch. Deciding on materials, working out the details, and keeping a work schedule and budget in order can be overwhelming. It may be best to leave it up to the professionals so your kitchen remodeling costs don't spiral out of control.
Professional remodeling vs. DIY
There are a variety of avenues you can choose to get the project done. Take advantage of the big-box home improvement stores that have certified kitchen designers on staff to help you choose your style, materials and appliances. The only catch is that you will have to use the contractor they work with, and you will need to make most if not all of your purchases from that store.
If you prefer to avoid the home improvement stores, hire a contractor on your own to handle the entire project. The next level up from having a contractor handle the project is to hire an architect or a kitchen designer for your remodel. The services of a professional designer usually represent only about 4 percent of the total project's budget, according to the National Kitchen and Bath Association. The costs for each of these professionals can vary greatly depending on where you live and the scope of your project.
Architect: An architect typically charges between $60 and $125 an hour for a project, according to HomeAdvisor.com, though this can vary.
Contractor: The cost of a contractor for a kitchen project greatly differs from that of a handyman. The contractor will have a crew and other expenses that need to be covered, so for a kitchen remodel, you may end up paying from $300 to $500 for a day rate just for the contractor plus another $150-$250 per laborer rather than an hourly rate.
Certified kitchen designer: A certified kitchen designer has proven knowledge of kitchen design and tricky issues, and can provide options you never thought of for your kitchen. The services of a certified kitchen designer can cost from $40 to $75 an hour.
Cost of kitchen cabinetry
The most expensive part of kitchen remodeling costs, besides the professionals that you hire, will be the cabinetry. Cabinetry will cost about 40 percent of your kitchen renovation project. For a full remodel, you will want to have the old cabinetry demolished and new cabinetry installed. The costs for different cabinetry depend on materials and include:
Stock cabinetry: Off-the-shelf stock cabinetry runs from the low side of $2,500 up to $8,000 to $10,000 for an average-sized kitchen.
Semi-stock cabinetry: You can order standard stock cabinetry but upgrade it with different trim, doors or other details, which can double the price of what it would have cost if you'd purchased it right off the shelf.
Custom cabinetry: The sky is the limit when it comes to the cost of made-to-order cabinets. Cabinet-makers typically hand build cabinets with top quality materials to fit your kitchen's space to specifications.
Saving money
To reduce the cost of your kitchen remodeling project without compromising function and design, you can do a couple of things:
First, keep the plan simple. That means keeping plumbing in place to save you thousands of dollars on relocating lines. Keep sinks where they are.
For electrical, update to code when necessary, but keep those lines in place, too.
If you want to save a few thousand dollars on labor costs, do the tough, back-breaking work of demolishing most of the kitchen on your own.
Save on labor by doing the finishing touches, such as painting, yourself.
Though it looks easy and affordable on television to remodel a kitchen, the reality is much different. You will need to pay for the help and skill of professionals to make sure the job is done right. Paying for kitchen design professionals and high quality materials can be worth it in the long run.