National auto loan rates for March 31, 2011
Interest Rate Roundup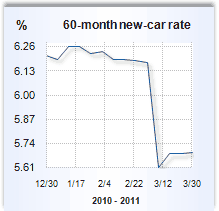 Auto Loans
5.69% (60-month, new car)
6.67% (36-month, used car)
Here's a look at the state of auto loan rates from Bankrate.com's weekly national survey of large banks and thrifts conducted March 30, 2011.
Auto loan rates ticked upward this week. The average rates for 48-month new-car loans and 60-month new-car loans rose 2 basis points and 1 basis point, respectively, to 5.64 percent and 5.69 percent.
Used-car loans were also up slightly. The average rate for a 36-month used-car loan added 1 basis point to 6.67 percent.
The Japanese auto industry is still dealing with the repercussions of the country's earthquake and subsequent tsunami. This week Toyota asked its dealers to stop ordering more than 200 types of replacement parts made in Japan because it's worried about running out of them, according to an article by The Associated Press.
To find updated auto rates in your area, visit Bankrate's auto rate table.
— Claes Bell
More From Bankrate