National auto loan rates for July 1, 2010
Interest Rate Roundup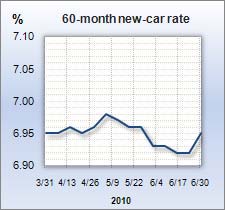 Auto Loans
6.95% (60-month, new car)
7.68% (36-month, used car)
Here's a look at the state of auto loan rates from Bankrate.com's weekly national survey of large banks and thrifts conducted June 30, 2010.
Auto loan rates were up across the board this week. The average rate for a 48-month, new-car loan rose 2 basis points, to 6.97. The 60-month, new-car loans gained 3 basis points, to 6.95 percent. Used-car rates were also higher; the 36-month, used-car rate rose 1 basis point, to 7.68 percent.
Ford is introducing a new technology that may help prevent rollover accidents in its SUVs. The 2011 Ford Explorer will come standard with a technology called Curve Control, which will automatically sense when a driver is taking a curve too quickly. When the system is triggered, it reduces the engine's torque and strategically applies braking. Ford says the system will work on wet or dry payment and will be able to be switched off by drivers.
To find updated auto rates in your area, visit Bankrate's auto rate table.
— Claes Bell
More From Bankrate