Trump-proof your portfolio
1 of 6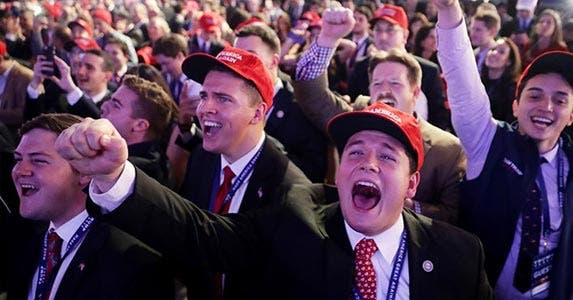 With Republican presidential victor Donald Trump headed to the White House, investors can benefit — if they are holding the right stocks.
Trump has been evasive when it comes to taking a stand on most money issues facing the country. With the help of the Council on Foreign Relations, we outline areas where he has been assertive in his position on financial matters.
"The Trump team has been harder to nail down … but it is safe to say that big businesses that are strong exporters will benefit," says Chuck Fulkerson, director of education at Online Trading Academy, a stock investing and trading educational program.
Jeff Reeves, analyst and executive editor of InvestorPlace.com, says "pure-play U.S. companies" like Target (TGT), Macy's (M) and Chipotle (CMG) would be a way to avoid being hurt if Trump angers U.S. allies abroad.
"These names will take less of a hit because they won't be caught up in the global give-and-take of trade wars," he says
Here's how to Trump-proof your investment portfolio now that the real estate mogul has won the presidential election.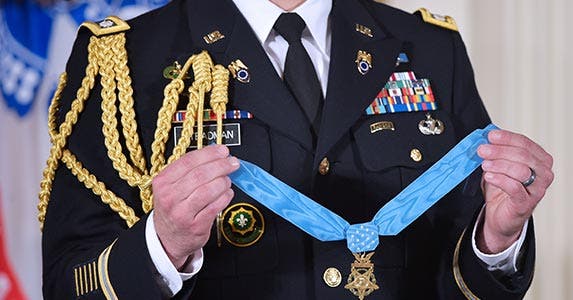 MANDELNGAN/Getty Images
Trump has said he will increase the size, power and reach of the military, but has offered few specifics.
He also criticized President Barack Obama for "not doing what he should be doing in Ukraine" and has been critical of NATO. He said the U.S. is paying too much for the alliance and is "not flexible enough" to deal with terror.
"You can be sure defense contractors like Lockheed Martin (LMT) will be flying high. If the U.S. needs to protect its borders and if Donald Trump angers our allies, expensive military technology like the F-35 joint strike fighter or next-generation drones will be in strong demand," Reeves says.
RATE SEARCH: Find great CD rates today at Bankrate.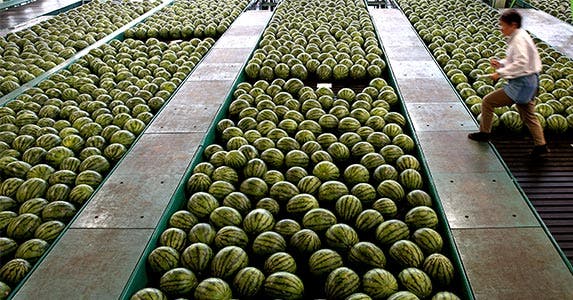 Buddhika Weerasinghe/Getty Images
Trump favors trade, but he says he opposes U.S. trade agreements because they take jobs from the U.S.
He calls the North American Free Trade Agreement "a disaster," saying that he would renegotiate it or "we will break it."
"He called out Ford Motor Co. specifically in his June 2015 speech announcing his candidacy, saying he would impose a 35 percent tax on vehicles that the automaker exports to the United States from new plants in Mexico," the Council on Foreign Relations says.
He opposes the Trans-Pacific Partnership, or TPP, with a dozen nations of the Pacific Rim, including Australia, New Zealand, Canada, Mexico, Japan, Peru, Vietnam and Malaysia. The Trans-Pacific Partnership excludes China.
"TPP is the biggest betrayal in a long line of betrayals where politicians have sold out U.S. workers," Trump wrote in USA Today. "America's politicians — beholden to global corporate interests who profit from offshoring — have enabled jobs theft."
Trump outlined a plan for reforming U.S. trade relations with China in November 2015. As president, he says he would formally designate China as a currency manipulator, crack down on what he says is its theft of U.S. intellectual property, and expose its various export subsidy practices.
Fulkerson says mining companies such as Newmont Mining Corp. (NEM) and Freeport-McMoRan (FCX) should be considered. "Companies with access to raw materials, specifically exporting those raw materials, will do well," he says.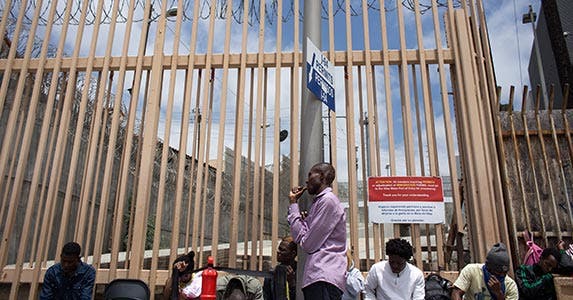 AFP/Getty Images
Trump issued a policy paper in August 2015 outlining his three-point plan for immigration reform. First, he pledges to construct a wall across the entire southern U.S. border, which he says the Mexican government will pay for or face penalties.
"The cost of building a permanent border wall pales mightily in comparison to what American taxpayers spend every single year on dealing with the fallout of illegal immigration on their communities, schools and unemployment offices," he wrote.
Trump says he will restrict legal immigration, including the flow of guest workers and refugees, and legally require U.S. businesses to hire U.S. citizens before others.
In addition, after Trump made comments that he might be open to providing a pathway to legal status for undocumented immigrants in the U.S., he backed off of those statements.
"If Trump continues his inflammatory rhetoric and tough talk about crime, you'll want to consider publicly traded prison operators … as well as gunmakers," Reeves says. That would include The GEO Group (GEO), Corrections Corp. of America (CXW), Smith & Wesson Holding Corp. (SWHC) and Sturm, Ruger & Co. (RGR).
If the Mexican wall is actually built, Cemex SAB de CV (ADR: CX), the Mexican concrete maker, would be a good choice, Reeves says.
RATE SEARCH: Looking for a house? Find the best mortgage rates today at Bankrate.
Oil production and fracking
5 of 6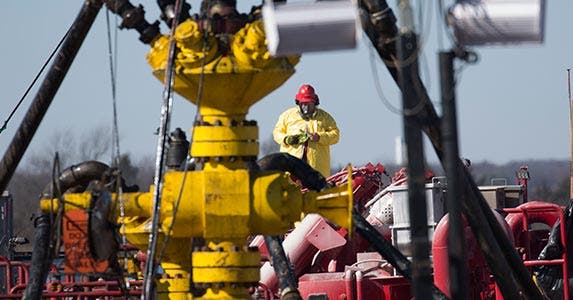 J Pat Carter/Getty Images
Trump has called for expanding domestic production of oil and gas, and has said that hydraulic fracturing "will lead to American energy independence."
Fracking will lead to American energy independence. With price of natural gas continuing to drop, we can be at a tremendous advantage.

— Donald J. Trump (@realDonaldTrump) May 3, 2012
More From Bankrate