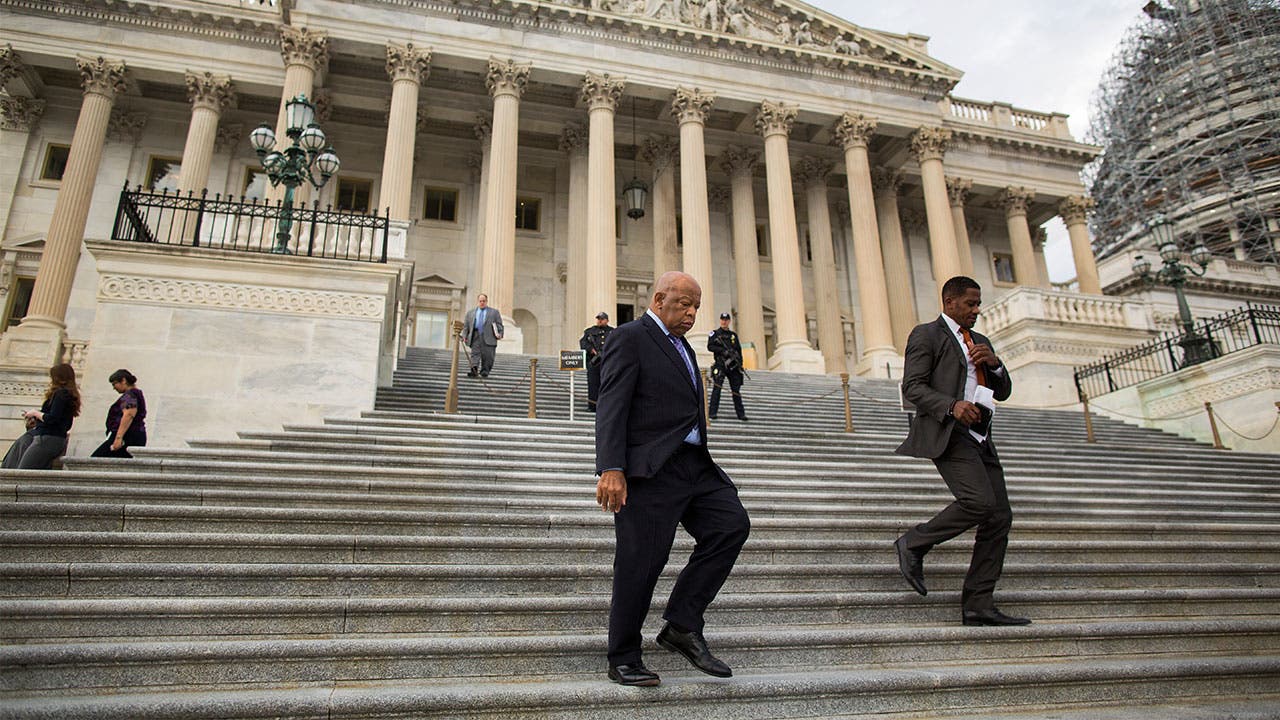 Wall Street just can't seem to make up its mind about President Donald Trump. That makes handicapping the impact on your investments of a sure-to-be turbulent December, including a potential government shutdown, nearly impossible.
Trump has touted the record levels of stock indexes as evidence of his administration's economic success; however, the administration has delivered precious few substantive legislative victories, and the large-bore tax reform promised last January looks like it will go down to the wire. That follows the failure to repeal and replace Obamacare.
December is perhaps the most important month so far for the Trump administration, and developments this month could very well affect your pocket book over the long term. Not only are Republicans trying to overhaul the tax code, affecting everything from pass-through businesses to mortgages, but a key children's health care program needs to be reauthorized and Congress remains split on what to do with the so-called dreamers.
Oh, and the government needs to be funded or it will run out of money on December 8th.
Stock market uncertainty
Investors initially panicked as the election results came into focus, but then swiftly went on a buying spree in the following months as they bet on tax cuts, infrastructure spending and a regulatory roll-back.
There have been blips along the way, but 2017 has offered a very nice return on investment. The S&P 500 has gained 16.3 percent this year, after jumping 12 percent in 2016. Bonds have chipped in another 3 percent, while inflation has underwhelmed once again. Market observers have been worrying all year long that investors aren't worried enough.
The narrative, though, shifts constantly. Breaking news, like the president's controversial response to Charlottesville or another North Korea missile test, send stocks tanking just before they quickly rise again.
If Congress fails to pass tax cuts, and the government shuts down, will that change how investors respond to the dysfunction in Washington?
What does a shutdown mean for you?
History doesn't offer a clear guide.
LPL Financial looked how equities responded to the past 18 shutdowns and found that stocks fell 56 percent of the time, with an average decline of 0.6 percent.
There is broad agreement that shutdowns are completely unnecessary and that both parties should find a way to fund the federal government without shutting it down first, but a decline of less than 1 percent hardly represents a catastrophe. After all, remember June 29, 2017? No? Well the S&P 500 fell 0.9 percent, driven mostly by a sell-off in tech stocks. Life goes on.
The last shutdown (also the only one in the 21st century) lasted 16 days, from Sept. 30 to Oct. 17, 2013. Stocks rose 3.1 percent, contributing to a gain of 32 percent for 2013 as a whole.
Ghosts of shutdowns past
Equities lost more than they gained during past legislative standoffs, and investors may be more disgusted by Washington this time around.
A more apt comparison may be to the 1979 shutdown, when one party—the Democrats—helmed both houses of Congress and the White House, during the Carter administration. That time, stocks dropped 4.4 percent over 11 days. Are you mentally prepared for a decline of that size?
A shutdown might spook markets more this time since it would signal that the government may not be able to raise the debt ceiling come March. A failure to allow the Treasury to pay its I.O.U.s would represent an unprecedented fiscal calamity.
Even if the debt ceiling is ultimately raised and a new budget is passed, investors may start to lose confidence if the dream of lower taxes fails to materialize. Malaise could set in.
The market has responded to the Trump maelstrom with equanimity. December may be the month their Zen attitude changes to fear, or even ennui.
What should I do to prepare for a shutdown?
Unless you happen to be a political power player in D.C., there isn't much you can do.
While you know that you shouldn't let news headlines affect your risk tolerance, sometimes it's just really hard to keep those emotions in check.
One study, "Political Climate, Optimism, and Investment Decisions," found that investors whose political party is out of power—the Democrats now—are more likely to trade frequently, thus causing their performance to lag. Reminder: You are not smarter than the market.
Recognize your limits, and create a system that allows you to satisfy your itch to do something without derailing your financial plan. One option is to dedicate, say, 3 to 5 percent of your portfolio to active management.
While most of your assets are generally better off in diversified, low-cost mutual and exchange-traded funds, allowing yourself to pick winners and losers with a small sliver of your assets may prevent you from making more drastic decisions.
Try not to get carried away, though, if you happen to correctly guess which ways the winds will blow.