Do simpler taxes mean fewer homeowners?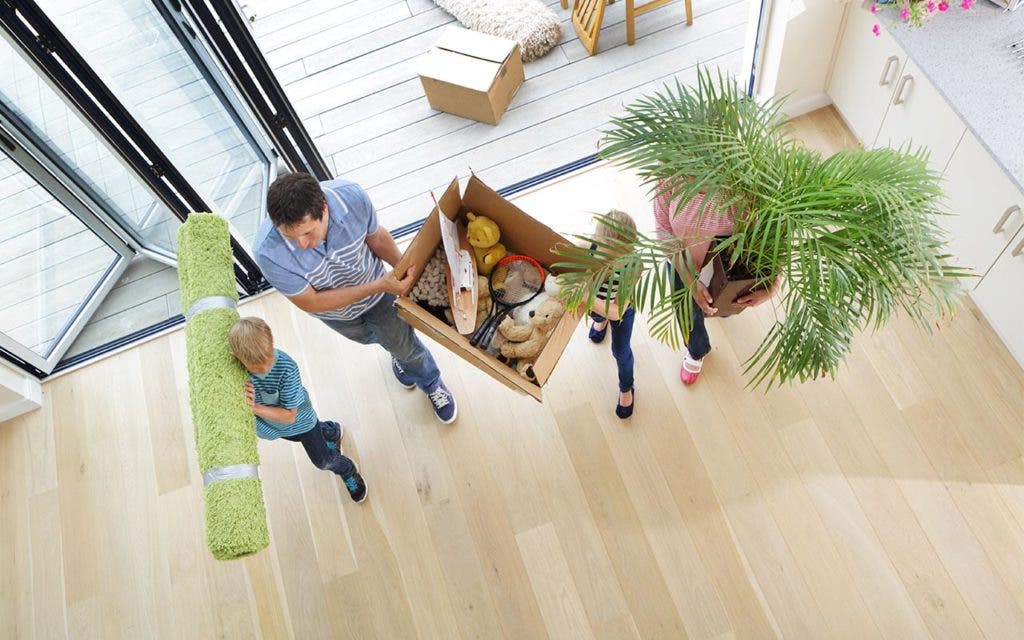 What if Congress simplified your federal income taxes, but removed some of the incentives for buying and owning a home? Would you take the deal?
If you're already a homeowner, it depends on the details.
But if you're a renter, you might cheer simpler taxes if it means people will stop telling you that you're throwing away money every month because you're not making a mortgage payment.
And if you're a real estate agent or a homebuilder, or if you work for a mortgage insurance company, you might prefer the current tax setup, no matter how complex and frustrating it is.
SEARCH RATES: Moving up to a new home? Find a mortgage deal today.
Blueprint for simpler taxes
House Republicans want to simplify the tax system, and they have come up with a document called the Tax Reform Task Force Blueprint. It's not a bill; it's a statement of principles. Presumably, a bill would follow the principles. Already, lobbyists have unsheathed their swords.
The Blueprint calls for simpler taxes by:
Reducing the number of tax brackets from seven to three.
Almost doubling the standard deduction and getting rid of personal exemptions.
Eliminating all itemized deductions except those for mortgage interest and charitable contributions.
The National Association of Realtors is skeptical of this broad plan. In a PowerPoint presentation called "Realtors Federal Priority Issues Briefing," the association has a slide showing a sinister stealth bomber in flight, with the heading, "How Tax Reform Can Destroy the Tax Benefits of Home Ownership by Stealth."
It's about itemizing
As the Realtors see it, a bigger standard deduction would swipe the tax benefit of homeownership for millions of people. That's because fewer people would itemize tax deductions under the principles outlined in the Blueprint. And if fewer people itemize deductions, then fewer people would benefit from deducting mortgage interest.
For example, if you're married, filing jointly, your standard deduction is $12,600. If you can deduct more than $12,600 for mortgage interest, mortgage insurance, state and local taxes, charitable contributions and so on, then you'll come out ahead by itemizing deductions.
Under the Blueprint, the standard deduction for a married couple, filing jointly, would be $24,000. To make it worthwhile to itemize deductions, your mortgage interest and charitable contributions would have to exceed $24,000. You wouldn't be able to deduct mortgage insurance or state and local taxes.
Overall, you would be less likely to itemize deductions under the Blueprint's guidelines. The way the Realtors' lobbyists see it, you're less likely to buy a house and get a mortgage if the tax incentive is reduced.
Who's better off?
The Tax Reform Task Force, led by Rep. Kevin Brady, R-Texas and chairman of the Ways and Means Committee, gets a little defensive about incentives.
"This Blueprint will preserve a mortgage interest deduction for homeowners," the Blueprint reads, adding that no existing mortgages would be affected by changes in the tax code. "But just as importantly, because of the other provisions included in the new tax system, far fewer taxpayers will choose to itemize deductions, with the vast majority of taxpayers finding they are better off by taking advantage of the larger, simpler standard deduction instead."
Clearly, fewer taxpayers would itemize deductions. But would the vast majority would be better off? That's a political argument that we're going to have. The Realtors' PowerPoint deck's main takeaway is: "Beware of tax reform that promises to retain the current deduction for mortgage interest. If tax reform offers much larger standard deduction, particularly when combined with repeal of state and local tax deduction, it is likely to gut the tax benefits of homeownership, even if it does not repeal or even modify MID (mortgage interest deduction) itself."
Maybe we'll even have a political argument about whether the tax code should favor homeowners over renters.
PMI deduction lapses
I mentioned the mortgage insurance tax deductions a couple of times. Unlike the mortgage interest deduction, the mortgage insurance deduction is always in danger of lapsing. If you paid mortgage insurance premiums in 2016, the payments potentially are tax deductible if your income is low enough and you can itemize when you file your 2016 taxes this year. But tax deductibility of mortgage insurance expired at the end of 2016.
USMI, the lobbying group for mortgage insurers, has written letters to congressional leaders and to Steven Mnuchin, the Treasury nominee, urging an extension of the tax deduction for at least the 2017 tax year, if not permanently. I'll let you know how that pans out.
Yay! Mortgage rates went down!
After rising three weeks in a row, then staying the same one week, then rising another nine weeks in a row, mortgage rates finally dropped this week. Can rates fall nine weeks in a row? A guy can dream, can't he?
SEARCH RATES: Enough with numbers. Find a fair mortgage rate.
RTI comment of the week
Every week, Bankrate posts the Rate Trend Index, in which loan officers predict whether mortgage rates will go up, down or stay about the same in the coming week. Here's the comment of the week:
Vote: Up. After settling down for about a week, mortgage rates could inch up higher again in the next seven days. Much depends on the non-farm payroll report to be released this Friday. A strong employment report could mean higher rates for the consumers and vice-versa. Either way, the movement shouldn't be significant.
— Shashank Shekhar, CEO, Arcus Lending, San Jose, California
Refi? Or keep a 4.75% mortgage?
I want to answer your mortgage and real estate-related questions. Got one? Email me at TheHomeHacker@Bankrate.com.
Question: For the past seven years, I have had a 15-year mortgage at 4.75 percent. In October, I asked about refinancing with the same bank, and I locked in a rate of 3.125 percent for 15 years. My mortgage payment will drop about $500 a month and closing costs would be about $4,000. The closing date is in just a few days.
Here's the complication: I want to sell the townhouse or rent it out — I'm not sure which yet. If I sell, it will be about a year from now. I don't know exactly when I would rent it out.
My head is spinning, trying to make the right decision to refi or just continue to pay the higher mortgage. What do you think?
Answer: Going from a 4.75 percent interest rate to a 3.125 percent interest rate looks, on the surface, like an easy decision. Let's explore why, and then look deeper into the question.
Running some numbers
I don't know how much you borrowed, but for argument's sake, I'll assume you borrowed $145,000 and got a 15-year mortgage at 4.75 percent, for monthly principal and interest of $1,128. Now it's seven years later and your balance is roughly $90,000. If you refinance that balance into a new, 15-year loan at 3.125 percent, the monthly principal and interest would be $627 — a $501 decrease in payment. You can play around with the numbers on our handy-dandy mortgage calculator.
The simplest way to look at it is this way: You pay $4,000 in closing costs to save $500 a month, so you break even in eight months. From this standpoint, it's easy: Refinance the loan if you plan to own the townhouse for more than eight more months.
It's not so simple, though
Let's dive deeper.
If you refinance under these terms, you're starting the clock at 15 years again, which means that it will take you 22 years to pay off the mortgage instead of 15. This means that you'll pay less interest every month, but you're adding 84 months to the original payoff date, so you'll pay about $4,500 more in interest in the long run if you refinance and pay off the loan in 15 years.
But what if you get a 15-year loan at 3.125 percent, but pay it off in eight years, sticking to the payoff date of the original loan? Your monthly principal and interest would be $1,061. That's a savings of $67 a month over the current loan. And over the life of the loan, you would save about $6,500 in total interest, compared to the interest you would pay by sticking with the current mortgage.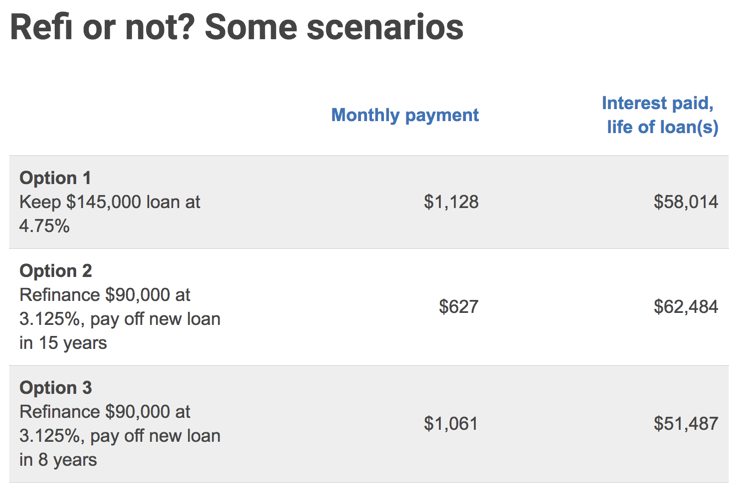 I hope this doesn't make your head spin even more! It's up to you to choose which combination of monthly payments and total interest makes sense for your situation.
SEARCH RATES: Ready to shop for a mortgage? Find the best deal today.
Wanna live in a cliff?
Check out this house, called Cliff Haven. It's perched within a cave inside a cliff. It's going up for auction on Jan. 21. It's about 90 miles south of Moab, Utah. Three bedrooms, two bathrooms in 2,100 square feet. The listing says the property is on a 12-acre lot, and I'm curious if the acreage includes the inside of the cave that the house is set in. And there's an orchard on the property, too.
I'd strap on my mountain bike shoes and bid, but I doubt I can afford it.
Flapping flag drives nappers mad
In one of my favorite Real Estate Adviser columns ever, a letter writer asked if she has to disclose her neighbor's "unusually large, illuminated American flag" when she sells her home. The issue isn't the size and the bright lights; the problem is that it "makes so much noise on windy nights that we have to retreat to another bedroom to sleep." Read what the Real Estate Adviser has to say.
SEARCH RATES: Start out right by shopping today for a mortgage.