Repair pet damage before selling home? Answer will surprise you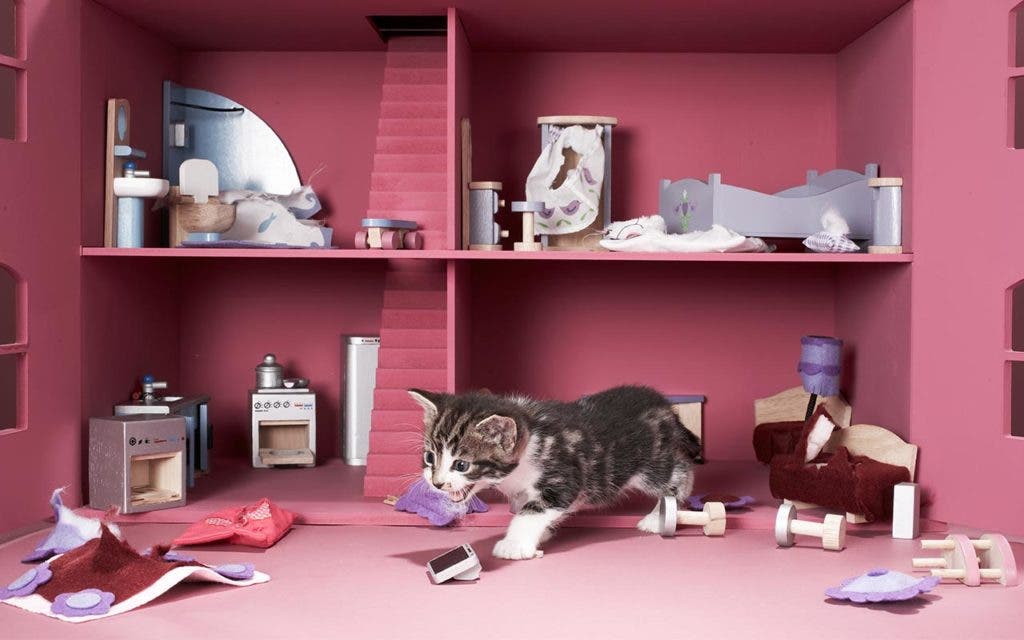 When you have a pet, how should you prepare your home for sale? For one thing, fix anything that has been damaged.
That seems obvious, but it's not unanimous advice from real estate agents.
The National Association of Realtors asked members for advice they give to animal owners who want to sell their homes. Two-thirds said they always advise "replacing anything that has been damaged." Another 30 percent said they sometimes give that advice.
I'm surprised there wasn't 100 percent agreement that sellers should repair anything that's been damaged.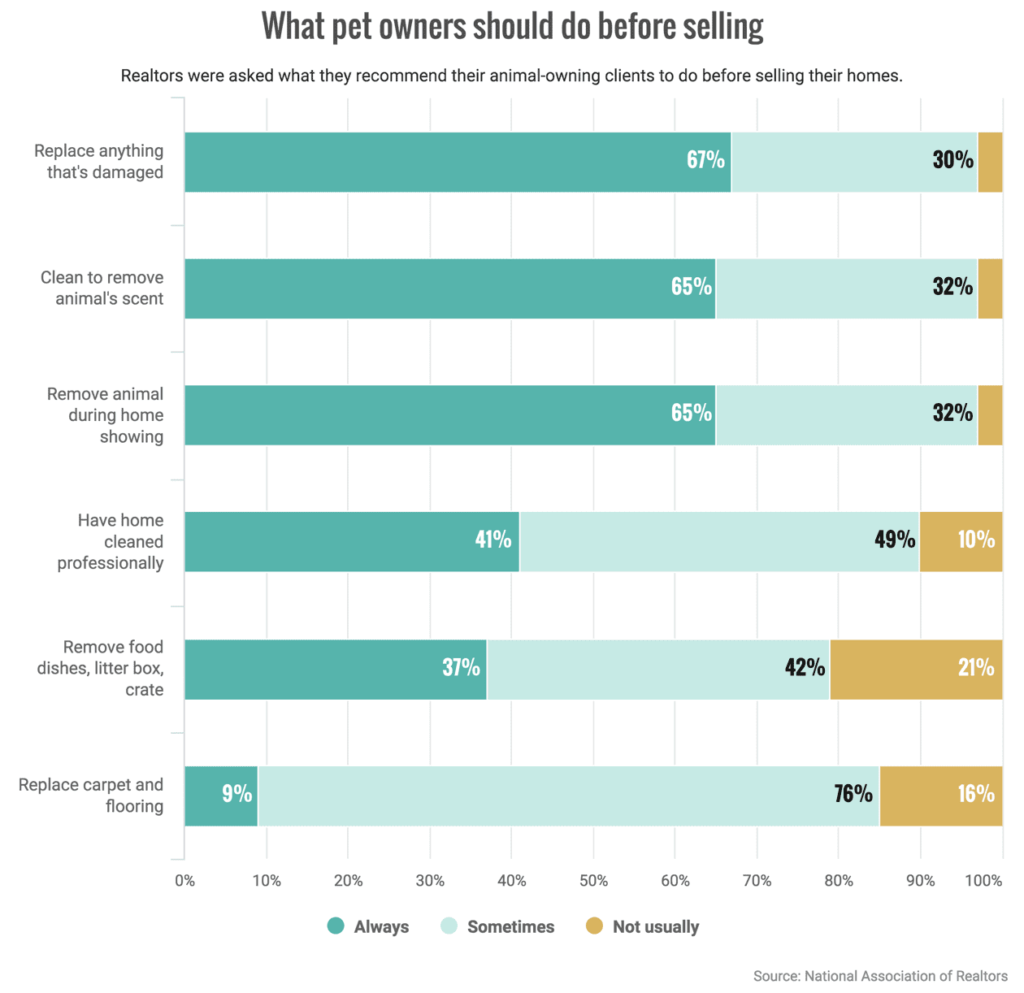 When I bought my current home, it smelled like a collie every time it rained (until we replaced the carpets with laminate flooring). So, to all the pet owners who remove animal odors before selling, I have these words of encouragement: "Who's my favorite seller? Who's my favorite seller? That's right, you're my favorite seller!"
The Realtors' report on homes and pets has some interesting stuff. See my previous blog post, Animal owners want what in their homes?
RATE SEARCH: Need to replace your vinyl siding because the dog chewed it off? (This really happened to a friend.) Replace it by getting a home equity line today.
Fewer credit-challenged buyers
People with less-than-pristine credit aren't even bothering to apply for mortgages nowadays.
OK, that's overstating things. Some are. But not as many as before the housing crisis, according to data crunched by the Urban Institute.
Researchers looked at denial rates for mortgage applications, going back to 1998.
"Our real denial rate analysis shows it was harder for a lower-credit borrower to get a mortgage in 2014 and 2015 than it was before 2006," according to a report prepared by the institute's Laurie Goodman, Bing Bai and Bhargavi Ganesh.
As a result, they say, fewer people with imperfect credit have been applying for mortgages since 2007. One-third of applicants had less-than-perfect credit in 2015, compared with half of applicants before the crisis.
Risky products, not borrowers
If you think this is good news for the housing market, think again. The researchers say "risky products, not risky borrowers, were the major contributors to the housing crisis."
I agree with this controversial statement. During the boom, lenders were giving out mortgages with prepayment penalties, negative amortization and no income documentation. They were approving piggyback loans so borrowers could avoid mortgage insurance. Some lenders pressured appraisers into "hitting the numbers" to justify cash-out refinances for inflated amounts.
After the housing crisis, the riskiest loan products were eliminated. On top of that, lenders tightened their requirements. The average homebuyer getting a conventional mortgage had a 752 credit score in January, according to Ellie Mae. That's too high. 2002 was a sane year for mortgage lending — the boom wasn't happening yet — and just 39 percent of homebuyers had credit scores of 740 or higher that year. In 2014, that had grown to 61 percent, according to Fannie Mae.
The Urban Institute estimates that 6.3 million people with less-than-perfect credit didn't get mortgages between 2009 and 2015, when they would have qualified if standards had been more realistic.
Look into FHA or VA
My recommendation, if you have imperfect credit, is to apply for a Federal Housing Administration-insured mortgage. In January, the average FHA homebuyer had a credit score of 686, according to Ellie Mae. That's decidedly imperfect, and a lot lower than the 752 average credit score for conventional loans. Veterans Affairs buyers had an average score of 707. FHA and VA buyers had average down payments of 4 percent and 2 percent, respectively.
It's going to be difficult to relax mortgage lending standards. Government is partly — but not completely — to blame. Fannie Mae, Freddie Mac and the FHA are unforgiving of errors, and investors are risk-averse. Lenders complain, with justification, that the FHA and the Consumer Financial Protection Bureau are arbitrary and punitive.
RATE SEARCH: Veterans Affairs loans require no down payment. Comparison-shop for a VA loan today on Bankrate.com.
How do you do, How-To?
I'm starting a series of frequent blog posts. They're going to be short. They're going to be informative. They're going to be called Home Hacker How-To's. I'll tell you how to do things, like compare mortgage offers so you can decide which is best. Sometimes I might define a word or phrase. The goal is to demystify the scary homebuying and home borrowing process. Here's my introduction.
Income tax and paybacks
By now, more than one-quarter of taxpayers have filed their tax returns, and around 30 million tax refunds have been processed already. And guess what a lot of people spend their tax refunds on?
They use those refunds to catch up on their mortgage payments. February and March typically bring a spike in "mortgage cures," according to Black Knight Financial Services. A mortgage cure is when someone gets current on the mortgage after going into delinquency or foreclosure.
Overall, February and March have 31 percent more mortgage cures than normal months, according to Black Knight.
"If history holds, we can expect as many as 290,000 borrowers to pay their loan current in February and March, on top of normal cure volumes for a typical month," the company says in its Mortgage Monitor (PDF).
So if you've ever fallen behind on your mortgage and used your tax refund to catch up, you have lots of company.
You might have to wait, though. According to the IRS, the average amount of a tax refund is way down compared with last year.
Reasons for the declines
The IRS says there are a couple of things to consider when you look at those numbers. To reduce tax fraud, filers claiming the earned income tax credit or the additional child tax credit won't get their refunds until Feb. 27. And they tend to get bigger refunds.
"Many taxpayers claiming these credits traditionally file during the opening weeks of tax season," the IRS says. Maybe these taxpayers are waiting to file because their refunds aren't available until late February.
The IRS adds: "Calendar year-to-year comparisons are difficult at this early point in the season as four additional days of tax return processing are included in the 2016 totals. However, when comparing the same number of days of filing, IRS is seeing an increase in returns received and accepted over 2016."
RTI comment of the week
Every week, Bankrate posts the Rate Trend Index, in which loan officers predict whether mortgage rates will go up, down or stay about the same in the coming week. Here's the comment of the week:
Vote: Up. Mortgage rates have been on the rise since President Trump promised big tax cuts last week. With Fed President Janet Yellen saying it would be a mistake for the Fed to wait too long to raise rates, and inflation coming in higher than expected this week, it's not surprising to see rates continue to rise. It will take some negative economic news for this trend to reverse, and because of that I think rates will be higher in the coming week.
— Michael Becker, branch manager, Sierra Pacific Mortgage, White Marsh, Maryland
RATE SEARCH: A cozy home deserves a good mortgage deal. Shop for one today.