Housing winners and losers under Trump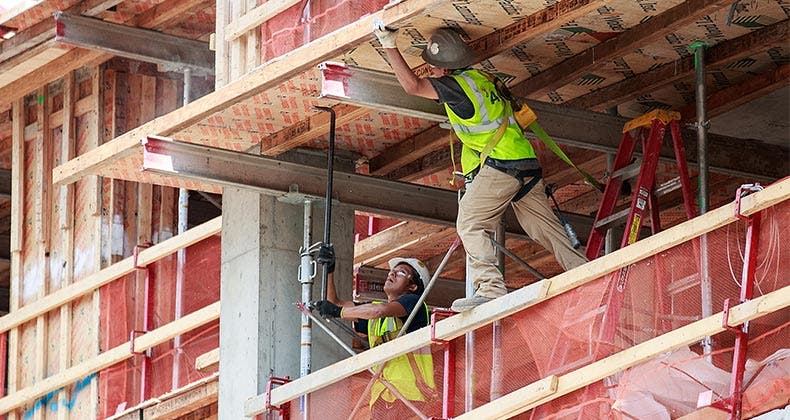 Donald Trump seldom has talked about housing. So it takes a bit of guesswork to sort out the winners and losers from his electoral victory. So I asked some people to guess.
RATE SEARCH: Found a home, even in a seller's market? Comparison-shop mortgage rates today.
"It's too early to tell," says Laurie Goodman of the Urban Institute. "You don't know what his views are. You don't know what he believes in because he hasn't made it clear."
Rick Sharga, executive vice president of Ten-X, which operates Auction.com, says, "I think in the long run, financial institutions will be winners because we're likely to see less of a restrictive regulatory environment than we saw in recent times."
Here are some more guesses.
Winners and losers under Trump
Winners: Construction workers
Trump's first promise of his victory speech was: "We are going to fix our inner cities and rebuild our highways, bridges, tunnels, airports, schools, hospitals. We're going to rebuild our infrastructure, which will become, by the way, second to none. And we will put millions of our people to work as we rebuild it."
As part of the 2009 economic stimulus bill, about $73 billion was spent on physical infrastructure, with little Republican support in Congress. Maybe congressional Republicans will favor infrastructure spending under a Republican president.
If Trump gets his way, "that will require untold thousands of construction workers and steelworkers to rebuild roads and tunnels and bridges and schools and so on," Sharga says.
The construction industry will have to solve the issue of a lack of skilled labor. We've been promoting college, and now we can push to train young people for the building trades.
RATE SEARCH: Moving up to a new home? Find a mortgage deal today.
Many construction workers are in the country without documentation. Sharga says he doesn't foresee a huge number of them leaving the country.
Winner: Mortgage lenders
"From a longer-term perspective, is it good for the mortgage business? Well, sure, we've got someone who had a mortgage company at one point," says Brian Koss, executive vice president of Mortgage Network. "So we know he'll be pro mortgage and pro real estate. Selfishly, that's good for the business."
It takes a direct question — "Is Trump's victory favorable for the mortgage business?" — to get this reply out of Koss, who seems reluctant to sound like he's taking sides politically. It's true that Trump founded a company called Trump Mortgage, which lasted about 18 months. He started it in 2006, which was terrible timing, and he didn't run it.
Unknown: Would-be homeowners
Hillary Clinton had called for an expansion of housing vouchers for low-income families, and for grants to help low-income homebuyers make their down payments. That's not gonna happen under a President Trump and a Republican Congress.
RATE SEARCH: Compare at least two mortgage lenders.

The administration will have to face the issue of home affordability, Sharga says. He points out that millennials are forming households and renting a lot of dwellings. That results in a low rental vacancy rate, driving rents higher. So it's hard to save up for a down payment on a house.
The Republican Party's platform identifies home affordability as an issue. It says: "The national homeownership rate has sharply fallen and the rate for minority households and young adults has plummeted. So many remain unemployed or underemployed, and for the lucky ones with jobs, rising rents make it harder to save for a mortgage."
The party's solution is for a review of federal regulations, "especially those dealing with the environment, that make it harder and more costly for Americans to rent, buy, or sell homes."
Winner: Mortgage tax deduction
"Mortgage interest deduction would stay, absolutely," Trump told OnTheIssues.org.
But fewer people might use the mortgage interest tax deduction, if Congress gets its way. Republican leaders in the House have outlined a "Blueprint" of proposed tax reform that would:
Almost double the standard deduction and eliminate personal exemptions.
Get rid of all itemized deductions except those for mortgage interest and charitable deductions.
Under the House GOP's plan, millions more homeowners would take the standard deduction rather than itemize deductions. The mortgage interest deduction would still be there, but it would be useful mostly to people who get fairly big mortgages. For a married couple filing jointly, the interest paid on a $300,000 mortgage would exceed the standard deduction for just the first two years of the loan. The tax benefit would be longer-lasting for homeowners who borrowed more than $500,000.
Loser: Richard Cordray
Cordray is director of the Consumer Financial Protection Bureau. Republicans have complained for years that the bureau is unaccountable because of the way it is structured. To protect the bureau from political pressure, it was set up in a way that makes it difficult to fire the director. The bureau's budget comes from the Federal Reserve, so Congress can't use its appropriations power to punish the bureau.
That setup is likely to change, says Joseph Lynyak III, a partner at the international law firm Dorsey & Whitney.
"As part of the appropriations process, needed reforms to the operation of the CFPB might be adopted, including the creation of a commission structure, placing funding for the CFPB under the control of Congress, and amending the penalty provisions currently authorized for use by the CFPB," Lynyak says.
Sharga adds that changes to the bureau would benefit borrowers because they "will be more likely to get a loan in a less restrictive environment."
That viewpoint is echoed by Rick Roque, president of Menlo, a consultancy for builders and mortgage companies. "Trump has a thorough understanding of how Dodd-Frank and the CFPB undermines the growth in real estate and mortgage," says Roque, who interviewed Trump for The NicheReport six years ago.
Unknown: Fannie and Freddie
Fannie Mae and Freddie Mac are the government-sponsored enterprises that bind together the housing finance system. They were placed under government conservatorship during the financial crisis. They remain under the supervision of a federal regulator.
I'm fine with the continued centrality of Fannie and Freddie. But many observers want to shrink their importance or even eliminate the enterprises. They argue that Fannie and Freddie take unnecessary risks because they are backstopped by taxpayers. So taxpayers are on the hook when Fannie and Freddie lose money, as they did during the financial crisis. The Republican platform says the "utility of both agencies should be reconsidered."
Sharga says, "The concern everybody in the industry must have is this: Whatever is done must be done carefully and thoughtfully, because 96 percent of the market is guaranteed by the government."
That 96 percent figure includes not only Fannie and Freddie, but also Ginnie Mae. Ginnie buys loans insured by the Federal Housing Administration and mortgages guaranteed by the Department of Veterans Affairs. The Republican platform questions the wisdom of giving FHA loans to high-income borrowers. Will there be income limits for FHA-insured loans? Too soon to know.
Roque says he expects no impact or change to Fannie and Freddie, but he believes there will be an aggressive expansion of mortgages that fall outside of the scope of an ability-to-repay regulation called the qualified mortgage rule. That means more interest-only loans, stated-income loans, 40-year mortgages and maybe even payment option ARMs, which are adjustable-rate mortgages that let the borrower pick the monthly payment.
RATE SEARCH: Rev up your mortgage shopping today.