Hot cities for millennial buyers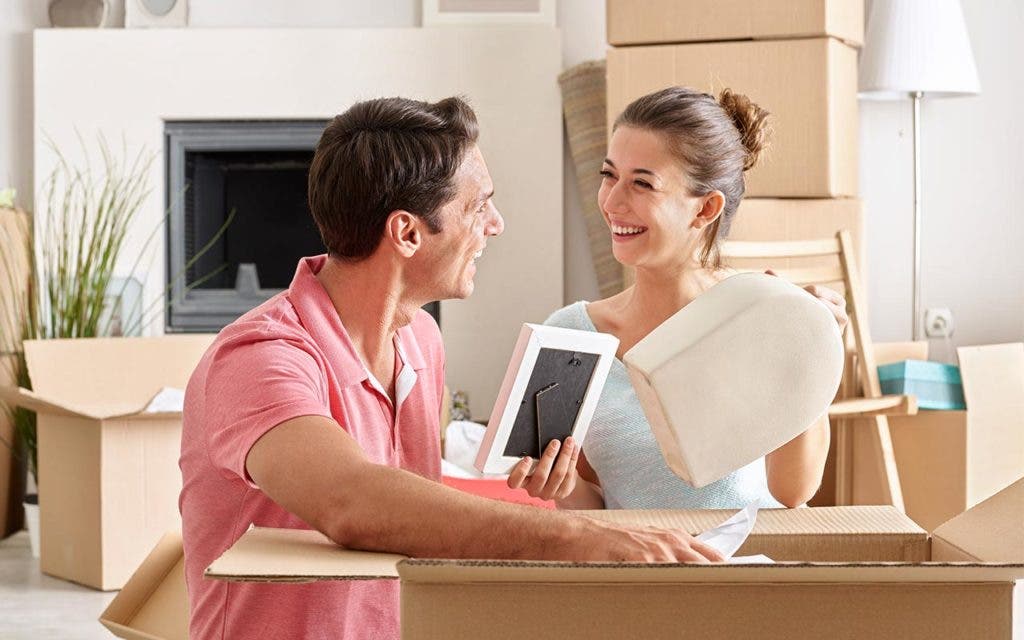 Next year, millennials are going to buy where homes are affordable — and that means in the Midwest, according to Realtor.com's 2017 real estate forecast.
Home prices will go up, but more slowly than they have in the past few years, according to the forecast. But higher mortgage rates will force some people — especially millennials — to delay homeownership.
RATE SEARCH: Start out right by shopping today for a mortgage.
3.5 percent down is enough
Millennials face multiple challenges, says Jonathan Smoke, chief economist for Realtor.com. According to monthly surveys that Realtor.com conducts, millennials' most significant hindrance is saving for a down payment.
The issue of down payments has two elements:
Saving for a down payment.
Knowing how much to save for a down payment.
Homebuyers can get Federal Housing Administration-insured loans with down payments as low as 3.5 percent. Some lenders offer 3 percent down mortgages with support from Fannie Mae and Freddie Mac. But a lot of would-be buyers don't know that mortgages are available with such small down payments. And message boards are full of well-meaning people who contend that it's foolish to put less than 20 percent down because mortgage insurance is a waste of money. (It's not foolish at all, in many cases.)
RATE SEARCH: Shop today for an FHA loan.
"We're already seeing the market bring in more and more lower down payment mortgages," Smoke says. "But if you randomly interviewed millennials on the street, you would learn we could do a lot more in terms of educating — that 20 percent is not the norm, is not required."
He says the industry could do more to publicize low down payment loans as well as down payment assistance programs.
Anything I got is not a rental
Another challenge that faces all would-be homeowners — especially millennials — is the lack of affordable homes. Builders aren't making a ton of starter homes right now. And owners of starter homes aren't moving out and trading up to bigger homes in sufficient numbers, says Karan Kaul, a research associate for the Urban Institute.
Environmental regulations, local land-use rules and political opposition impede development of inexpensive housing. It's a complex issue. Smoke says the housing industry could use someone in the bully pulpit to encourage more development.
TOOL SEARCH: Try Bankrate's home affordability calculator.
Midwest is best?
Smoke forecasts home values to rise an average of 3.9 percent in 2017, down from an estimated 4.9 percent this year. There are several reasons for a housing slowdown. One is higher mortgage rates, which means that "you're just diminishing the potential buying pool," Smoke says. With fewer buyers, there will be fewer situations with multiple bids for one home, driving up its price.
And Midwestern cities, with lower home prices, will attract millennial buyers in large proportions, according to Realtor.com's forecast. Nationwide, about 38 percent of homebuyers belong to the millennial generation this year. But the millennials make up more than 42 percent of buyers in the following cities this year, and Smoke expects these Midwestern metros to remain hot in 2017: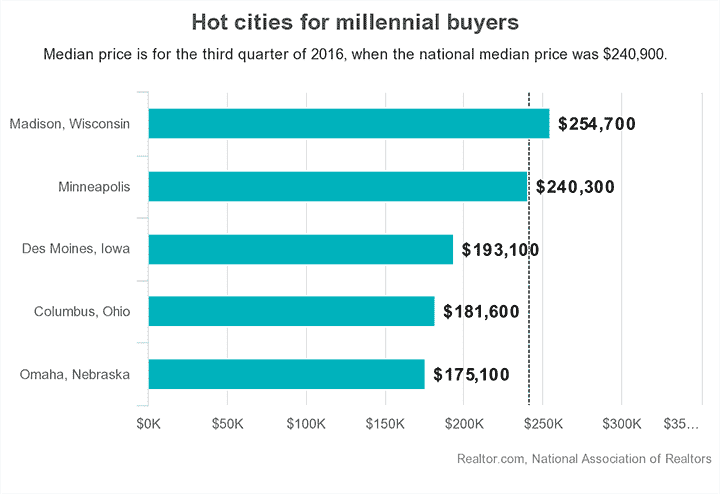 Mortgages reach 2016 high
The 30-year fixed-rate mortgage has hit its highest rate of 2016, and has gone up eight times in the past nine weeks. And that other week? It stayed the same. Mortgages haven't fallen since the week of the first presidential debate at Hofstra University. Seems like forever ago. Sad!
RATE SEARCH: Need a mortgage anyway? Find a mortgage deal today.
Where rates are going
Every week, Bankrate posts the Rate Trend Index, in which loan officers predict whether mortgage rates will go up, down or stay about the same in the coming week. Here's the comment of the week:
Vote: Up. Everything that can go wrong for mortgage rates is going wrong. ADP payroll numbers were much stronger than expected, OPEC seems to have agreed to 1.2 million barrel production cut, personal income has jumped and latest GDP numbers are strong. All of this combined with general sentiment against mortgage-backed securities (MBS) point toward a higher rate this coming week and probably for next few months.
— Shashank Shekhar, CEO, Arcus Lending, San Jose, California
Goin' up
The conforming loan limit is rising in 2017, for the first time since Gnarls Barkley's "Crazy" was a hit song (early 2006). The conforming limit marks the largest mortgage you can get that's eligible to be bought by Fannie Mae or Freddie Mac. Anything bigger is called a jumbo loan.
The limit varies by location, but the base limit in most of the country will go up from $417,000 to $424,100. By mid-December, most lenders should be underwriting loans to the new limit.
Living in tin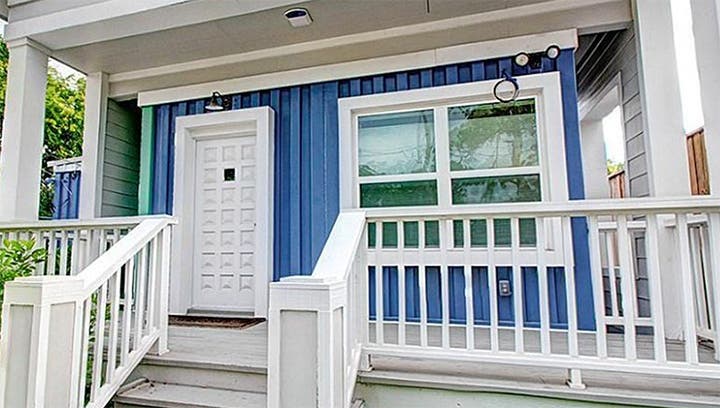 This two-bedroom, two-bathroom house in Houston is constructed from shipping containers. It's a prototype house — a model home, basically — constructed by Build-A-Box Homes in Houston's gentrifying Fifth Ward. The asking price is $174,995 for the 1,228-square-foot house. That's $15,000 off the original asking price when the house went on the market in June. It has energy-efficient ductless mini-split air conditioning.
The delinquents went away
Imagine you live in a neighborhood of 1,000 houses, and every homeowner has a mortgage. In October, seven of those homeowners fell more than 90 days past due on their house payments, according to the S&P/Experian Credit Default Indices. In the worst month of the housing bust, May 2009, the loans on 57 of those 1,000 houses went delinquent.
This is another way of saying that October's mortgage severe delinquency rate was 0.7 percent, and the May 2009 severe delinquency rate was 5.67 percent. Quite a drop. One caveat: This rate measures the rate at which homeowners fall 90 days behind for the first time. It doesn't count them again if they stay delinquent. It's the equivalent of counting how many people bought houses in a month, not how many people owned houses. Hope that's clear.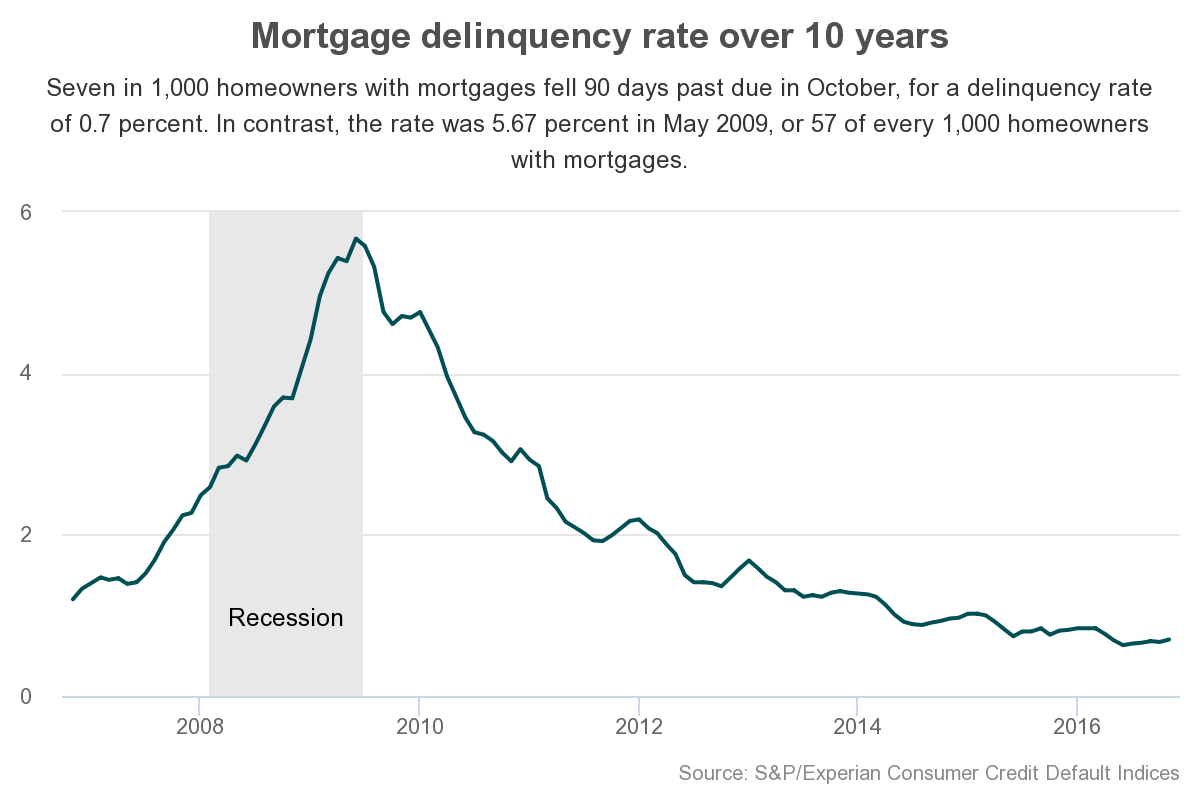 Few are severely delinquent
Now, what about those people who have fallen at least 90 days behind and have stayed there, in delinquency or in foreclosure? Those are 3 percent of homeowners with mortgages, according to the Mortgage Bankers Association. In our hypothetical 1,000-home neighborhood, 30 owners would be delinquent or in foreclosure. That's the lowest serious delinquency rate in nine years.
Good news, right? Well, kinda. Delinquency rates are low because "sustained job growth and low unemployment helped more borrowers stay current with their mortgage payments," says Marina Walsh, vice president of industrial analysis for the Mortgage Bankers Association.
Sad face over low delinquencies
Here's where the low delinquency rate isn't such good news: It's a sign that mortgage lending has been too strict, according to researchers for the Urban Institute. They say overly tight mortgage lending standards killed 1.1 million mortgages in 2015.
"On first blush, you'd say, 'What's wrong with a zero default rate?'" says Laurie Goodman, co-director of the Urban Institute's Housing Finance Policy Center. "It produces loans that are way too pristine. Obviously, you don't want people to default. On the other hand, while homeownership is not necessarily a goal in itself, homeownership historically has been the best way for people to build wealth."
When lending standards are too tight, as they are now, "you deprive people of the opportunity to build wealth," Goodman says.
Return to 2001?
Of the mortgages that have been originated since 2009, less than 1 percent have gone into default, meaning they went more than six months delinquent or ended up in foreclosures or short sales at some point during the loan's lifetime. Compare that with mortgages that were originated in 2007, the year when mortgage lenders were the most irresponsible: 13.3 percent of those borrowers went into default.
If a default rate below 1 percent is too low, and a default rate of 13.3 percent is way too high, what's the right number? Goodman says it's a judgment call. "In 2001 to 2003, you had very reasonable credit standards," she says — and about 2 percent of those loans ended up in default.
RATE SEARCH: Found a home, even in a seller's market? Comparison-shop mortgage rates today.