Home borrowers and the Fed watch for rising wages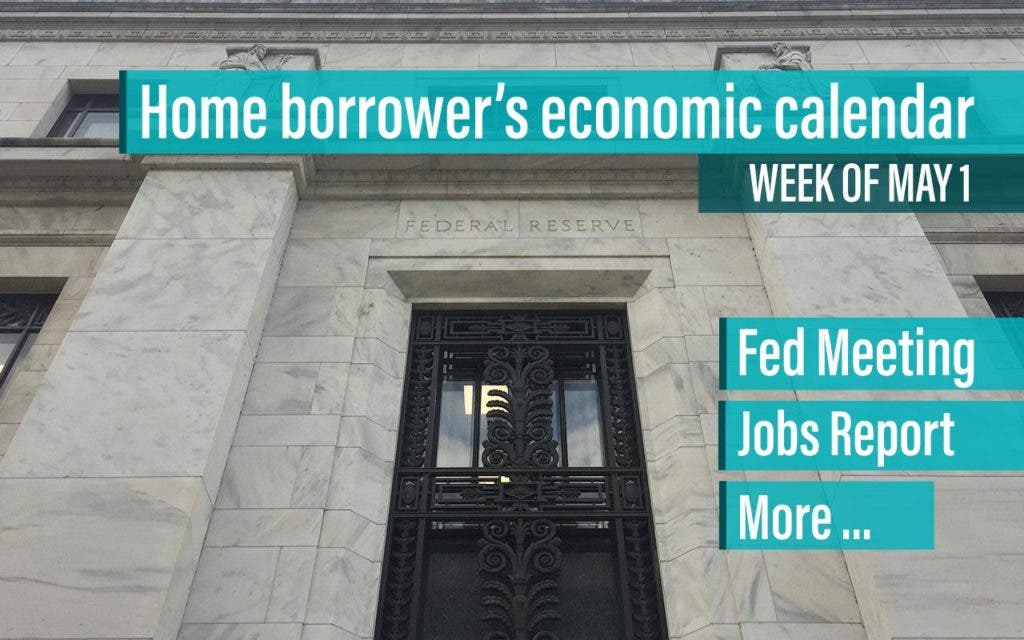 The Federal Reserve almost surely won't raise short-term interest rates when it meets this week. But the Fed bears watching, because it's working on another project besides fiddling with interest rates.
On the economic calendar
The Fed's meeting is one of three events on this week's economic calendar that can move mortgage rates in particular, and markets in general:
The March report on personal income and outlays, including core inflation, comes out at 8:30 a.m. Monday (all times eastern).
The Fed's monetary policy committee has a two-day meeting that ends with a monetary policy statement at 2 p.m. Wednesday.
The biggie of the week is the April jobs report, at 8:30 a.m. Friday. If you are risk-averse, consider locking your mortgage rate before Friday, just in case the jobs report is unexpectedly good. Or shop for a mortgage now, before the possibility of a rate rise.
Why the Fed won't raise rates
Let's start with the Fed, because it gets so much attention. The likelihood of a hike in the overnight federal funds rate is low. Friday afternoon, the CME Group's FedWatch Tool calculated a 5.3 percent chance of a rate increase on Wednesday.
"They're not going to be doing anything, for two reasons," says Alan MacEachin, chief economist for Navy Federal Credit Union:
The monetary policy panel meets six times a year, and every other meeting is followed by a news conference with Fed Chair Janet Yellen. This is one of the meetings without a news conference. "They've given the market no indication that they would change their pattern and make policy changes at meetings that aren't followed by press conferences," MacEachin says.
The central bank is in no hurry to hike rates as long as inflation remains below 2 percent. And inflation keeps stalling just below 2 percent — at least, according to the Fed's favored inflation measurement.
"With oil and energy prices fairly stable over the last couple of months, in months ahead you're going to see year-over-year inflation numbers rather tame," MacEachin says. He adds that the Fed isn't worried about being viewed as "falling behind the curve" if it keeps interest rates unchanged. That's especially the case with the possibility of a government shutdown soon.
Assets the Fed will shed
The Fed has another task besides adjusting interest rates: shrinking its balance sheet. It has more than $4 trillion in assets, mostly Treasury bonds and mortgage-backed securities. Someday it will have to start shedding those assets. When that happens, it will put upward pressure on interest rates. Whenever that happens, it would be wise to get a mortgage while rates are still low.
Not only that: Just talking about shrinking the balance sheet could spook markets. The Fed brought it up recently in generalities. At this meeting, will the Fed say anything specific about shrinking its balance sheet? Probably not — but investors will read the Fed's statement intently for any clues.
Here comes core PCE
A few paragraphs ago, I mentioned that inflation is running just under 2 percent by the Fed's favored measurement of inflation. Guess what? That particular inflation report comes out Monday morning, as part of the report on personal income and outlays.
This inflation gauge is known as the core personal consumption expenditures price index. I call it core PCE. In the past five months, core PCE has been 1.7 percent or 1.8 percent, no higher or lower. The Fed wants core PCE to rise to 2 percent or higher, then linger there for a few months. When that happens, the central bank will feel more comfortable about raising rates and shrinking the balance sheet.
Jobs report: Look at income
Friday brings the April employment report. Everyone's going to be talking about how many net jobs the economy added (the nonfarm payrolls number) and the unemployment rate. But if you're deciding whether to lock your mortgage rate, there's a more important number to extract from the employment report: the year-over-year change in hourly earnings.
In the 12 months ending in March, the average hourly wage went up 2.7 percent, to $26.14. Average weekly earnings were up 2.4 percent because the average workweek shrank six minutes. Note that both earnings numbers were above 2 percent, the Fed's target inflation rate. "Wage gains are accelerating, especially in the private sector," notes Joel Naroff, president of Naroff Economic Advisors. He expects the next Fed rate hike to come in July.
Before that happens, and mortgage rates rise again, shop for a mortgage.